Laremy Tunsil Just Broke the Record for Most Expensive Bong of All Time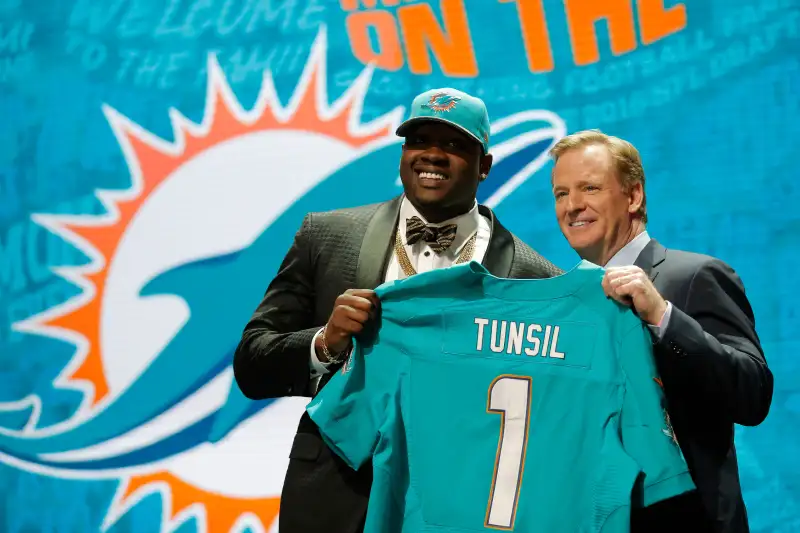 In a smoke shop, a fancy designer "tobacco water pipe" can run you a few hundred dollars—apparently (we wouldn't know). If you happen to be in a city on the street at the right time, there are usually vendors who peddle bongs for much less.
Yet a bong can cost you far, far more than its mere purchase price, as athletes and actors sometimes learn the hard way. The latest example comes in the form of NFL draftee Laremy Tunsil, who was chosen by the Miami Dolphins on Thursday with the #13 pick in the draft. He was supposed to be picked much higher--so to speak--in the draft, but a video leaked on social media allegedly showed the Old Miss offensive tackle taking a bong hit through a gas mask.
The untimely surfacing of the video likely cost Tunsil millions of dollars, because a lower draft pick equates to less money in a player's contract. That's some serious green! Here's a brief list of a few other notoriously pricey bong incidents involving high-profile entertainers and athletes.
5. $622 - Tim Lincecum
In 2009, the Giants ace got caught with a "water pipe" and 3.3 grams while speeding in his 2006 Mercedes. Likely because he didn't resort to a "do you know who I am" strategy, the pitcher got off with a scant $622 fine and no loss of sponsors.
4. $10,000 - 2 Chains
Unlike the rest of this list, the dollar figure here is simply based on the retail price of one seriously expensive bong. In a video for GQ, the hip-hop master went to a head shop and was presented with one of the most expensive bongs made. It's composed of German glass, takes four days to make, and sells for a lofty $10,000.
3. $70,000 - Miley Cyrus
At the end of 2010, a video of Miley Cyrus using a bong with "salvia" emerged, officially signaling (again) that she was not a Disney child star anymore. Since her Disney days were effectively over, the video may not have personally caused her any damage whatsoever. To the contrary, it set up her current image. The bong did, however, net around $70,000 when the owner later sold it.
2. $250,000+ - Michael Phelps
After a photo surfaced in 2009 of Michael Phelps with a bong, the swimmer's career looked to be in jeopardy. The country was not nearly as pot-positive back then. But according to Fortune's Daniel Roberts, the only sponsorship that Phelps lost in the fallout over the episode was an endorsement deal with Kellogg, rumored to be worth more than $250,000.
Read Next: Nation's First Drive-Thru Recreational Marijuana Shop Opens This Spring
1. $8 million - Laremy Tunsil
Just before the 2016 NFL Draft began, a video emerged of Laremy Tunsil smoking a bong through a gas mask as a college football player. According to CBS the offensive lineman was expecting to be picked sixth in the draft, but was picked 13th after the video wafted through Twitter, likely leaked by an enemy. As a later draft pick, Tunsil settled for a $12.4 million deal, instead of the $20.4 million one he would have likely received.