Last-Minute U.S. Open Tickets Are Selling for Only $6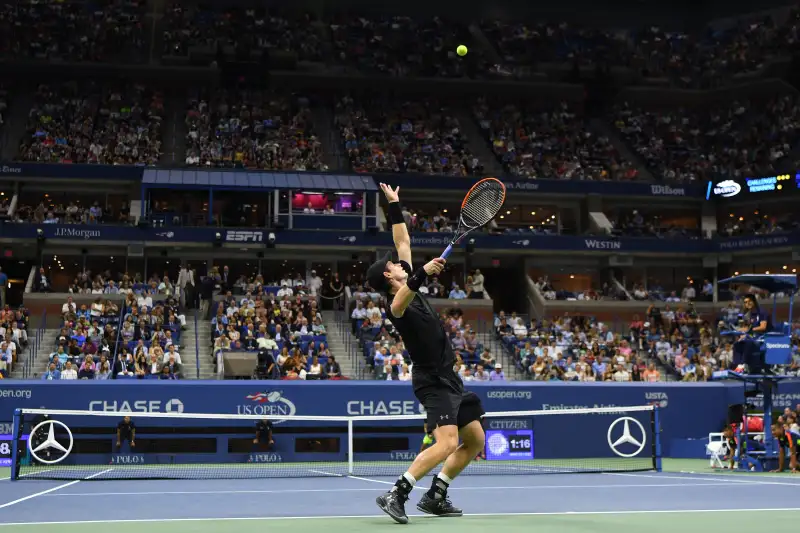 Action at the U.S. Open in New York City continues this week, with men's and women's quarterfinals scheduled throughout Wednesday at Arthur Ashe Stadium in Flushing, Queens. While America's premier tennis tournament is notoriously expensive, tickets purchased at the last minute on secondary resale sites are available right now at astonishingly cheap prices—starting for as little as $6.
When we checked Wednesday morning at TicketMaster, individual seats were listed starting at $45 for the midday session in which Ana Konjuh plays Karolina Pliskova in a women's quarterfinal match, followed by Kei Nishikori and Olympic gold medalist Andy Murray in the men's quarterfinal.
Head over to secondary sites such as StubHub or Vivid Seats, however, and tickets were available on Wednesday morning for as little as $6 to $8. Some fees are generally tacked on to purchases on such sites, but even after they're factored in, fans should be able to get admission for under $10. That's less than the cost of a sandwich or glass of wine in the village outside the stadium.
Read Next: How to Watch The U.S. Open Without Cable
If it's just plain impossible for you to drop everything and head out to Queens at the last minute, there are decent prices for tickets to matches scheduled for tonight as well—though they're not quite as gallingly cheap as the midday sessions. Tickets for tonight's quarterfinals, featuring Serena Williams vs. Simona Halep in women's singles followed by Juan Martin del Potro vs. Stan Wawrinka for the men, were priced starting at around $48 or so on Wednesday morning (again, that's before some fees are added in).
Secondary market prices are prone to fluctuating, though, sometimes wildly. Based on how cheap prices have gotten at the very last minute before Wednesday's midday action, it could be wise to wait and see if prices dip as session times grow nearer. That goes especially for matches taking place during the middle of the day, midweek, when it's hard for people to take off of work and sellers will feel more desperate to unload tickets before they're worthless.
Read Next: 5 Reasons Why Tennis Should Keep Paying Men and Women Equally
Looking ahead, the mixed doubles finals are scheduled for noon on Friday, and the men's semifinals should take place on Friday at 3 p.m. If you don't have to work and are in the market for cut-rate tickets, consider the possibility of waiting until Friday morning to see how cheap prices will go.