Here's What It Takes to Put On the Macy's Thanksgiving Day Parade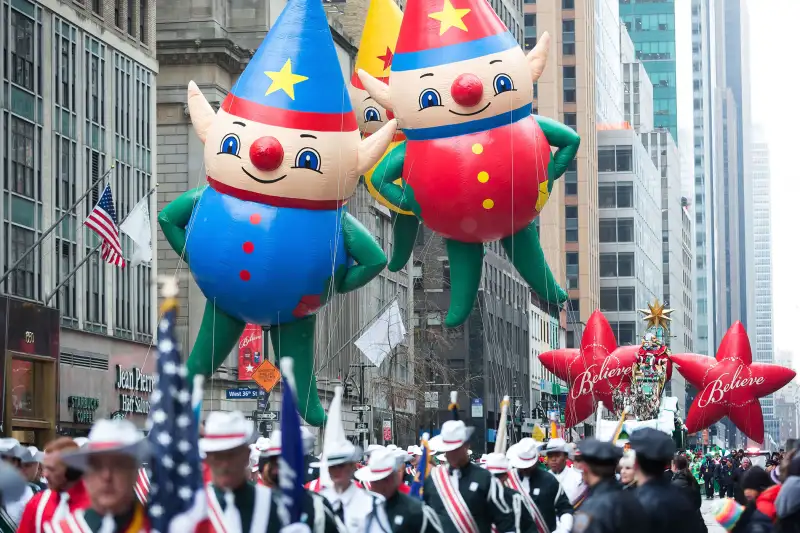 For 89 years, Macy's Inc. has hosted an annual Thanksgiving parade in New York City. More than 3 million people line the route every year to watch, while ten times that number view the three-hour broadcast on television.
Hard numbers are tough to come by—Macy's doesn't disclose costs—but there are plenty of fun facts and stats about how many floats, people, and hours go into making the production happen. Here are a few that you can use to impress your uncle Ralph at the Thanksgiving table.
17
The number of giant character balloons, four of which—Ice Age's Scrat and his acorn, Angry Birds' Red, Sinclair Oil's Dino, and Ronald McDonald—are new this year
$190,000
Cost of a first-time balloon, according to one estimate
40 tons
The weight of sandbags holding down balloons
90 minutes
Length of time needed to inflate the balloons
300,000 - 700,000 cubic feet
The amount of helium needed to inflate the balloons
7 hours
How long it takes to inflate the parade's balloons in front of the American Museum of Natural History on the Upper West Side of Manhattan
90 people
The average number of people it takes to handle each of the parade's balloons
1,100
Cheerleaders and dancers from around the country
1,304 miles
Distance the "610 Stompers" dancers will travel from New Orleans to be in the parade, the farthest of any performing group
1,000
Clowns
10,000
Marchers
4,000
Macy's employee volunteers
2.5 miles
Length of parade route visible to the public
$2 million
The amount spent on costumes
$207 - $690
Price of grandstand tickets on the secondary market. Grandstand tickets are otherwise not for sale to the general public, instead reserved for friends and family members of parade participants.

$1,100
Per-night cost for the 3-night Thanksgiving package at Marriott's Times Square hotel
$178
Average price of AirBnB listing in NYC on the day of the Macy's Thanksgiving Parade
$69.99
Cost of a "Macy's Thanksgiving Day Parade Musical Water Globe" available for purchase, the most expensive commemorative parade item the company is selling this year