How Mariah Carey Stole Christmas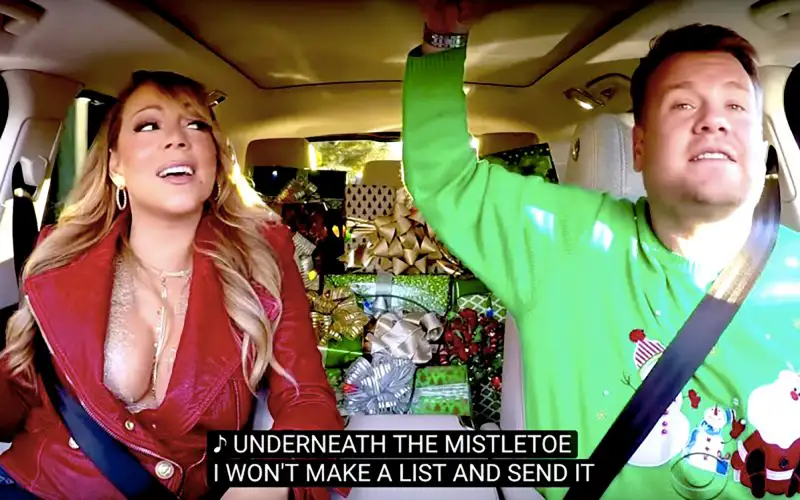 Mariah Carey's festive appearance on James Corden's carpool karaoke series this week was pretty much inevitable. This is the time of every year when Carey emerges, bedazzled and cleavage-baring, to cash in on Christmas.
Her pitch perfect pop song, "All I Want for Christmas Is You," is one of the few modern classics. It's the most downloaded Christmas song of all time, according to Nielsen, and the most popular Christmas song of all time on Spotify, with over 147 million streams. Last year, the song hit #11 on the Billboard Hot 100—its highest position yet, and 21 years after its initial 1994 release.
It's also made the elusive chanteuse a pretty penny. Carey is credited as both co-writer and producer of the annual chart-topper, which netted $50 million by 2013, according to the New York Post. More importantly for Carey's bank account, the song has fueled a mini cottage industry that pays off all year.
In 2016, there's an expanded holiday makeup collection with MAC and another run of sold-out holiday shows at New York City's Beacon Theater. There's also Mariah's World, an eight-part docuseries on the E! network. The show, which premiered at the beginning of December, doesn't just provide us commoners with undeserved access into Carey's life. It's also a business move that reminds viewers that Carey basically owns the most wonderful time of the year (sorry, Santa): This December, we're watching her show, singing her song, and wearing her makeup.
Mariah "may be the first person to announce a reality TV show about her life and not have it seem desperate or demeaning—despite what some vocal critics have said. Instead, it seems like a fabulous career move," The Daily Beast's Kevin Fallon writes.
All of it helps Carey pad her bank account and keep her popularity afloat throughout the year. Carey shrewdly announced a spring tour with Lionel Richie this month, likely hoping to capitalize on all the attention. Forbes notes that a large chunk of Mimi's income over the past two years (including an estimated $27 million in 2015) stems from her residency in Las Vegas, where fellow icons Céline Dion and Britney Spears have also made a killing (Forbes credits Dion's "eight-figure earning power" to her gig at Caesars Palace).
And with a performance scheduled for New Years Rockin' Eve, it appears Mimi has her eye on expanding her holiday reign.