Meet America's Richest Self-Made Woman, a 71-Year-Old Roofing Titan Worth Over $6 Billion Who Moonlights as a Film Producer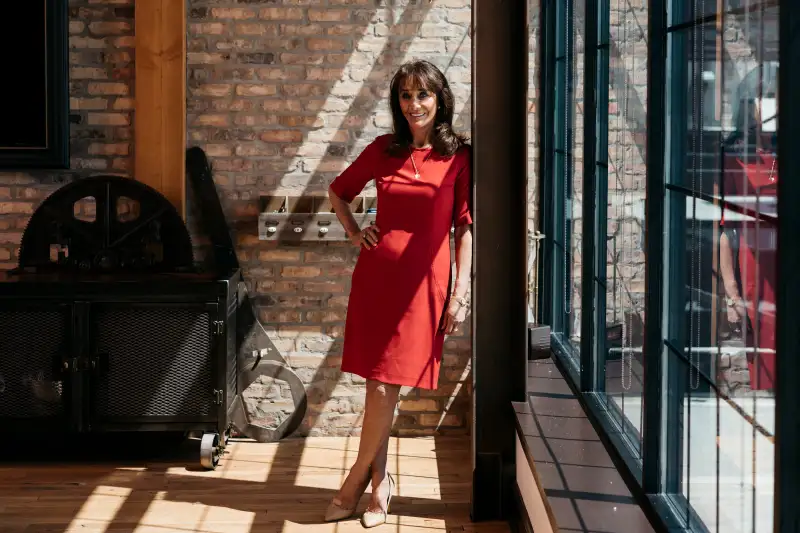 Lyndon French—The New York Times
As America's richest self-made woman, Diane Hendricks followed an unconventional path from growing up on a dairy farm to chairing a billion-dollar company.
The Wisconsin-based entrepreneur founded ABC Supply with her late husband, Ken Hendricks, in 1982. Since its founding, the modest shingle supply company ballooned to become the largest roofing distributor in the U.S. But after her husband died in 2007, Hendricks has directed the company on her own, overseeing a number of crucial acquisitions — including the 2016 purchase of L&W Supply for $670 million — that grew the company from a $3 billion business around the time of her husband's death to a $9 billion one.
Hendricks has used her earnings in a variety of ways: providing economic support for Beloit, Wis. (where ABC Supply first started), producing Hollywood movies, and donating more than $1 million to Republican causes. With a net worth of $6.8 billion, 71-year-old Hendricks recently ranked 76th on the annual Forbes 400 list of American billionaires, passing Michigan's Marian Ilitch who recently held the title of richest self-made woman.
Here's what we know about America's richest self-made female billionaire and her money.
Hendricks Grew Up on a Dairy Farm and Had a Child at Age 17
Growing up on a Wisconsin dairy farm, Hendricks was one of nine daughters. Hendricks "had a beautiful life, living on the farm," she told Forbes last year, but she always "wanted to wear a suit."
She had a few obstacles to overcome first. At age 17, she had a child and married her "first love." Her teen pregnancy made it nearly impossible for her to continue her senior year of high school, she told Forbes. She finished out her studies at home to earn her high school diploma.
"It didn't stop me from wanting to reach my dream," she told Forbes. "In fact I think I became even more focused on what I wanted to achieve."
In a 2009 New York Times interview, Hendricks says she moved to Janesville, Wis., where her husband worked, and started a job at a Parker Pen assembly line. Three months later, she left and found a job selling new homes. Shortly after, she began studying to get her broker's license.
"I knew I had to find a way to support myself alone," Hendricks said in the Times interview. "I never had any doubt I could raise my son. I filed for divorce a week after I was 21."
She and Her Second Husband Bought and Renovated 100 Homes in Beloit
Not long after she met her future husband, Ken Hendricks, a roofing contractor, the two got into business together. Over the course of three years, they purchased 100 homes in Beloit, Wis., fixing them up themselves.
Several years later, the couple opened their first ABC Supply store in Beloit with the help of their real estate investments and Ken Hendricks' other roofing and real estate companies. The business grew from there and in 2001 the couple formed Hendricks Holding Company, which now holds a large portfolio that includes industrial companies, logistic companies, real estate, health care and more. ("ABC Supply" stands for "American Builders and Contractors Supply.")
Hendricks Kept the Business Strong After Her Husband Passed Away
Hendricks's husband passed away in 2007 after an accident where he fell through the roof of his Wisconsin home. He was 66.
"I knew the businesses had to go on. It was our life's work," Hendricks told the New York Times in a 2009 interview. "I worked out of my home for the first year after his death, and senior employees came there to conduct business."
Hendricks continued to grow the business to new heights following her husband's death. She oversaw the company's two biggest acquisitions in 2010 and 2016, according to Forbes, and ballooned sales from $3 billion in 2007 to $9 billion in the last fiscal year. In her 2009 interview with the Times, Hendricks said her immediate focuses were "being more selective about" acquisitions and doing "capital repairs instead of capital replacements."
"If we can fill pot holes in the parking lot rather than replace the entire parking lot, that's the choice we're making now," Hendricks said. "Progress is a lot of simple little decisions."
LawrenceSawyer—Getty Images
Hendricks Has Tried To Revitalize Beloit — and Has Faced Controversy Along the Way
Located on the border of Wisconsin and Illinois, the town of Beloit has a population of 36,966 people — and Hendricks has spent millions of dollars to change its landscape. She has purchased a country club, mall, the city's historic library, and a slew of abandoned buildings and other properties in an attempt to revitalize them and bring new business to the city, as the New York Times detailed in a 2017 profile of her efforts.
"I see old buildings, and I see an opportunity for putting things in them," Hendricks told the New York Times in 2017.
But the Hendricks-led revitalization of the neighborhood has been met with some backlash. A 2011 video shows Hendricks and Wisconsin Gov. Scott Walker discussing his plan to "divide and conquer" unions in the state, as the Milwaukee-Wisconsin Journal Sentinel reported. And she came under fire after the Journal Sentinel reported she did not pay any state income tax from 2012 to 2014. A representative from her company told the Associated Press at the time that Hendricks and ABC Supply "have paid hundreds of millions of dollars of federal and state income taxes over the years in question."
Hendricks also holds a number of roles in the community. She's the co-chair of an economic development organization in Rock County (where Beloit is located) and serves on the board of the Beloit Foundation, Forward Janesville, and Blackhawk Bank, among numerous other organizations.
She's a Big Republican Donor
Hendricks is a prolific Republican donor, who has adamantly supported Wisconsin Gov. Scott Walker and President Donald Trump.
Hendricks gave a record $540,000 to Walker's two gubernatorial campaigns, as well as $1 million to the Wisconsin Republican Party, according to Bloomberg. She also supported Trump's campaign — eventually becoming one of his campaign's economic advisers.
She Has Produced Three Films
David Livingston—WireImage
Hendricks has also used her business to invest in another area: film. She helped start the Beloit International Film Festival over a decade ago and she has produced three films: The Stoning of Soraya M., An American Carol, and Snowmen, according to her IMDB page. Two of the films appeared in a number of film festivals, and took home a few awards.