This 25-Year-Old Is Earning Up to $25,000 a Month From His Old Viral Videos. Here's How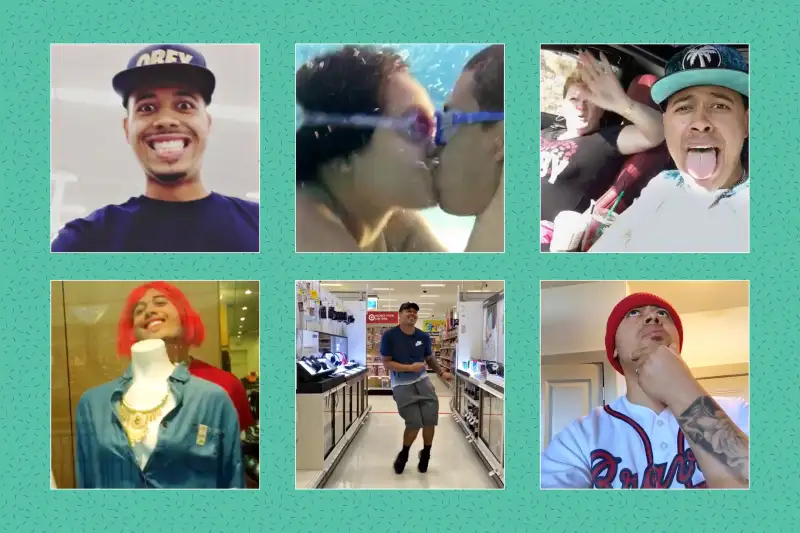 When Desmond English and his girlfriend went from hanging out every day to a long-distance relationship back in 2013, depression hit — hard. English was bummed and lonely, and his low-paying job at the local supermarket certainly didn't help. With nothing to do but mope around, he began filming prank videos for the social media app Vine.
"I'm sitting in my bed, looking at YouTube videos, and I was like, 'You know what? I'm going to start Vine, see what it do,'" he tells Money.
That desperate decision changed his life.
Not only did Vine pull English out of his funk, but it also started him on the road to internet stardom. Six years later, he's married to that girlfriend; together, he and his wife have two young children. As "MightyDuck," English boasts 1.9 million followers on Instagram, plus another 1.5 million on YouTube. And he's no longer working at H Mart — he's earning as much as $25,000 a month from the goofy videos he shot while missing his wife.
English makes money from Vine compilations, a trendy type of video in which curated clips from the now-shuttered app play one after another. Good Vine compilations often get millions of views on YouTube, but their creators rarely ask for permission to use the Vines, which has left an opening for English and other ex-Vine stars to claim and monetize them.
"All publicity is good publicity, but at the end of the day, somebody needs to cut the check," he says.
From $200 to $2,000
English's most famous videos go like this: With his phone in selfie mode, he approaches an unsuspecting customer in a store. He looks directly into the camera, then purses his lips and yells, "Ooh, he stealing!" In the background, the target panics and drops what they're holding. English snickers, and the scene ends.
You can see this play out dozens of times on his now-defunct Vine profile. In one video, a man he accuses of stealing falls off a bike (it got 6.2 million views). In another, he "catches" his mom taking a pair of shoes (10.8 million views). In a third, English even tries it on his dog (2.8 million views).
His Vines are all pretty simple, requiring no comedic setup and delivering a Jackass-style punchline. But even though they're lighthearted, they did take a lot of work to produce.
"I treated it like a job when I started getting followers," he says. "I used to do two to three Vines a day. At work, while I was on the clock."
That's why it was frustrating when his clips started cropping up on YouTube. Though compilations containing his lifted content were going viral, English wasn't benefiting financially.
In fact, he was working at a salad dressing factory when Collab, a Los Angeles-based talent agency with a digital rights management arm, contacted him. The company proposed a deal: Collab would scour YouTube for videos using English's clips without permission and place copyright claims on them through YouTube's system. From there, it would put ads on the compilations and claim revenue on his behalf, taking a small cut for itself.
It paid off immediately.
"My first check ever was $200, and I was like, 'Okay, it's something,'" he recalls. "Then it went up to $400, then $2,000, and then at that point, I was like, 'Shoot. Should I quit my job?'"
Ooh, He Earning!
Even then, English kept his gig cleaning salad dressing tanks from 9 p.m. to 6 a.m. every day. He watched as the totals rose, hitting $7,000 and $10,000. It wasn't until Collab sent him a $25,000 check that he finally resigned.
"They are really the reason I quit my job, and they are the reason I don't even have to go to work this day," he says.
English's Collab payments now hover between $10,000 and $15,000 a month, which is especially impressive when you remember that he's not doing much additional work to get them. The cash is coming from videos posted years ago on a dead platform — partially from unauthorized Vine compilations, and partially from in-house compilations that Collab (legally) puts together itself. No matter the source, they "always do numbers, [which] helps your pay," English says.
The 25-year-old hasn't vanished from the internet: He has a successful YouTube channel where he's up to his old tricks. Recent uploads include "CHEESE CHALLENGE ON MY ENTIRE FAMILY! (HILARIOUS)," "Baby Poopy Diaper Prank on Brother" and "STEP ON SHOE PRANK!"
Despite lingering questions about who deserves to profit from Vine compilations, his life is good. He recently gave his sister a car, and he's been posting songs on Instagram. On a recent visit to Six Flags, several fans stopped him for photos.
English says he knows his worth — and that he's lucky.
"Not trying to sound that kind of guy, but I wake up, I work out anytime I want, I don't have to put my kids in daycare. I don't have to call a boss and be like 'Can I take this day off?'" he says. "I'm blessed."