New Mississippi Law Allows Businesses to Refuse Service to Gays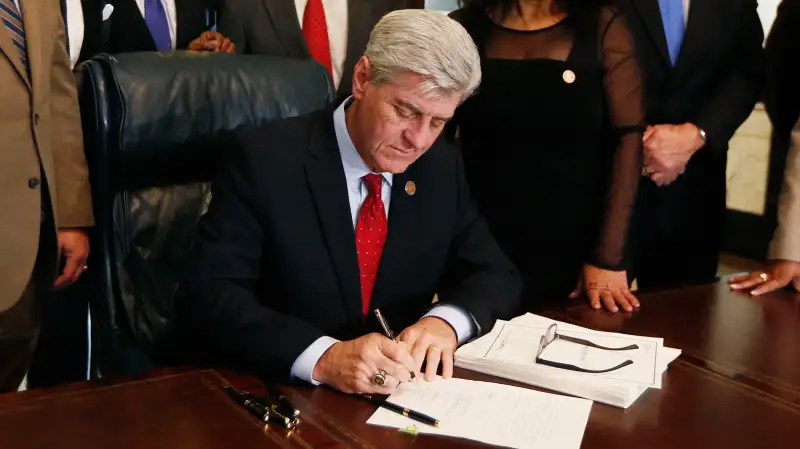 Mississippi Governor Phil Bryant signed a bill into law Tuesday that protects the right of businesses to refuse service to gays based on religious objection, and to decline access to bathrooms and dressing rooms to transgendered people.
The law says it is intended to protect "sincerely held religious beliefs and moral convictions" and notes that gender is "determined by anatomy and genetics at time of birth," reports The Washington Post.
"This bill does not limit any constitutionally protected rights or actions of any citizens of this state under federal or state laws," Gov. Bryant said in a statement. "The legislation is designed in the most targeted manner possible to prevent government interference in the lives of the people from which all power to the state is derived."
Civil rights groups, including the American Civil Liberties Union, slammed the legislation. "This bill flies in the face of the basic American principles of fairness, justice and equality and will not protect anyone's religious liberty," ACLU of Mississippi Executive Director Jennifer-Riley-Collins said.
Similar legislation was thwarted in Arizona, Indiana, Arkansas and Georgia after critics raised objections over the economic effects the measures could have on their states by potentially driving away businesses. Those fears were made real on Tuesday, when PayPal announced it was canceling a large-scale expansion in Charlotte, North Carolinas that would have added 400 high-paying jobs to the city over a state law passed last month that required government buildings to have single-sex bathrooms (which force transgendered people to face the choice of outing themselves or breaking the law). In a statement issued Tuesday, PayPal said the law "perpetuates discrimination and violates the values and principles that are at the core of PayPal's mission and culture."
Read Next: PayPal Kills Major Expansion in North Carolina Due to Anti-LGTBQ Law