The Best Mobile Payment Apps for Sending Money to Friends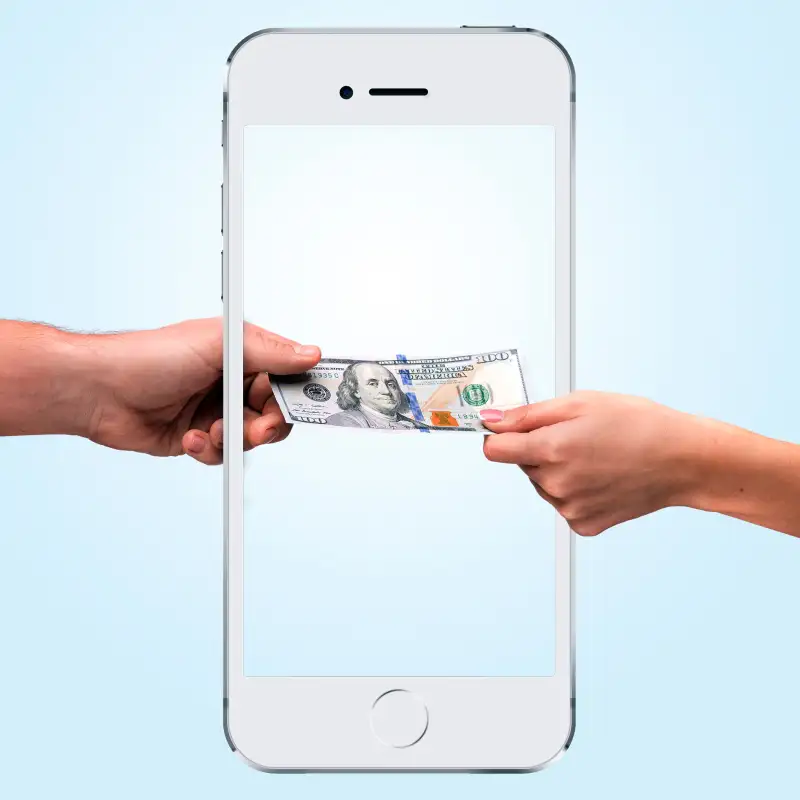 Money (photo illustration)—Shutterstock(2)
Many people don't regularly carry cash around anymore, and when it comes to paying your buddies back, this has become a problem. Your friend Steve who just covered your dinner bill does not take credit cards. If you're the one spotting someone cash, you'll just have to badger them later for payback—that is, if you remember. According to a (conveniently self-promotional) study published by PayPal, these "forgotten" debts between friends create awkwardness and strain relationships.
Fortunately, a slew of apps and payment services have been created as solutions. Unfortunately, it's unclear which service works best for life's many varying situations, and what the safety concerns are when using them. Let's run through the options.
How to use it: Use your PayPal account to send and receive money using the app or website. There are easy tabs to pay and request money.
What it's good for: PayPal has been the standard in anonymous Internet payments for years. It is very secure, especially because people paying don't have to provide a check (with account and routing numbers) or a credit card. It's also international, and since it's one the oldest Internet payment services, it's extremely common.
Risks: It's safe enough to be the standard in payments for eBay (which owned PayPal until very recently). If you're not transacting with friends or family, make sure you choose the "goods and services" option so you can use PayPal's purchase protection.
Downsides: It used to be a little cumbersome for paying your friends back, but PayPaul just launched a new feature called PayPal.me that lets each user have his or her own URL. To pay or get paid, you send the URL along with the amount in an email or text, and the recipient can easily complete the transaction.
Fees: Free for everyone except merchants, if you fund with a bank account. Payments to friends with credit cards are 2.9% + $0.30 per transaction. That same charge applies if you receive money for "goods and services" instead of friends and family.
How to use it: Create a Venmo account and send and request money with a few clicks or taps of a phone screen. Most people use it in app form, but since it's linked to email and your phone number, you can complete requests for money extremely easily by responding to the text notification you get if someone wants money. You don't even have to open the app.
What it's good for: Paying friends, and friends only. It's quick and easy to use on a regular basis.
Risks: You're not supposed to use Venmo with anyone who you don't know personally. Only accept a Venmo as payment or reimbursement from someone you know wouldn't write you a bad check. The app has a few security issues as well in its interface: It doesn't automatically log you out, so if your phone doesn't have a passcode (or an easily guessable one), someone who came into possession of your phone could transfer funds.
Downsides: Just the security, pretty much. It's an incredibly frictionless user experience that has catapulted up to $2.4 billion in payments in 2014.
Fees: Free for bank account transfers and major debit cards. Credit cards and non-major debit cards carry a 3% fee.
How to use it: Make an account and use it like Venmo, with an app or online. Or, use it by email. All you have to do is send an email and cc cash@square.com to make a payment or request@square.com for a request. Put the payment amount in the subject line, write a memo in the body of the email, and send. Square will follow up with both parties concerning debit card info or account numbers and payment.
What it's good for: Paying your friends, people who like simplicity and don't want an extra app on their phone.
Risks: For the non-business version, pretty much the same as Venmo if you use a bank account. Each transaction isn't instant so it could be cancelled if it was funded by a bank account, not a debit card. For transactions with strangers, the business version is cheap (1.9% per transaction), more secure, and anonymous: Something called a "cashtag" enables a user to have a custom name with the dollar sign in front.
Downsides: Just the security concerns.
Fees: Free for non-business transactions, 1.9% per transaction to receive money for goods from strangers.
How to use it: Google Wallet accounts can be linked to a bank account or a debit card, though those carry a 2.9% fee. You can send money to friends or strangers through the website, the app, or Gmail—there's a little dollar sign icon at the bottom of a message. If you have the Google Wallet Card, you can spend funds as soon as you receive them, without waiting for the funds to transfer to a debit card or bank account.
What it's good for: Paying your friends.
Risks: Low.
Downsides: Not as user-friendly as the others, and Google discontinued the ability for Wallet to be used at stores -- because it was replaced by Android Pay in this capacity.
Fees: 2.9% fee to fund money via a debit card; free to fund with a bank account. Transfers are free.
Payments in Facebook Messenger
How it use it: You send a message to someone on Facebook and hit the dollar sign, input value and your debit card info.
What it's good for: Paying Facebook friends and family you trust.
Risks: It's new, and it doesn't have that many security layers—you just need a PIN once you've stored a card. Most people also don't have two-factor authentication on their Facebook accounts.
Downsides: Security. Think about how often friends leave joke statuses on each other's Facebooks when the person is accidentally still logged in. Also, the unfamiliarity.
Fees: Free
How to use it: If you're a member of a participating bank (Bank of America, CapitalOne, US Bank, Wells Fargo, Chase, or FirstBank), you can use your bank's app, mobile site, or the clearXchange website to send funds to people in the clearXchange network using email or a mobile phone number.
What's it's good for: Getting money quickly, assuming both parties in a transaction have accounts with participating banks.
Risks: Though payments aren't instant—bank transfers take at least 24 hours usually—they're going to be more trustworthy because the only people involved are part of a trusted banking network. Even so, it's prudent to avoid strangers and only use the service with friends and people you trust.
Downsides: You have to be a member at a participating bank.
Conclusions
Choosing a payment method relies on your view of the security/convenience equation. For most people, Venmo is probably the most convenient and easiest-to-use option, with Square Cash a close second. But if you're going to download just one app, PayPal may make the most sense since it's extremely common, and you don't need apps for bank and wire transfers. Then again, if your goal is to make sure that it's easy to get paid when anyone owes you money, you'll want to have more than one app. That way, pretty much everyone can be subjected to a "request" button.