The Official Money Guide to Becoming a Snob on a Budget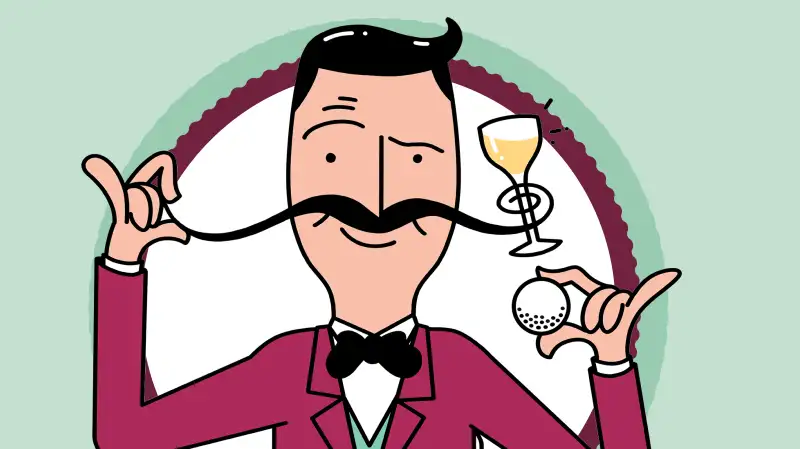 Illustration by Sam Island
Whoever said that the best things in life are free obviously never tasted single-malt Scotch. Or showed off their diamond studs at a cocktail party. Or passed a few blissful hours flying in first class. Everyone has a guilty pleasure. The problem is that you might not be able to afford yours. Or can you? Follow this guide and you, too, can grab a piece of the good life for less.
Wellness Spa Retreat
Courtesy of Rancho La Puerta
Snob factor:

Vacations at all-inclusive wellness resorts are an indulgence for your mind, body, and wallet. A week at the famous

Canyon Ranch

in Arizona (one of the glitterati's favorite outposts) will run you $7,630 a person.

Get it for less:

Founded in 1940,

Rancho La Puerta

is actually more established than Canyon—it's often called "the original" spa resort. "But it's one of the best values out there," says Donna Adinolfi, wellness travel expert at

MindfulAdventures.com

. One reason: The resort is in Tecate, Mexico, about an hour's drive from San Diego (the spa provides free airport transfers). For a seven-night stay, Rancho La Puerta starts at $3,750 per person (based on double occupancy), including three healthful meals a day (many made with ingredients from the on-site farm), 50 fitness activities, and evening lectures. Most 50-minute spa treatments at Rancho La Puerta cost $90 to $100; at Canyon, spa sessions start at $150.

Extra savings tip:

Check the resort's website for deals. If you travel with your spouse and another couple and stay in a two-bedroom villa, for example, you'll save $500 a week. Or book at least nine months in advance and get $250 off a week.
Barista-Quality Coffee
Duncan Davis—Getty Images
Snob factor:

Some java junkies insist you need the likes of a $10,000 La Marzocco brewer to make coffee worthy of an Italian. The truth is, the brewing apparatus isn't the key tool. It's the grinder.
• Get it for less: While most people use a spinning-blade version, a "burr" grinder—a kind of pepper mill for coffee—can elevate any bean, according to Serious Eats, a James Beard Award–winning food website. It produces uniform grounds, which eliminates sourness (from too-big, underbrewed particles) and bitterness (from fine, overbrewed coffee). And what does a burr grinder cost? The Baratza Encore sells for $129.
Single-Malt Scotch
Photograph by Shayla Hunter
Snob factor:

Sure, the hipsters may be all about small-batch craft whiskey, but nothing says old-school class like single-malt Scotch. After all, it was the Scots who invented the stuff. The name "whisky" (notice that the Scots drop the "e") comes from a Gaelic phrase meaning "water of life." But "life" ain't cheap. It's not hard to find a bottle of single-malt Scotch for hundreds or even thousands of dollars. The median price of a bottle on

TheWhiskyExchange.com

is about $110.

Get it for less:

Try a bottle of the Highland Park 12 Year. With a retail price of $57, HP 12 consistently gets among the highest ratings and reviews in the under-$65 price class. Wine Enthusiast calls it "elegant, light, and pretty."

Extra savings tip:

You'll find excellent deals (for all kinds of alcoholic beverages) online at

BevMo.com

. The Highland Park 12 sells there for $48, a 16% savings. Join the company's ClubBev, and after you've spent $250, you'll receive a 5% savings coupon for a future purchase.
• Buy American: If you do decide to go the hipster route, Emmy Award–winning producer and whiskey connoisseur Jon Kroll suggests High West American Prairie ($50), Leopold Brothers ($45), and Hudson ($58).
Flying First Class
Snob factor:

What coach passenger hasn't sneaked a peek behind the curtain into the classier cabins? Of course, that legroom and concierge-like service come at a premium: Business-class tickets can cost five times as much as coach.

Get it for less:

Rather than give away unsold business- and first-class seats in exchange for frequent-flier miles, the airlines have begun to sell them—at a discount. More than 30 airlines have launched bid-to-upgrade programs, in which they auction premium cabin seats, generally starting 72 hours before departure. Sometimes they'll email you directly; sometimes you'll see an upgrade offer when you check in online. Bids are collected electronically, though simply offering $1 won't get you far. As a rule, figure out the difference between what you paid in coach and the price of a regular business-class seat, then bid from 20% to 40% of that number. Many airlines also offer last-minute upgrades for a set price. George Hobica of AirfareWatchdog.com says he recently upgraded to business class for $250 on a New York to Los Angeles flight via a last-minute offer emailed from the airline. "A lot of companies are getting stricter with their travel policies," says Ben Schlappig of OneMileAtaTime.com, another frequent-flier website. "So we have a lot of empty business-class seats."

Extra savings tip:

Airlines also will quietly off-load premium-class seats to aggregator sites like

Planetamex.com

. You can save up to 60% on these tickets. The catch: They're usually nonrefundable, and you might not earn frequent-flier miles for those flights.
Exotic Cars
Snob factor:

It may not be in your budget to buy a sports car, but ride-sharing companies such as Turo and Getaround make it affordable to drive one for a day or two.

Get it for less:

You can rent a Porsche 911 in Los Angeles for $259 a day in August on

Turo

. Hertz charges $450 for the same car. Mileage is usually limited with a rented exotic car, so don't plan a major road trip. Also, some owners charge to meet you at the airport. Ask about curbside delivery before you book.
A Custom Suit
Todd Pearson—Getty Images
Snob factor:

The ultimate power suit? One that's been cut and stitched especially for you, with fabric you've selected. But they don't call it looking like a million bucks for nothing. On London's renowned Savile Row, you'd pay $4,000 for a bespoke set of threads.

Get it for less:

Online retailers such as

Knot Standard

and

Indochino

can make you a custom suit that arrives on your doorstep in a few weeks. The key is in the measuring, experts say. At Knot Standard (knotstandard.com), you either get measured at a local tailor and send your numbers to the company or use Knot Standard's webcam tool, which essentially does a body scan to compute your measurements. The suits start at $600. If you need further alterations, Knot Standard will cover you up to $75.

Extra savings tip:

Buy off the rack—but only certain racks. Jeanne Yang, a stylist who has dressed George Clooney and Leonardo DiCaprio, is "totally floored" by the quality of the

Ludlow and Crosby suit lines at J. Crew

, which start at around $300. "They are Italian-made and some of the best bargains in the business," says Yang. And because you can buy the pants and jackets separately, you'll have better luck getting the perfect fit. You can spruce up any nice suit easily by replacing the standard trim with something special, such as genuine buffalo-horn buttons. They cost about $30.
A Kick-A** Grill
Courtesy of Napoleon Grills
Snob factor:

The Napoleon Lex 485 will make your mouth water, and that's before you've cooked on it. It comes with a rear infrared burner for rotisserie cooking, a side infrared burner for searing, and even a built-in ice bucket to keep your drink cool. But the most telling sign of top quality is the grill grates. They're made of easy-to-clean, heavy-duty stainless steel, not porcelain-coated cast iron that's susceptible to rust. "Stainless steel is our favorite," says Max Good, director of equipment reviews at AmazingRibs.com.

Get it for less:

They're so sturdy, they come with a lifetime warranty, a feature more commonly found on grills costing thousands. The Lex 485 retails for $999, though check for price drops now, when stores run end-of-season discounts of 25% or more.
A Round of Golf at St. Andrews, Scotland
Snob factor:

Unlike many top U.S. golf clubs, the Old Course at St. Andrews is open to the public—and it's cheap. It costs $230 (175 pounds) to play in high season, a steal considering that the game was born here in 1552. The trick is getting a tee time. Scheduling is done by lottery, and it's always oversubscribed. The only way to ensure an in-season reservation is to book an Old Course Experience, arranged via St. Andrews's official travel partner, which includes three rounds of play and three nights in a hotel. The price: about $2,907 (2,200 pounds).

Get it for less:

There is one other way to get on the Old Course: Play in the winter. Sure, you'll need your windbreaker, but that's the way golf was meant to be played. The Old Course Experience isn't available in the off-season, so you'll have to book everything yourself. But that's also a great way to save. Rooms at the five-star Old Course Hotel cost about $250 (190 pounds) a night—still pricey, but a small fraction of what you'd pay with the package deal. Greens fees are under $100 from Nov. 1 to March 31.

Extra savings tip:

Depending on your airline, your golf clubs can set you back $200 in baggage fees. You can rent a set of Callaways from St. Andrews for $46 (35 pounds) a day.
A Great Bottle of Wine
Photograph by Shayla Hunter
Snob factor:

Even 161 years later, the 1855 Bordeaux Classification of wines, which Napoleon III commissioned, is the gold standard of great French red wines. The 61 names on the list—including Château Lafite Rothschild, Château Latour, and Château Margaux—are the only ones allowed to print the holy-grail words "Grand Cru Classé en 1855" on their labels. Indeed, some of the Grand Cru will cost you a grand or more for a single bottle.

Get it for less:

The 1855 list is actually broken into five groups. Recent vintages in the almighty first cru (French for "growth") cost $350 to $2,500, depending on the year. But the lesser-known third, fourth, and fifth crus can rate just as highly—and go for one-tenth the price. A few top values: Château Grand-Puy-Ducasse 2009 for $70 and Château d'Armailhac 2010 for $79.

Extra savings tip:

If you're willing to wait, invest in wine futures. You can buy a third-growth 2015 Château Giscours for $54 (three-bottle minimum) on Wine.com. You'll get your order in 2018. If that turns out to have been a strong vintage, the wine will be selling for about $90.
Diamonds
Snob factor:

In the market for one-carat earring studs? Depending on the gem quality and where you shop (such as the premium you would pay for that

Tiffany

blue box), you'll shell out $2,000 or more.

Get it for less:

If you're willing to settle for slightly smaller gems—say, an almost undetectably smaller total weight of 0.97 carats—you could save a whopping 25%. That's because the price of diamonds jumps at each half-carat point. Can people tell the difference between one carat and 0.97? Perhaps, but they'd need a scale to do it.

Extra savings tip:

In addition to carat size, the factors that affect cost are the color, clarity, and cut—colloquially called the C's. If you want to save, scrimp on color and clarity, but go with the best cut you can afford. "The cut is what allows the fire and brilliance of a diamond to come out. A good cut can mask the lower quality of the other C's," says Amanda Gizzi of the trade group Jewelers of America. (For more information, check out the Gemological Institute of America's guide at

4cs.gia.edu

.) And if you're up for a little more work, shop for loose gems and have them set yourself. Loose diamonds can cost up to 30% less than diamonds in their settings. Plus, you can select the setting you like best—and still save money in the long run.
Business Backpack
Snob factor:

If you're a hip guy (or want to look like one), you've ditched your briefcase for an upscale backpack. One brand of the moment, Tod's, makes all-leather, hand-stitched packs that cost well upwards of $1,000.

Get it for less:

You'll still win style points—and at a much lower price point—with a backpack from

Everlane

. Its packs feature leather detailing, a padded interior for laptops, reinforced shoulder straps, extra handles, side pockets, and more, all for $68 to $80. They're made from water-resistant cotton twill and come in earthy, understated, boardroom-friendly colors.
A Luxury Cruise
Snob factor:

A mainstream cruise can be fun, but you'll notice an ocean of difference on a luxury carrier. High-end lines such as

Silversea Cruises

and

Crystal Cruises

sail ships with hundreds of rooms, not thousands, which means better service. They also feature high-end perks: larger rooms, free alcohol, and unique shore excursions. Of course, you pay for those privileges. A 10-night Caribbean voyage next March on

Royal Caribbean

starts at $808; a similar trip on Silversea starts at $3,195.

Get it for less:

"The best way to save is to book early," says Carolyn Spencer Brown, editor-in-chief of Cruise Critic. All cruise lines offer discounts for reservations generally made six months or more in advance, and on a luxury line those savings can be substantial. For 2017 and 2018 voyages, Regent Seven Seas Cruises recently offered two-for-one cruise fares, free roundtrip airfare, and free business-class upgrades on intercontinental flights. Don't worry about locking in a price early. Should fares drop between when you book and when you make your final payment, most lines will credit you.

Extra savings tip:

If you're willing to sail relatively soon, look for a last-minute fare.

Cruise.com

and

CruiseBargains.com

are two good places to look. One example:

Windstar

recently offered a seven-day Mediterranean cruise, booked less than a month before departure, for $1,599 a person. The standard price: $3,199.