Why I Love My Screwy Souvenir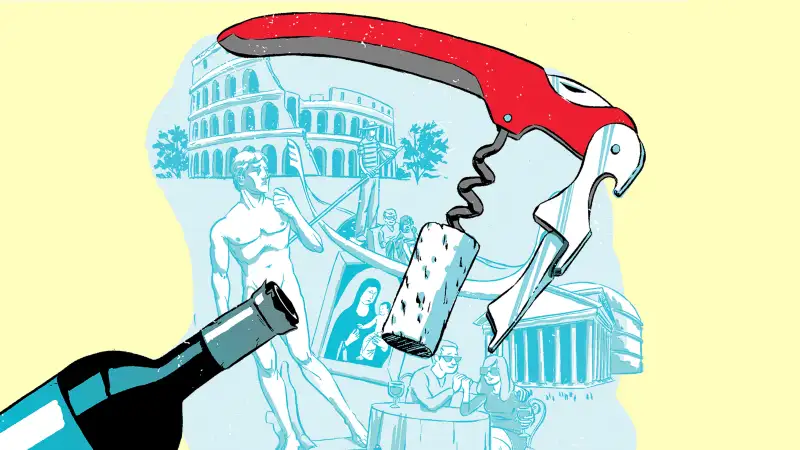 Any vacation is a treat, but the trip my wife and I took to Italy four years ago felt particularly sweet.
Reason one: Twenty-one years had gone by since our last overseas trip together, our honeymoon in Portugal. The day-to-day concerns of raising kids and keeping house kept pushing a jaunt to Europe far down our to-do list. By the time Margot and I landed in Rome—celebrating our 20th wedding anniversary one year late—all that self-denial had put us in an indulgent mood.
Reason two: What's not to like about 10 days in Italy? We gorged our senses on art, architecture, music, and, oh yes, food. We savored multiple cups of chocolate-chip gelato, then went back for a taste of the hazelnut.
Toward the end of our trip, near when it would go from a vacation to a memory, we hunted for gifts in and around Florence's Central Market. There, in a wine shop where we bought a bottle of limoncello for my parents, I saw for sale my perfect souvenir: a corkscrew.
Just a few pieces of metal nesting against a yellow plastic handle, the corkscrew seemed, like so much else in Italy, a product of thoughtful design. It looked aerodynamic and felt substantial. I pulled out a 10-euro note (about $14) and bought it.
Back home, the corkscrew's functioning has lived up to its appealing form. When I open a bottle, the Teflon helix twists smoothly into the stopper. Using the device's "patented double lever mechanism" (I quote the website of Patrick, its Italian manufacturer), I can slide the cork out in two easy motions. This keepsake is a pleasure to use, even before I start drinking.
More important, each time I retrieve the corkscrew from our kitchen drawer, I can revisit our Italian vacation. I look at the store's name and location stamped on the handle—"Enoteca Marconcini Firenze"—and I'm reminded of moments from our trip. I think about the view of the sunset from Florence's Ponte Vecchio and a sculpture exhibit at the Accademia Gallery. I remember a jog through the grounds of the Villa Borghese in Rome and a stroll through St. Peter's Square. I picture a gelato shop near the Torre Argentina. I'm back in Italy. And what's not to like about that?
George Mannes is a senior editor at Money. He is currently daydreaming about his next overseas vacation—China, perhaps. Do you have a purchase you consider Money Well Spent? Email us about it and what it means to you at wellspent@moneymail.com.
More Money Well Spent:
The Best $25 Gift I Ever Gave
How One Family Discovered a Vacation in a Box
How a $600 Banjo Saved My Life