8 Reasons to Love Beer on National Beer Day—or Any Day Really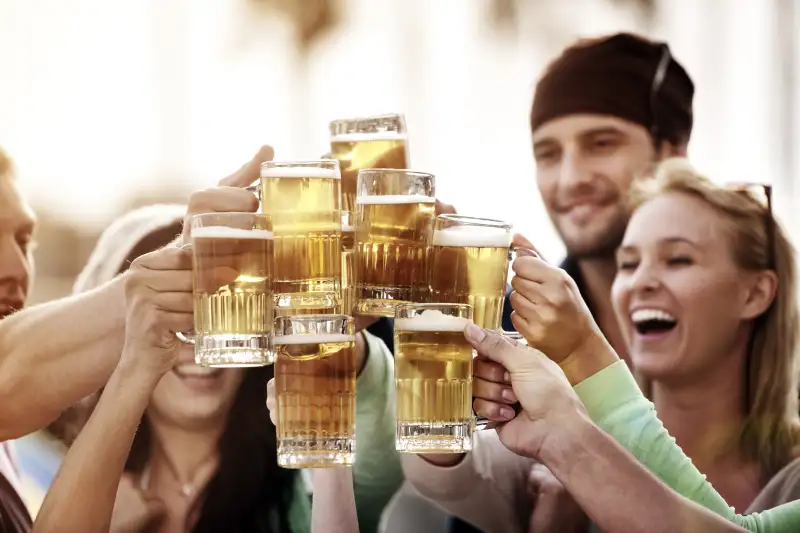 National Beer Day is an unofficial—some might say fake—holiday celebrated annually on April 7, because that's the day in 1933 when people could once again legally buy, make, and drink beer due to the end of prohibition. There's a trending #NationalBeerDay hashtag and everything.
If you're just learning about this now, you totally missed out on New Beer's Eve last night. Bummer. But it's not too late to partake in National Beer Day festivities today, which mostly involve, well, you know, drinking some beer and stuff.
While enjoying the frosty beverage of your choice, consider the reasons below to celebrate beer today—beyond the obvious, which is that it's just plain delicious.
Beer is great for the economy. According to the Beer Institute, more than two million Americans earn their livelihoods thanks to beer—farming grains and other ingredients, working in retail outlets that sell beer, actually brewing beer, and so on—bringing in a total of $79 billion in wages and benefits annually. Brewers, importers, and distributors also cough up $5.3 billion in federal and state excise taxes each year.
Beer variety and quality have never been better. The Brewers Association, which represents America's craft beer movement, reported that as of 2014, there were 3,418 craft brewers in the U.S., an increase of nearly 20% over the year before. Craft beer production rose 42% last year, and for the first time ever, craft brews accounted for more than 10% of all beer sales in America.
You can afford one after just five minutes of work. Using median hourly wages and local beer prices around the world, analysts found out that Americans have to work the least amount of time to cover the cost of a cold brew. The data, revealed in an Economist infographic, indicated that as of 2012, the average worker on earth had to toil for 20 minutes in order to earn enough money to pay for a beer—which averaged a retail price (at the store, not bars or restaurants) of $1.55 at the time. In the U.S., where wages are much higher, employees must suffer through only five minutes of work before earning enough scratch to cover the cost of a cold one ($1.80). Everybody all together: USA! USA! USA!
Beer can be especially cheap on National Beer Day. In all honesty, most bars and restaurants probably have no clue that it's National Beer Day. But some of the establishments that are aware of this fake holiday are celebrating with gusto. Eight stores and restaurants inside New York City's Grand Central Terminal have deals and free tastings for local brews in honor of National Beer Day. For instance, Juniors, best known for cheesecake, offers 50% off Brooklyn Lagers with the purchase of any deluxe burger today.
Anyone can make halfway decent beer. The American Homebrewers Association estimated that as of 2013, there were 1.2 million homebrewers in the country, two-thirds of whom started brewing in 2005 or later. Collectively, they produce more than two million barrels of homemade brew per year. Most craft brewing operations begin as homebrewers, and even those who aren't interested in starting businesses are able to make money if their beer recipes prove popular. Slate recently highlighted a startup called Kit Lab, where brewers can upload their recipes as a homebrewing kit and receive $5 each time someone purchases it.
Some especially great beer is made by monks. Try as you may, your homebrew probably won't be quite as tasty as the brews lovingly crafted by the original hipster entrepreneurs, monks. The monks at St. Joseph's Abbey in Spencer, Mass., are renowned for brewing Spencer Trappist Ale. Production in the U.S. kicked off in the summer of 2014, and on Beer Advocate, beer enthusiasts give the ale a rating of 90, which is "Outstanding."
The underdogs are gaining ground on the corporate giants. When Budweiser aired an incredibly defensive Super Bowl commercial that proclaimed itself "Proudly a Macro Beer" and mocked hipsters and the craft beer trend in general, the move was viewed as somewhat desperate. After all, Budweiser sales have steadily declined for decades, and Anheuser-Busch InBev has tried multiple strategies to try to revamp the stale image of Bud and its other mass-produced brands. The corporate beer giants have also been buying up craft beer labels and creating their own faux craft "crafty" brands to compete with the legions of small, independent brewers around the country. And the overarching reason for all of the above schemes is that craft beer is a legitimate threat to macro beer, which once enjoyed a near monopoly of the market in the U.S.
There's beer for all tastes. At the same time that craft brews have soared, a few old-school beer brands have seen sales rise largely thanks to nostalgia. Coors Banquet and Miller Lite have used old-school packaging—stubby bottles and the 1970s logo, respectively—to successfully boost sales. And drinkers drawn to the old-fashioned packaging seem to enjoy the brew inside. Not everyone likes dark, hoppy brews, and true beer lovers should only care about what they're drinking, not what someone else likes to drink.