Nationwide Travel Insurance Review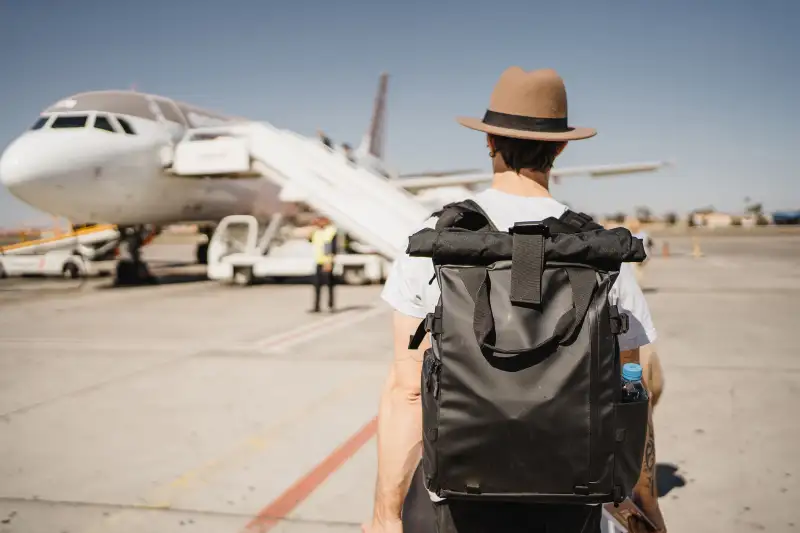 Travel insurance is an easy way to protect yourself from the unexpected expenses that can occur during travel. These include needing to cancel or interrupt your trip, emergency medical expenses, medical evacuation and travel delays. If you're comparing the best travel insurance companies for tourists and long-term travelers, Nationwide is one company you'll want to consider.
This Nationwide Travel Insurance review will guide you through the pros and cons of this well-known travel insurer to help you decide if it's the best option for you.
Best for cruise travel insurance
The key takeaway of our Nationwide review is that this is the best company we've found for cruise insurance. It offers multiple insurance plans designed specifically for cruises, including high coverage for medical evacuation and accident coverage.
Nationwide travel insurance pros and cons
Pros
A wide variety of plans
Multiple coverage add-ons available
Extensive coverage for cruises
Offers pre-existing condition waiver
Cons
Baggage delay coverage applies after 12 hours
Lower than average coverage limits for some plans
Travel insurance offers coverage for medical emergencies and other potentially expensive issues while you're abroad. It isn't required for all destinations, but it provides peace of mind for a fraction of your total trip cost. Like the best travel credit cards, great travel insurance can be an investment in a more rewarding trip.
Nationwide is one travel insurance provider that offers a range of plans for different types of trips. It has high ratings across review platforms and specializes in cruise insurance. But that doesn't mean this is the best insurance provider for everyone.
Here's what you can expect from your Nationwide Travel Insurance plan.
Pros explained
A wide variety of plans
Nationwide offers multiple flexible plans for different types of trips. Those plans include single-trip, multi-trip, cruise and customizable group plans. That range of options makes it easier to find the best plan for your trip and avoid overpaying for coverage you don't need.
Multiple coverage add-ons available
Another great feature of Nationwide Travel Insurance is the variety of add-on coverage options. Add-on coverage allows you to customize your plan by paying for extra features. Some coverage options offered by Nationwide include:
Rental car collision coverage. This will cover the costs of an accident if you rent a car while you're traveling. (Note that rental car coverage is not available to travelers from all states — ask a customer service agent if it's available to you).
Pre-existing condition waivers. You can add these waivers to extend coverage to medical expenses for a pre-existing condition.
Financial default coverage. This add-on offers reimbursement if your trip is canceled due to the travel supplier closing or going bankrupt.
Extensive coverage for cruises
Nationwide offers broader, more customizable cruise insurance than other travel insurance companies. It has three plans for cruises: Choice, Universal and Luxury. Each of these plans comes with high levels of coverage for medical evacuations and additional features like itinerary changes and missed connections.
What sets cruise insurance apart from standard single-trip insurance? While you can buy a single-trip plan to cover your cruise, specialized cruise insurance offers more coverage for things that could potentially go wrong at sea. For example:
Cancellations due to weather or social unrest in an itinerary country
Missed connections while you're off the cruise ship
Missed excursions due to an itinerary change
Nationwide isn't the only insurer to offer cruise insurance, but its range of plans and add-ons provide more options for families planning a cruise.
Offers a pre-existing condition waiver
Travel insurance plans often don't cover medical costs for pre-existing conditions. Nationwide offers optional waivers to add pre-existing condition coverage to any plan, so you don't have to worry about paying out of pocket if you have a chronic condition or were recently treated for an illness or injury.
Cons explained
Baggage delay coverage applies after 12 hours
Baggage delay coverage can help you avoid the costs of delayed luggage, like forwarding your bags or buying the items you need to continue your trip comfortably. Some Nationwide Travel insurance plans include baggage delay coverage.
Unfortunately, those plans require your baggage to be delayed for at least 12 hours before coverage kicks in. That means most standard delays aren't covered.
Lower than average cover limits for some plans
The higher the coverage limit, the lower your chances of having to pay out of pocket for an emergency. Some of Nationwide's travel insurance plans have lower-than-average coverage limits.
For example, Nationwide Essential Travel Insurance offers up to $75,000 for medical costs and $250,000 in medical evacuation coverage. Nationwide Travel Plus offers only $10,000 in medical coverage per person, per trip. That low limit means there is a chance you may have to pay directly for an expensive hospitalization.
Nationwide travel insurance plans
Choosing the right travel insurance plan for your trip is crucial. Just like the best travel rewards credit cards, the right plan will help you save money on your trip, but the wrong plan could be an unnecessary expense.
Nationwide offers a full range of travel insurance plans that can be customized for your trip. Each plan comes with a flexible deductible and can be augmented with optional add-ons. You can learn more about the details of each plan and get a quote on Nationwide's website. Below is a brief overview of the different types of travel insurance offered by Nationwide.
Single-trip
Single-trip insurance can be bought for a flat price and offers coverage for the extent of your trip, whether it's a few days or a month. Nationwide offers two single-trip plans:
Essential. Nationwide Essential offers up to $75,000 in medical coverage, plus trip cancellation coverage, medical evacuation coverage and other benefits.
Prime. Nationwide Prime comes with trip cancellation coverage up to $30,000, medical coverage up to $150,000 and cancel-for-any-reason (CFAR) coverage up to 75% of your total trip cost. This might be the best option if you're concerned about a last-minute cancellation. With CFAR coverage, you can cancel your trip within two days of departure.
Multi-trip (annual)
Nationwide annual travel insurance can be a great choice for digital nomads, gap-year travelers, missionaries, military members and other frequent travelers. Annual plans, also known as multi-trip travel insurance, are designed to cover multiple trips per year and are paid on an annual or monthly basis.
Nationwide offers three multi-trip plans:
Travel Pro. This annual plan offers coverage for trip delays, lost baggage, medical evacuations, sports equipment and more.
Travel Plus. This plan has higher coverage limits for medical emergencies and evacuations. It also includes baggage delay coverage. You'll also have the option to add trip cancellation coverage up to $10,000 for an additional fee.
Travel Pro Deluxe. This is Nationwide's most expensive annual plan, and offers up to $20,000 in medical coverage per person, per trip. Trip cancellation coverage can also be added to this plan.
In addition, all of these plans include accidental death and dismemberment and repatriation coverage. These features, like life insurance, provide coverage for your beneficiaries in case of a tragic accident.
Cruise
Nationwide's cruise insurance differentiates the company from others in the industry. Cruise insurance comes with coverage for every destination country plus robust medical evacuation coverage, in case you need to be evacuated while at sea.
Nationwide offers three cruise insurance plans:
Universal. This plan comes with tons of benefits including coverage for transportation changes, itinerary changes, trip interruption and trip cancellation. It does not offer non-medical evacuation coverage.
Choice. Nationwide's Choice cruise plan is its most popular cruise insurance plan and offers a full range of benefits, including non-medical evacuation coverage.
Luxury. The Luxury plan offers up to $1 million in medical evacuation coverage. It also offers up to $150,000 for illnesses or accidents.
Nationwide travel insurance pricing
Because Nationwide offers so many different plans, your coverage costs may vary. Your exact insurance cost depends on the plan you choose, plus a handful of other factors like the number of travelers in your group, their ages, your destination and the total cost of your trip.
Nationwide makes it easy to find out how much your travel insurance will cost. You can get a quick quote on the website or call the 24/7 customer helpline to connect with an agent and get a more detailed cost estimate.
Nationwide financial stability
Nationwide is an established insurance company with an A+ rating from AM Best. That high financial strength rating indicates that this company is not likely to fail. There is very little risk of losing your insurance policy due to a company bankruptcy or closure.
Nationwide accessibility
Because Nationwide is such a large company, its insurance plans are widely available. The company also takes steps to be as accessible as possible.
Availability
Nationwide Travel Insurance is available in all 50 states. However, policies can vary from state to state. Coverage for itinerary changes, for example, may include those caused by fires, mechanical issues, illnesses and more, depending on the state in which you buy your plan.
Contact information
Nationwide allows policyholders to get a quote and file a claim online. The company also offers a 24/7 travel assistance line for travelers all over the world: 1-877-970-9059. You can call the helpline to ask a question about your coverage or get help finding a network provider. If you want to make a payment for your Nationwide account travel insurance, you can do it through your account or as a guest online.
Nationwide Travel Insurance doesn't have a public email address, but you can fill out a form on the contact page of Nationwide's website to send an email.
User experience
Most Nationwide Travel Insurance reviews report an intuitive user experience. The website is easy to navigate and provides clear directions to compare plans, file a claim or make payments. Customer reviews report quick response times and helpful customer service agents.
Nationwide travel insurance customer satisfaction
Customers frequently review Nationwide International Travel Insurance on third-party platforms. While Nationwide does get mixed reviews, it's a large insurance company and most public customer complaints aren't specific to its travel insurance plans.
Nationwide is rated 1.15/5 stars on the BBB. Again, those scores don't directly refer to Nationwide's travel insurance policies, but they do reflect how the company as a whole is regarded by its customers.
Some customers have reported difficulties with filing claims. The claims filing process may be slightly slower than average depending on the complexity of your claim. Nationwide also doesn't allow you to file travel insurance claims from the mobile app, which can be challenging if you're traveling without a computer. Policy details, such as your Nationwide Travel Insurance upgrade cost or initial trip deposit, may vary by location.
Nationwide travel insurance FAQ
How can travelers file a travel insurance claim with Nationwide?
You can file a Nationwide travel insurance claim online through your Nationwide account. Make sure you have all the necessary documents before you file. If you're not sure what documents you need, call the customer helpline to talk to an agent.
Does Nationwide offer a "cancel for any reason" upgrade?
Yes. Some Nationwide travel plans come with CFAR coverage, but you can also choose it as an add-on option if it isn't included in your plan. CFAR coverage is limited to 75% of your total trip cost.
Is Nationwide travel insurance worth it?
Nationwide Travel Insurance is fairly priced and offers comprehensive coverage. Many travelers find buying insurance worth it, just for the peace of mind it brings. Nationwide offers travelers the option of customizing their plans. In addition, buying from Nationwide may be especially worth it for travelers planning a cruise.
How we evaluated Nationwide travel insurance
We evaluated Nationwide Travel Insurance for this review by comparing it to other top insurance providers. Some critical features we considered include:
Variety of plans offered
Amount of add-on coverage
Accessibility
Customer reviews and complaints
Coverage limits
Inclusion of pre-existing condition waivers
Summary of Money's Nationwide travel insurance review
Before you start browsing travel booking sites for your flights and hotels, make sure you pick an insurance plan that fits your trip. Nationwide Travel Insurance offers comprehensive coverage for its single-trip, multi-trip and cruise plans. The company might be the best insurance provider for you if you want multiple options for cruise insurance. With the right coverage, you'll be protected from emergency costs wherever you go.