How New York's Proposed Toll Hikes Stack Up Against Other Cities'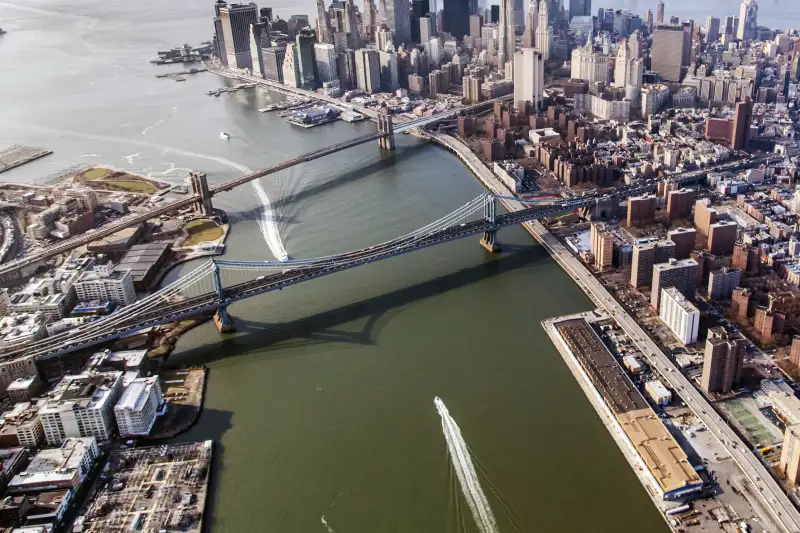 This week, a transit advocacy group introduced the Move NY Fair Plan, a proposal to add and tweak driving fees around Manhattan in order to address what it describes as an "unfair, regressive tolling system," while also easing traffic congestion and raising $1.5 billion annually to fund transportation infrastructure. The gist of the proposal, as summed up by the New York Times, the Times Herald-Record, and others, is that some bridge tolls would get cheaper while a few new tolls would be added according to "a logical formula: higher tolls where transit options are most available and lower tolls where transit is either not available or a less viable option."
The plan calls for tolls to be added to four bridges that cross the East River but traditionally have been toll-free: Brooklyn, Manhattan, Queensboro, and Williamsburg. Vehicles would also start being hit with a fee when they cross 60th Street northbound or southbound in Manhattan. In both cases, the new tolls would run $5.54 each way for E-ZPass users, and $8 for others. Meanwhile, tolls on a few other New York City bridges, including the Verrazano Narrows, Throgs Neck, and Bronx-Whitestone, would be reduced by $2.50 for E-ZPass holders.
The overarching argument in favor of the changes is that the existing system of tolls and transit fares isn't sufficient to fund infrastructure needs, and that today's tolls are just plain unfair. Hence the proposed "Fair Plan."
But how "fair" would the new tolls be compared to what drivers face elsewhere? The proposal—which for now is just that, a proposal that may not win much support in the city or Albany—would have no effect whatsoever on the bridges and tunnels run by the Port Authority, including the George Washington Bridge and Lincoln and Holland Tunnels, among others. If the plan is approved, the East River Bridge tolls—again, $5.54 each way with E-ZPass, so $11.08 round trip—would be cheaper than a Port Authority bridge or tunnel crossing into New York during peak commuting hours ($11.75), but pricier than an off-peak trip ($9.75).
Among other pricey bridges and tunnels around the U.S. and abroad:
Chesapeake Bay Bridge-Tunnel: The $15 toll during peak season (Friday to Monday, May 15 to September 15) is quite pricey, but hey, this engineering wonder connecting Virginia's Eastern Shore to Hampton Roads and Virginia Beach is 20 miles long.
Golden Gate Bridge: At a cost of $6 to $7 only for cars heading into San Francisco, the Golden Gate doesn't charge as if it's one of America's most famous landmarks.
Whittier Tunnel: This 2.5-mile passage in between Anchorage, Alaska, and Whittier and Prince William Sound is the longest highway tunnel in the U.S., and it only has one lane that must be shared by cars and trains. The cost of driving through in a standard vehicle is $12 one way.
Akashi-Kaikyo Bridge: Also known as Pearl Bridge, Japan's Akashi-Kaikyo has the world's longest central span of any suspension bridge, at 1.2 miles. Driving across costs 2,300 Yen, which is around $20 per vehicle today. The toll used to be closer to $30 back in the days when the American dollar wasn't quite as strong.
Mont Blanc Tunnel: This passage crossing the France-Italy border in the Alps is impressive for two key data points. The tunnel stretches a total of 7.2 miles, and driving through costs about $49 one way.
As for the idea that drivers in the New York City area be charged not for crossing a body of water but simply for entering or exiting Manhattan's CBD (central business district), Singapore, Milan, London, and Stockholm have had similar toll systems in place for years. London's "congestion pricing" scheme has been in place since 2003. Back then, the daily charge for driving in central London was £5, or about $7.75 today. The driving surcharge has since increased, hitting £11.50 ($18) last summer.
Compared to that, the $5.54 charge to drive into lower Manhattan just might seem cheap.