NFL Star Richard Sherman Says This Is the Biggest Problem With Cryptocurrency Right Now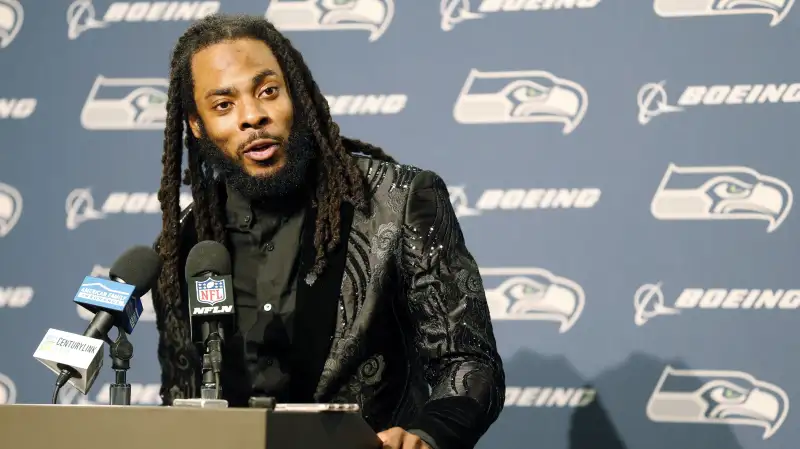 NFL star Richard Sherman has been in the cryptocurrency game for years—and he has some advice for all the newcomers.
"Knowing when to sell, knowing when to sit, knowing when to huddle," the Seattle Seahawks cornerback tells Money, describing his crypto philosophy. "No matter how much research you do, just like with stocks and bonds, you can never predict [what it will do]. People say they can predict it, but if you could predict everything, there'd be more billionaires in the world."
Sherman first embraced cryptocurrency back in 2014, when he began accepting Bitcoin payments for merchandise on his official website. Now he owns several of them, including Bitcoin as well as Litecoin and Ethereum. He says he's made "a decent chunk of money" off of those investments in the last year, totaling around $20,000.
However, there is one thing about the cryptocurrency world that he's not sold on — and that's trading fees.
"Every time you make a trade, there's fee," he says. "Skimming off the top. A lot of people don't realize until you make 10 transactions in a day. You're like 'Why am I $200, $300, $400 less? They charge you out the yin-yang, and it limits what you thought you'd be able to do. You don't want to do that many transactions because you'll get hit over the head."
As the prices of Bitcoin and other cryptos skyrocketed last year, many money luminaries have weighed in on the subject—both for and against it. Warren Buffett recently said cryptocurrency will "come to a bad ending." JP Morgan's Jamie Dimon said he'd fire someone "in a second" for trading Bitcoin, but then backpedaled. Shark Tank stars Mark Cuban and Daymond John both own cryptocurrency, but are much more cautious about advising average investors to buy into it.
Sherman is so passionate about cryptocurrency that he recently become a spokesperson for Cobinhood, a no-fee exchange that launched last Fall. The company is based out of Taiwan and founded by 26-year-old Popo Chen.
But he will never dole out any advice on specific cryptocurrencies to invest in. He reads Cryptonaire and stories on Medium to educate himself.
"I have a hard enough time dealing with my finances," he says. "I don't want people coming on my social media saying 'You told me to do this!'"