How to Talk About Terrorist Violence at Work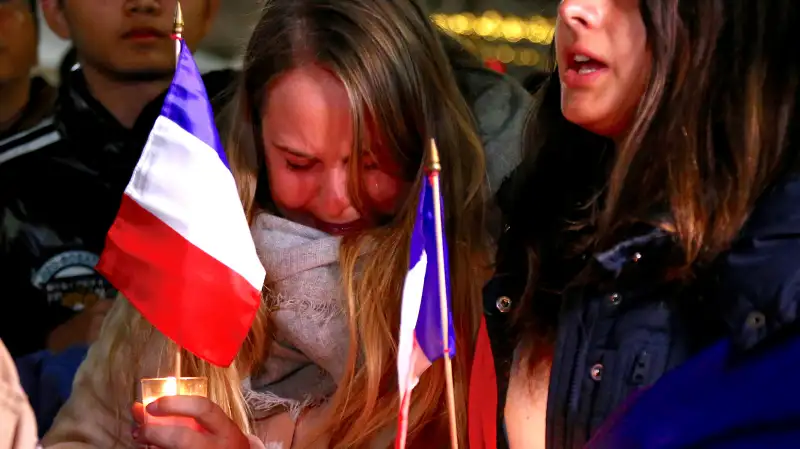 Thursday's attacks in Nice, France, appears to be the latest in a string of terrorist violence around the world -- and the third major attack on French soil in the last 19 months. At least 84 people were killed and dozens were wounded after a truck drove at high speed through a crowd during Bastille Day celebrations in the French Riviera town.
Understandably, many employees will arrive at work Friday morning with heavy hearts. If you feel like you need to talk about your grief over the Nice attacks, here's how to broach the subject with your coworkers.
It's okay to talk about the news at work.
First, remember that shocking headlines are not necessarily a taboo subject at work. In fact, if you and your coworkers are upset, talking about your reactions will likely make you more productive afterward.
If you're a manager, be aware of the fact that many of your employees, especially if they have ties to France, might be upset. Be sure to let them know that you sympathize with their concerns. Offer to set aside a time to talk about everyone's concerns.
If you're an employee whose company isn't talking about a tragedy, and you think it should be, bring your concerns to a trusted senior colleague or mentor in the office, Kira Banks, an assistant professor at Saint Louis University, told me in the wake of last week's police shootings in Dallas.
Keep your discussions productive and avoid expressing potentially incendiary political opinions. "If you want to express sadness for the victims or support, do that," David Maxfield, vice president of research at VitalSmarts, a corporate training and leadership development company focused on human behavior, told my colleague Alexandra Mondalek in the wake of last month's Orlando shootings. "Where the conversation turns risky, though, is when people are looking for a solution to the event."
Be clear about your feelings and respectful of your colleagues.
Express interest in your coworkers' reactions to the attack. Even if you disagree, show them that you respect their viewpoints and sympathize with their distress by saying things like "I can't imagine how you must be feeling right now." Respecting people's opinions will help everyone walk away feeling ready to work.
When expressing your own opinions, bear in mind that other people many not feel the same way. Couch your statements with phrases like "from my perspective" or "This is a reaction I'm having."
Stay committed to the conversation, even if it becomes uncomfortable.
Recent attacks have unfortunately brought to the forefront the highly politicized issues of gun violence and terrorism. Even if you disagree with your coworkers' reactions, stay calm and respond to your coworkers with respect and understanding, rather than shutting down the conversation. As Banks said last week, "Don't get defensive. Be responsible for yourself and be engaged."
Additionally, be sympathetic to the fact that people's reactions, especially in the wake of a tragedy, are likely to be emotional. If the talk becomes too politically charged, use logic to defuse the conversation, said Alison Davis-Blake, a professor of business and former dean at the Ross School of Business at the University of Michigan.
Don't rant on social media.
Try to keep your emotional reactions to national tragedies offline, especially if you're friends with your coworkers or boss on social media. You're more likely to speak rashly and provocatively, which is "what you want to avoid" when you're talking about sensitive issues with your colleagues, said New York University professor Erica Foldy last week.
If you do choose to voice your reactions on social media, be aware that doing so could cause tension with your coworkers who may have a different perspective. And extended rants or racist comments could get you fired.
Look into resources provided by your employer to help you cope.
If you're not comfortable talking about tragic events with your coworkers, ask your employer if your company has an "employee assistance program." This voluntary, confidential program helps workers handle challenges that could negative impact their job performance or health. If your company doesn't provide such a service, research alternative counseling services, or even look into online and community-based events that will help people work through their feelings.