You Can Now Buy a Rock at Nordstrom for $85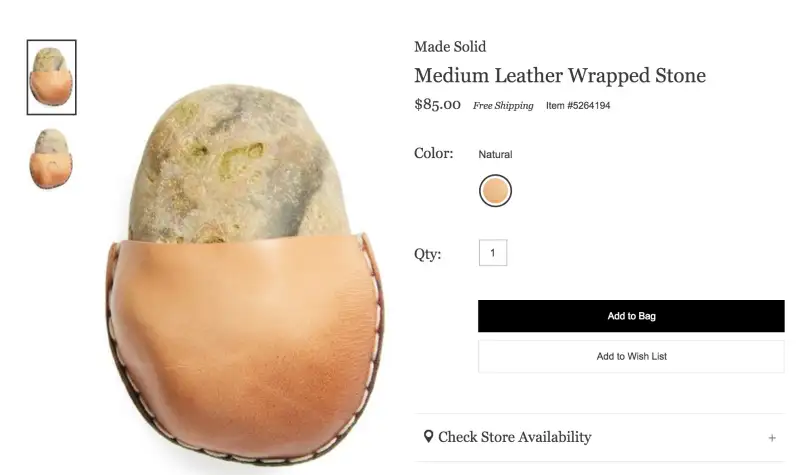 Looking for the perfect holiday gift? Nordstrom has a bizarre option for you: an $85 rock.
The stone, which hails from Los Angeles, is wrapped in vegetable-tanned American leather and secured with a whipstitch, according to the company's website. It was designed by a company called Made Solid and has been for sale since Nov. 18, Nordstrom told BuzzFeed News.
Though the pouch is handmade, "only Mother Earth can take credit for the rocks," the company said to Buzzfeed. The leather in the pouch underwent a traditional hardening process and the case itself was designed in Peter Maxwell's Los Angeles studio. The design is intended to "embody both simplicity and functionality."
Nordstrom doesn't seem too sure about the purpose of the $85 rock, noting "that's up to you." It does offer a few suggestions, though, including a paperweight, a conversation piece, or simply a work of art.
Confused shoppers wondered on social media if the rock was a prank:
Others took advantage of the opportunity to mock Nordstrom:
In the product's reviews, people have made fun of the company's high-priced stone. "Choose this over food," one reviewer wrote. "As a single mother, it is often difficult to put food on the table for my 5 children. However, when I saw this piece of rock, I couldn't help it but to purchase this item."
And if you're on a budget this holiday season, don't worry: Nordstrom is also selling a smaller version of the rock for $65.