So About That Goal of 1 Million Electric Cars by 2015 …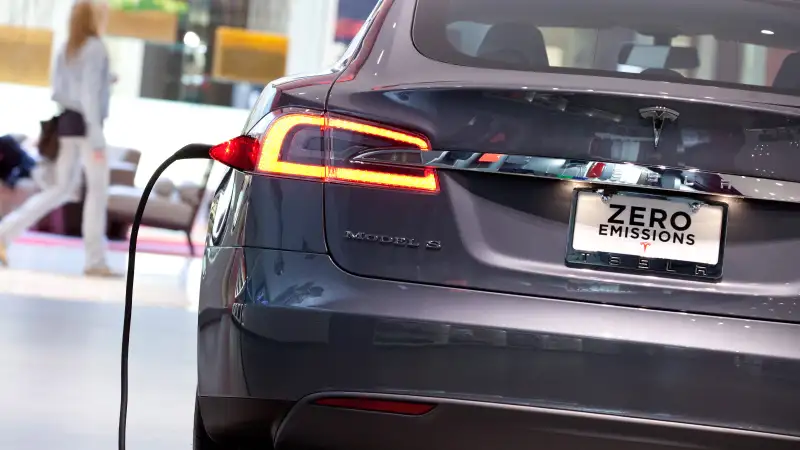 Emile Wamsteker—Bloomberg via Getty Images
In Tuesday night's State of the Union Address, President Obama discussed how "America is number one in oil and gas," and said that "thanks to lower gas prices and higher fuel standards, the typical family this year should save $750 at the pump." There was no mention, however, of an automobile-related goal set in the SOTU four years ago, when the president pushed for 1 million electric plug-in vehicles to be purchased by consumers by 2015.
The likely reason for leaving electric cars out of the president's recent speech is obvious: America is nowhere near reaching that 1 million EV goal. As the Detroit News noted earlier this week, "sales [of electric cars] have been far slower than expected — about 280,000, including 120,000 in 2014," and that "even with dramatic increases it could take at least four more years to hit the mark."
It wasn't supposed to turn out this way. A 2011 Department of Energy report declared the 1 million EV goal "ambitious" and yet "achievable" by 2015, with the help of some conditions:
The report estimated that starting in 2012, GM would be selling 120,000 Chevy Volts annually, and that by 2014, Nissan would be churning out 100,000 plug-in Leafs per year. Even though 2014 was seen as a decent year for the EV market, and quite a good year for the category-leading Leaf, only about 30,000 Leafs sold last year. That was an all-time high, but far short of the goal set a few years beforehand. Meanwhile, consumers bought only 1,490 gas-electric Chevy Volts in December 2014, and fewer than 20,000 in the year as a whole. The fact that Chevy was expected to debut a new Volt in early 2015 is only part of why sales have been anemic.
It's no sudden surprise that America is coming up way short on the 2015 EV goal. By 2013, Obama and the Energy Department admitted that it wouldn't happen, even as federal policies promoting EV adoption will run $7.9 billion through 2019, including but not limited to a $7,500 tax credit with each EV purchase.
Among the reasons often cited for lower-than-wished-for EV sales are their limited driving range in between charges and their still high initial costs even after tax credits, as well as vastly improved fuel efficiency in gas-powered cars (even SUVs) and, in recent months, exceptionally cheap gas prices. "The need to transition to electric cars is urgent," Tesla CEO and EV visionary Elon Musk said in Detroit last week. Based on several years' worth of sales data, however, consumers apparently aren't feeling much sense of urgency on the matter.
The 2011 Energy Department report noted that "automobile consumers tend to be risk-averse, preferring well-proven technology," and that "the performance and cost effectiveness of the early EVs in the market will be a major but unknowable factor in how many EVs are on the road by 2015." Here we are in 2015, and it sure looks like, by and large, consumers haven't bought into the cost-effectiveness pitch for EVs, either because they deem the vehicles too pricey, too impractical, or both.
This doesn't mean that EVs won't enjoy mainstream success down the road. Gas prices surely aren't going to stay cheap forever. One former oil industry executive told USA Today that he sees $5 per gallon on the horizon in the near future. At the same time, EVs will keep getting cheaper and more practical for consumers, with the recent introduction of the $30K, 200-mile Chevy Bolt plug-in as a potential game changer in a couple of years. All of which changes the math on the potential purchase of an EV, and makes the prospect of owning one much more cost-effective.
So we'll get to that 1 million EV goal at some point. It's just a matter of when—and how much we'll have to spend to get there.