How to Avoid Scammers When Supporting the Orlando Victims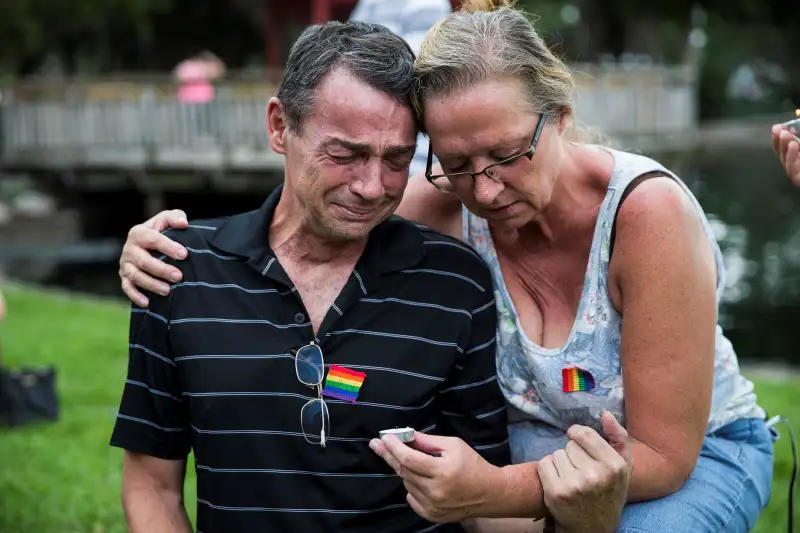 Anadolu Agency—Getty Images
After at least 49 people were killed and 53 more were injured in the Orlando gay nightclub Pulse this weekend, in what is the largest mass shooting in U.S. history, millions of people across the country are sending donations to help the victims and their families.
But as the Sandy Hook tragedy (in which 26 people were killed, including 20 children) proved, even people attempting to do good can end up doing harm. One man was convicted of stealing $28,000 from a fund he set up to help the victims' families. Still others will try to take advantage of the situation purely to scam people: Another women defrauded donors by claiming to be a family member of a slain child who needed financial support.
According to Bennett Weiner, chief operating officer of BBB Wise Giving Alliance, there are some simple steps you can take to make sure that your money is going to the right place.
Read Next: How to Talk About the Orlando Shootings at Work
While Equality Florida's GoFundMe campaign has raised over $2 million and is being heralded as reputable by organizations and news sources across the U.S. (not to mention on Charity Navigator and Guidestar), Weiner says you typically want to avoid crowd-funding websites because you usually cannot guarantee the people or organizations setting up campaigns are reputable or honest, particularly in the aftermath of emotional events that cause an upsurge in support.
"I've seen, specifically with the [Aurora] Colorado shooting, there were people using pictures without permission from the families of the victims," says Weiner. "You really can't assume that something on a crowdfunding site is properly vetted or related to the victim or an organization."
Paul Hennessy—Polaris/Newscom
It's typically better to vet organizations via Charity Navigator, Guidestar, or Give.org (or through the Better Business Bureau directly), and then donate directly through the organization's website.
As Money has detailed before, many charitable organizations, like Charity Navigator, advise donating to organizations that spend less than 20% of their revenue on overhead costs, because that means more of the money donated is actually going to help the cause. In situations like the Orlando tragedy, it can be hard to take the extra time to vet organizations. Our instinct is to do something to help as quickly as we can.
But Sandra Miniutti, vice president of marketing at Charity Navigator, seconds Weiner's caution about crowdfunding sites. "The important thing is to try to give directly to the charity," she says.
Read Next: Read This Expert's Advice Before You Donate to the Orlando Shooting GoFundMe Campaign
According to the BBB, about 40 states require charities to register with a state government agency before they can solicit donations, which can be verified online.
Also of note: Scammers will try to use phishing emails—sent directly to you or via other links—to gain your personal information. That's another reason to donate directly through a website you trust.
Another important thing to remember is that new organizations, charities, and funds tend to crop up during times of tragedy that have not been vetted previously by a third party. For example, the Newtown-Sandy Hook Community Foundation was created by the United Way of Western Connecticut and the Newtown Savings Bank in the aftermath of the Sandy Hook massacre.
To ensure the new organization (or an older one) is legitimate, scope out the website. Does it provide a link to its financial statements and IRS forms? Does the site include a clear description of what the organization does and why it is soliciting funds? Is its board of directors reputable?
"One thing to look out for is an emotional description, but not any details about what they will do with the funds. That's a red flag," says Weiner.
You'll also want to verify when the organization plans to spend the funds. Additionally, many anti-gun violence groups may be classified as advocacy groups, not charities, meaning your donations will not be tax exempt. That's not necessarily a reason not to support a group, but it's something to keep in mind. (For the record: A 501(c)(3) is tax deductible; a 501(c)(4) is likely not.)
If an individual family sets up a fund or charity, you'll want to ensure there is a third party (a lawyer or bank) in charge of the donations to provide oversight.
Of course, as was the case with Sandy Hook, you'll never be 100% certain that all the money you donate will go toward the cause you support. But, with a few common sense practices in mind, that shouldn't stop you from doing good.