People Are Still Avoiding Chipotle. Here's Why
Money is not a client of any investment adviser featured on this page. The information provided on this page is for educational purposes only and is not intended as investment advice. Money does not offer advisory services.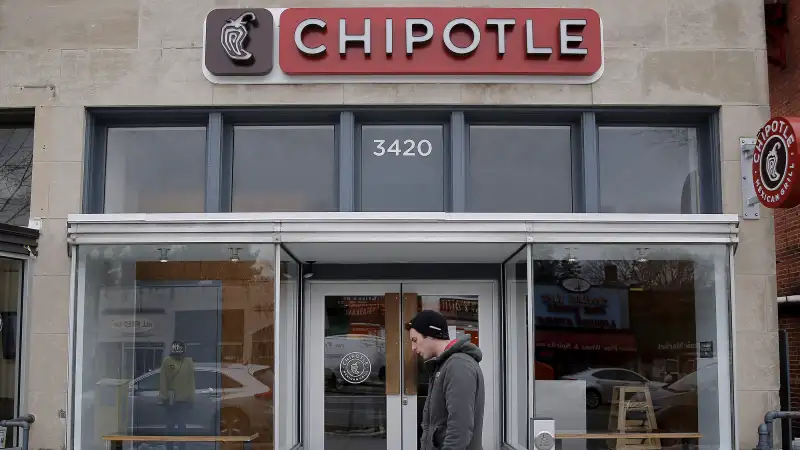 It's been two years since an E. coli scare at Chipotle Mexican Grill harmed 53 customers — and the chain's reputation. Yet consumer perceptions of the restaurant, which sells itself as a healthier, more socially responsible alternative to fast food, are still about as low as they were in February 2016, when the E. Coli outbreak was declared over.
That's according to the results of a recent survey by the Wall Street research firm Cowen and Co.
Analysts at Cowen routinely poll Americans about their perceptions of various restaurant chains. In the summer of 2015, about 70% of consumers said the "food quality" and "trustworthiness" of Chipotle were above average. But that figure sank to below 50% in the immediate aftermath of the E. Coli outbreak — and it was under 50% again last month when the most recent survey was conducted.
"Despite new food safety protocols, enhanced marketing efforts, and new menu additions, no tangible initiative over the past 18 months has managed to reverse, let alone marginally improve, overall respondents' perceptions," noted Cowen analyst Andrew Charles.
Part of the difficulty in regaining customer trust may stem from Chipotle's original allure — its reputation for serving food that's better (and better for you) than fast food.
The chain, which helped popularize Mission-style burritos and "fast casual" dining, has long boasted that it serves "food with integrity." Yet "the food safety incidents call into question the 'food with integrity' mantra that its brand was built upon," noted Morningstar analyst R.J. Hottovy.
What's more, "the company is struggling with a brand turnaround in the face of an oversupplied fast casual market," noted Credit Suisse analyst Jason West.
This is not an insignificant point. When Chipotle came onto the scene nearly 25 years ago, it was among the pioneers of fast casual, an upscale version of fast food that plays up the use of higher quality ingredients. Today, the dining landscape is riddled with fast casual competitors such as Panera Bread, Qdoba Mexican Eats, Five Guys, Noodles & Co., Smashburger, and Shake Shack.
A separate survey in August by analysts at William Blair found that 53% percent of consumers say they are eating less frequently at Chipotle than they did a year ago — and 30% of that group says they no longer eat at the chain.
As for why they're eating at Chipotle less, 38% said they found other fast casual restaurants they like.
Still other Chipotle customers have simply reverted to fast food — or to use the industry lingo, "quick service" restaurants. "According to management, of the roughly 20% of lost sales since the late 2015 incidents, 75% of customers have traded to quick-service restaurants," says Cowen and Co.'s Charles.
This explains why overall revenues at the Chipotle fell more than 13% last year to $3.9 billion. (This year, sales are expected to climb to $4.5 billion, but that only gets back to 2015 levels.)
This also explains the trajectory of Chipotle stock. After being the darling of Wall Street between 2009 and the summer of 2015, the stock has lost 60% of its value since the E. Coli scare.