Peyton Manning Will Retire with Highest Career Earnings in NFL History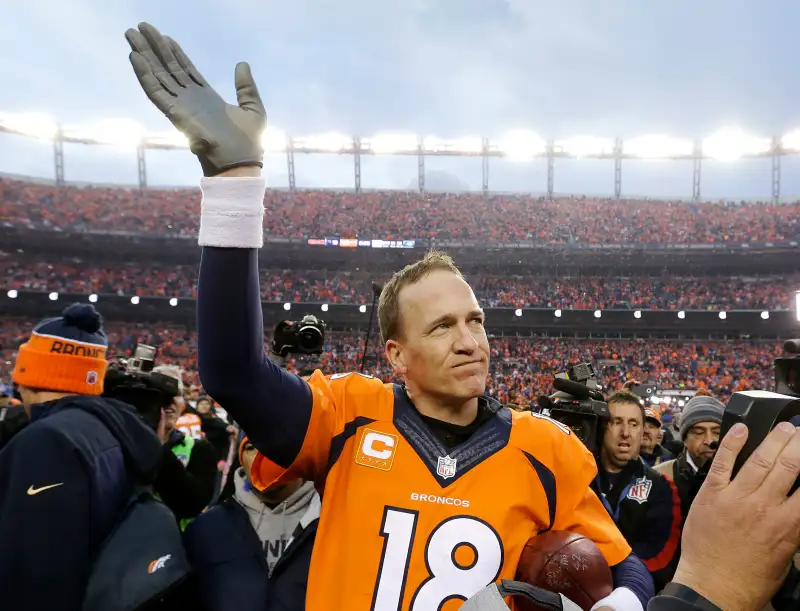 Famed quarterback Peyton Manning will leave the NFL with scores of football records and household name recognition. But perhaps the most significant achievement for the veteran player is his earnings, which place him as the highest-grossing NFL player of all time.
Over his 18-year career, the record-holding quarterback has earned more than $248 million, according to Spotrac, a website that tracks and analyzes professional sport contracts. That places him as the sixth-highest grossing player of all time among professional athletes in the "big four" sports: football, baseball, basketball and hockey. And it's the most ever among all football players, who tend to have shorter careers and less guaranteed money in contracts compared to other sports.
//platform.twitter.com/widgets.js
Manning's career earnings include his recent 2-year, $34 million contract with the Denver Broncos, plus assorted bonuses. What's amazing is that the $248 million figure doesn't even include money from Manning's many endorsement deals with companies like Nike, Nationwide Insurance, and Papa John's Pizza. He made $12 million in endorsements last season alone, Forbes reported. He also has a stake in some of the companies he promotes, including Papa John's, which--like a href="https://money.com/peyton-manning-budweiser-free-advertising/"Budweiser beer--received a shout-out from Manning in the aftermath of his most recent Super Bowl victory.
Manning's exceptional financial success is perhaps proportional to his place in the ranks of NFL elites. Though he's recently been slowed by injury and old age, he's won two Super Bowls over his career and still holds records for the most games won, the most MVP records, and the most yards thrown by a quarterback.
Or maybe it's as simple as the fact that making big bucks runs in the family: With career earnings of $187 million, Giants quarterback Eli Manning has now taken his brother's place as the highest-grossing current NFL player, according to Spoctrac.