'Such a Nasty Woman' and More Demeaning Rhetoric from Donald Trump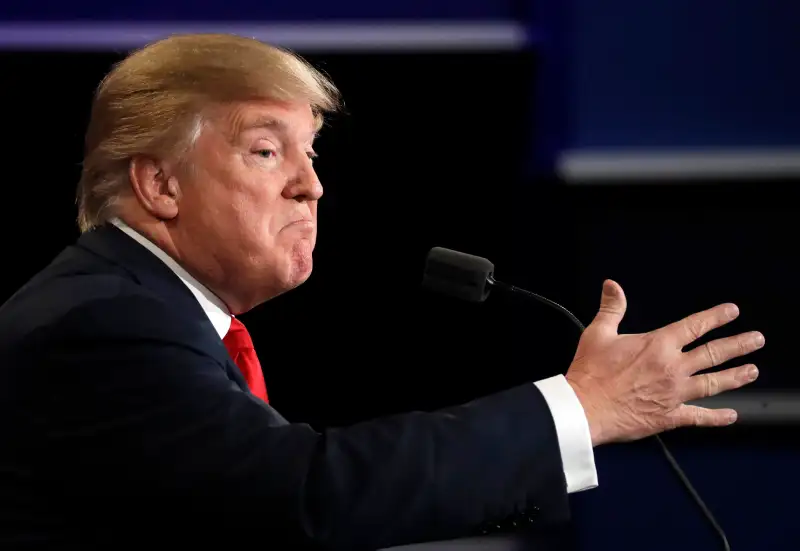 "Excuse me, my turn."
This is what one of American politics' most catalogued manterruptors, Republican nominee for president Donald Trump, said to Democratic nominee Hillary Clinton, without a hint of irony on Wednesday night.
And that was one of the more tepid comments Trump made to Clinton throughout the third and final presidential debate Wednesday night, though it is a nice summation of how Trump has treated and demeaned others this entire election cycle.
At one point, when Clinton (finally) discussed how she would put Social Security on stronger financial footing, Trump interrupted to say "such a nasty woman."
For a man who has a serious gender gap in support, the moment was telling: A highly qualified woman called him out on a policy proposal, and he responded by calling her names.
Another telling moment? Trump's refusal to talk seriously about the sexual assault allegations that nine women have levied against him since the second presidential debate last week. Instead of engaging in a thoughtful conversation about sexual harassment and assault, Trump instead said he'd rather talk about something else -- perhaps because when he did talk about the allegations, he said the women who accused him were not attractive enough to be assaulted, anyway.
And of course, he reminded the former Secretary of State that her husband "disagreed" with her on certain issues (in this case, the Affordable Care Act), something every intelligent, professional woman needs to be reminded of. You want to be president? Are you sure your husband is OK with that?
Women were, to put it mildly, unimpressed with what Trump had to say (search "Hillary is every woman" on Twitter). To many, he represents every man who has interrupted them at work, taken credit for their accomplishments, or mansplained to them.
To many, Trump and his dismissive attitude toward the concerns of women are an important reminder that a 2015 survey found one in three women has been sexually harassed at work (and that sexual harassment wasn't even defined by the government until 1980), and yet little has been done to rectify the situation, except talk about it. That it took until 1978 to pass a law saying women couldn't be fired for getting pregnant. That a major U.S. political party does not officially support equal pay for equal work for women. That Roger Ailes, a former Trump adviser, was pushed out of Fox News for allegedly sexually harassing scores of female employees and creating a toxic work environment.
And that sexual harassment is a real issue that affects real voters, no matter what a campaign says.
Not that Trump's demeaning rhetoric was reserved for just women. He equated Mexicans to drug lords, saying "we have some bad hombres here, and we're going to get them out."
And for the record: Clinton interrupted Trump fewer than five times during the third and final debate, per FiveThirtyEight's count. Trump interrupted her more than 40 times. In fact, that count turned out to constitute the most interruptions of any debate between the two.
If he wants to be the candidate who's "great for women," as he claims to be, maybe he should let the woman have her turn.