What You Need to Know About Women's Workplace Equality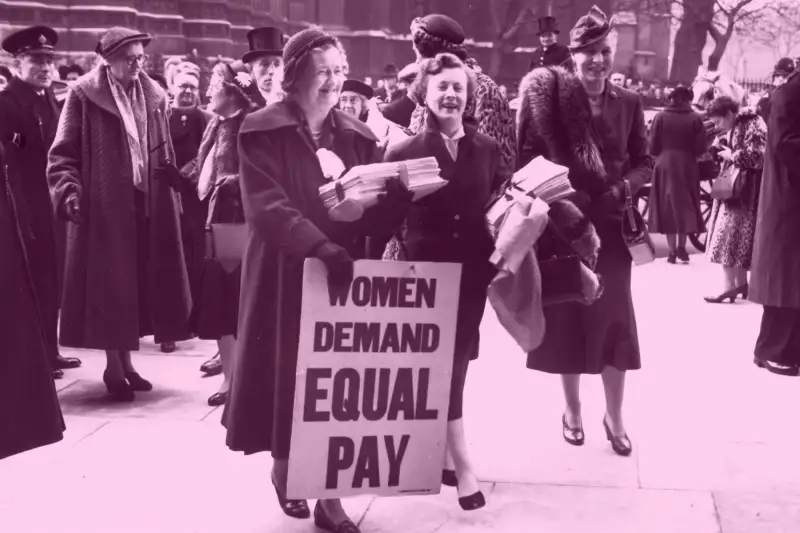 The wage gap is by far the most visible and talked about issue when it comes to equal status for women in the workplace. But it's hardly the only one. Though they make up nearly half the workforce, women hold only 4% of CEO positions at S&P 500 companies, and just 16% of senior management roles. And while women are graduating from college in greater numbers than men and earning comparable salaries when they enter the workforce, many find themselves taking a step back just when their careers should be taking off, a move that can have serious consequences for future earnings and retirement savings.
So today, on Women's Equality Day—commemorating the passage of the 19th Amendment, which gave women the right to vote—let's take a look at how far women in the workplace have come, and how far they still have to go.
The Issue: Equal Pay
Everyone has heard the oft-quoted statistic that women bring home 79 cents for every man's dollar. It's a useful shorthand for the larger problem, although equal pay is a complex issue that's hard to boil down to a few simple numbers. The wage gap varies by industry, skill level, age, and individual circumstance. (For a great primer on the nuances, see Sarah Kliff's "Truth About the Wage Gap" in Vox.)
Read Next: 6 Excuses for the Gender Pay Gap You Can Stop Using
One solution for closing the gap is to get more women in high-paying professions to begin with, such as careers in the STEM fields (science, technology, engineering, and math). According to one study, women engineers and architects earned more right out of school than their male peers. (The advantage didn't last though: the gap reversed and widened over time, as it does in other high-paying professions like law and medicine.)
These are some efforts currently under way to promote wage equality:
Salary transparency: Earlier this year, the Equal Employment Opportunity Commission proposed a set of laws that would require companies with over 100 employees to submit employees' salary information broken down by gender, race, and ethnicity. By openly sharing details of how much everyone in the company earns, advocates argue, wage inequity will be exposed and rectified. Not everyone is convinced with this logic; some believe that making salary information available for all to see will only create a toxic work culture ripe with distrust and jealousy.
Salary history: Earlier this month, Massachusetts became the first state to pass a law banning employers from asking prospective hires about salary history. Because women and minorities tend to earn less than white men at the start their careers, basing future pay off past pay, the thinking goes, means they'll always lag behind—and the gap will only grow wider over time (the gap does in fact widen with age, reaching its widest point at age 32). Additionally, the law holds that companies must base pay on the market value for the job, not on whatever an employee was paid previously. New York City recently proposed similar legislation, as have a handful of other states.
Company-led audits: Not all the activity on this issue is happening in the public sector. High-profile companies like Salesforce and Pinterest have conducted internal salary audits to ensure that unconscious bias hasn't led to salary discrimination; Salesforce CEO Marc Benioff spent about $3 million last year to close the pay gap he uncovered in the company's ranks.
Read Next: These Are the 20 Best-Paying Jobs for Women Right Now
The Issue: Paid Leave and Subsidized Childcare
Another cornerstone issue for women's equality is paid parental leave. Currently, the U.S. and Papua New Guinea are the only countries in the world with no federal law guaranteeing some type of paid leave.
One of the reasons the gap widens at age 32 is because that is when many women leave the workforce to have and care for children; it's also around the age workers start to really move up the corporate ladder. Once out, it's often difficult to reenter, particularly when you factor in the cost of child care. A recent survey by Care.com found that one-fifth of U.S. households spend more than 25% of their income on childcare. In other words, many women simply can't afford not to stay home with their children.
Paid leave, then, is seen by many as the single biggest way to ensure equality between the sexes. A 2012 study from the Center for Women and Work at Rutgers University found that "women who use paid leave are far more likely to be working nine to 12 months after a child's birth than those who do not take any leave."
But it will only have the desired effect if both sexes take advantage. According to a study out of Sweden, which offers 480 days of paid leave to parents, 90 of which are reserved for dads, "each additional month that the father stays on parental leave increases the mother's earnings by 6.7%." When men also take time off to care for their children, their female partners—and overall family income—benefit.
So does the company. YouTube CEO Susan Wojcicki wrote an op-ed in the Wall Street Journal detailing how expanding the company's paid leave policy from 12 weeks to 18 weeks decreased attrition rates of new moms by 50%, which in turn helped the company avoid costly turnover. And tech companies and financial firms have been in a virtual arms race the past year to provide better paid leave policies than their competitors (just ask Facebook CEO Mark Zuckerberg, who took two months of leave when his daughter was born).
California, New Jersey, New York, and Rhode Island have passed laws guaranteeing paid leave; 19 other states and Washington D.C. have laws in the works.
The issue is uniquely positioned in the 2016 election because, unlike equal pay legislation, it enjoys support on both sides of the political aisle. Democratic presidential nominee Hillary Clinton's official position calls for "up to 12 weeks of paid family and medical leave." Her Republican counterpart Donald Trump has (sort of) come out in support of more generous parental leave policies (or at least, his daughter Ivanka has). Both of the nominees are battling it out over who has more worker- and family-friendly policies; paid time off is one that a hefty majority of voters support. (Support for paid time off and subsidized childcare do not appear in the official Republican party platform.)
Read Next: Where Presidential Candidates Stand on Equal Pay
The Issue: Representation in Upper Management
According to the Department of Labor, women make up 47% of the workforce in the U.S., and 58.6% of women age 16 or older are participating in the labor market. Women enter the workforce in roughly equal numbers to men, and yet they account for just 14.6% of executive officers, 8.1% of top earners, and 4.6% of Fortune 500 CEOs, according to American Progress.
Some of this can be traced back to that critical age of 32: Workplace analytics firm Visier found that just when women are leaving the workforce to have children is around the time workers tend to move up the ranks in their company. While men and women hold roughly the same number of management positions throughout their 20s, once workers hit the age of 32, men hold a significantly higher proportion of those roles (as much as 10% more). And managers earn, on average, double the wages of nonmanagers, according to the report.
As it turns out, getting more women into the management ranks isn't just good for the women, it's good for the company's bottom line. According to a February study by the Peterson Institute for International Economics of 22,000 publicly traded entities, "an increase in the share of women from zero to 30 percent" in top management roles "would be associated with a 15% rise in profitability," the New York Times reported.
So what's being done to address the management pipeline problem? Paid leave could make a big difference by ensuring more women get back to work. "If you have a supportive set of policies, which would include paternal leave, which allows women to have children while maintaining their careers in a relatively undisruptive manner, you see more women making it to the very top," Marcus Noland, the Peterson Institute's director of studies, told the NYT.
Getting more women into P&L roles is critical too. Many high-ranking women are in staff jobs, like human resources and communications, rather than "line of business" roles with responsibility for profit and loss—a key step on the path to the executive suite. In Fortune 500 companies, only 1 in 10 line jobs is held by a woman.
That won't change until company culture changes. Rebecca Shambaugh, writing in the Harvard Business Review, puts the onus on CEOs and bosses:
The Issue: Women Are Opting Out
If there's one silver lining to persistent workplace inequality, it's in the small business realm. The number of women-owned businesses in the U.S. has been steadily increasing for the past two decades. The National Association of Women Owned Businesses reports that female-owned small businesses are launching at a much higher rate than those started by men.
Minority women in particular are benefitting from the small biz boom. According to the 2015 State of Women-Owned Businesses Report, from 1997 to 2015, "non-minority women-owned firms grew 40% over the 18-year time period, black women-owned firms grew 322% and Latina-owned firms grew 224%."
That makes black women the fastest-growing group of entrepreneurs in America. And it's all of the other discrimination women face in the corporate sector that may be pushing them to become their own bosses. "We attribute the growth in women-owned firms to the lack of fair pay, fair promotion, and family-friendly policies found in corporate America," Margot Dorfman, CEO of the U.S. Women's Chamber of Commerce, told Fortune. "Women of color, when you look at the statistics, are impacted more significantly by all of the negative factors that women face. It's not surprising that they have chosen to invest in themselves."