There's ANOTHER Royal Wedding Happening. Here's How Much Princess Eugenie's Ceremony Will Cost – and Why There's Drama About Who's Paying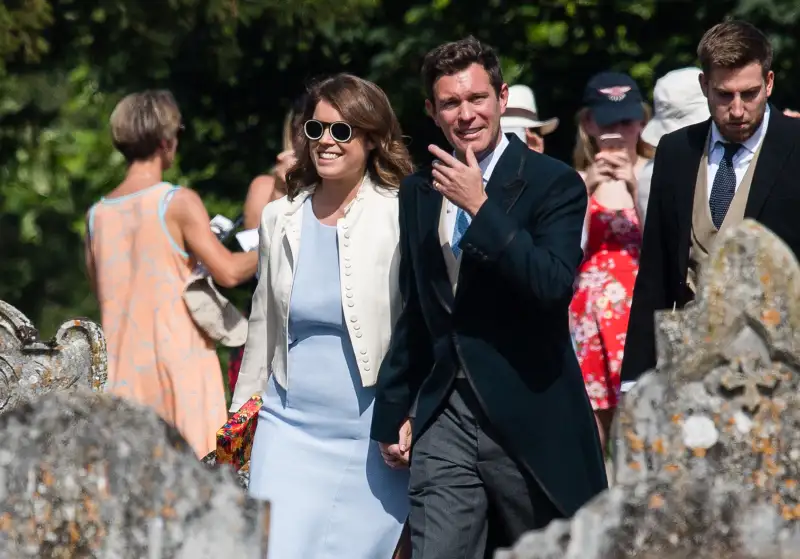 Samir Hussein—WireImage/Getty Images
Set your alarm, buy some scones and pin up the Union Jack — it's time for another royal wedding.
That's right, a second member of the monarchy is getting hitched. Princess Eugenie of York is set to wed her longtime boyfriend Jack Brooksbank on Friday in the U.K. at 11 a.m. local time (6 a.m. EST). And though the ceremony will take place in the same venue as Prince Harry's marriage to Meghan Markle earlier this year, the wedding is on track to be very different.
Here's everything you need to know.
Who Is Princess Eugenie, Again?
Eugenie is the daughter of the queen's son Andrew, the Duke of York, and his ex-wife Sarah Ferguson. That makes her one of Queen Elizabeth II's eight grandchildren, just like princes Harry and William.
Eugenie is ninth in line to the British throne, just after her sister Beatrice — you may know them for their over-the-top fascinators.
Oh, So She's the One With the Hats?
Yes. Eugenie's most famous fashion moments all include crazy hats, like this blue-and-purple floral-and-feathered number at William's 2011 wedding and this polka-dotted black fedora at the 2009 Royal Ascot. (She opted for this low-key white pillbox hat for Harry's ceremony in May.)
Is She Rich? What's Her Net Worth?
According to the Sun, Princess Eugenie's net worth is £3.6 million, which translates to about $4.7 million. That's only slightly less than Meghan's net worth.
How Does Eugenie Make Her Money?
Unlike her royal relatives, Eugenie has a day job. She works as an director for the art gallery Hauser & Wirth. Previously, she spent about two years at the auction house Paddle8, earning a rumored £25,000 ($33,000) a year.
"I've loved art since I was very little. I knew I definitely wouldn't be a painter, but I knew this was the industry for me," she told Harpers Bazaar in 2016.
However, Eugenie does have some family money. She and her sister got their tuition covered and a £1.4 million ($1.8 million) trust fund in their parents' 1996 divorce agreement, according to the Telegraph. Eugenie also has access to a trust fund established by her great-grandmother, the Queen Mother. The Guardian reports that its sum is likely in the millions.
Who Is Princess Eugenie Engaged to?
Eugenie is marrying Jack Brooksbank, her boyfriend of eight years. The couple met in 2010, and Brooksbank proposed this past January.
Also, he's technically her cousin.
OK. Is He Rich?
It's unclear. Brooksbank is the former manager of Mahiki, a London nightclub where Harry, William and Kate, the Duchess of Cambridge have all been photographed partying. He's currently a brand ambassador for George Clooney's tequila company, Casamigos, which was recently sold for $1 billion.
(Brooksbank told the Daily Mail that he can't say whether Clooney will attend the wedding, but he did add that "I'm in charge of drinks, and we'll be serving Casamigos.")
In 2016, Brooksbank created Jack Brooksbank Ltd., a wholesale wine and beer company. According to business information site Endole, Jack Brooksbank Ltd. had about £14,000 ($18,000) in net assets as of August 2017.
What is Princess Eugenie's Engagement Ring Like?
Her ring — which shows off a pink-hued padparadscha sapphire surrounded by diamonds — likely cost between $30,000 and $150,000. The couple designed it themselves.
"And what's amazing about it is that it changes color from every different angle that you look at it, which is what I think of Eugenie," Brooksbank told BBC News. "That she changes color and is just so amazing."
How Expensive Is Princess Eugenie's Wedding Dress?
Eugenie is keeping her dress details under wraps — nobody knows its cost, because all she'll say is that the gown is from "a British-based designer." But the oddsmakers at Ladbrokes say that the most popular guess is Erdem, followed by Suzannah.
How Much Will the Royal Wedding Cost?
The Express estimates that Eugenie's wedding will cost £2.7 million, or about $3.5 million. The most expensive parts will be the security and flowers for the ceremony at St. George's Chapel at Windsor Castle.
How Does That Compare to Harry and Meghan's Wedding?
It's bigger: Eugenie and Brooksbank have invited 850 people to their ceremony, while the Duke and Duchess of Sussex only had 600 guests. But it'll likely turn out to be much less expensive: The first royal wedding cost taxpayers about £35 million ($46 million).
Wait. So Will Meghan, Kate Middleton and the Queen Be at Eugenie's Wedding?
Probably. Princess Charlotte and Prince George have been tapped for the ceremony, as well.
Who's Paying for All of This?
Good question. Eugenie doesn't count as a "working royal," which means she doesn't have to appear at public events, but there have been reports that taxpayers may have to fork over £2 million (about $2.7 million) in security costs nonetheless.
How Does Everyone Feel About It?
There's some drama. About 40,000 people have signed an online petition demanding the U.K. House of Commons refuse to use public money to cover the wedding.
"Charging one royal wedding to the taxpayer is bad enough, but two costly royal weddings this year is crossing a line. Royal spending is out of control, and taxpayers have a right to know how their money is being spent," a spokesman for the campaign says. "If the royals want to use Eugenie and Jack's big day to shore up support for the monarchy, they have to cover the costs — security and all."
One politician, Emma Dent Coad, told the Express it was "disappointing that we have to foot the £2 million bill for security for her dream of driving in an open-topped carriage through Windsor." Coad urged Eugenie to skip the carriage ride and instead donate to the homeless.
What Time is the Royal Wedding?
Eugenie's ceremony kicks off Friday at 11 a.m. in Britain, which is 6 a.m. EDT, according to USA Today. Her reception will extend through Saturday night.
Will Princess Eugenie's Wedding be Televised?
There's drama surrounding this topic, too. BBC executives reportedly told the couple they didn't want to broadcast the wedding live, so instead it will air in full on ITV Daytime in the U.K.
In the U.S., TLC is hosting a commercial-free stream of the wedding starting at 4:25 a.m. EDT. (It'll air again on the same channel at 7:25 a.m. EDT.)