My Satellite TV Company Damaged My Roof and Won't Pay. Help!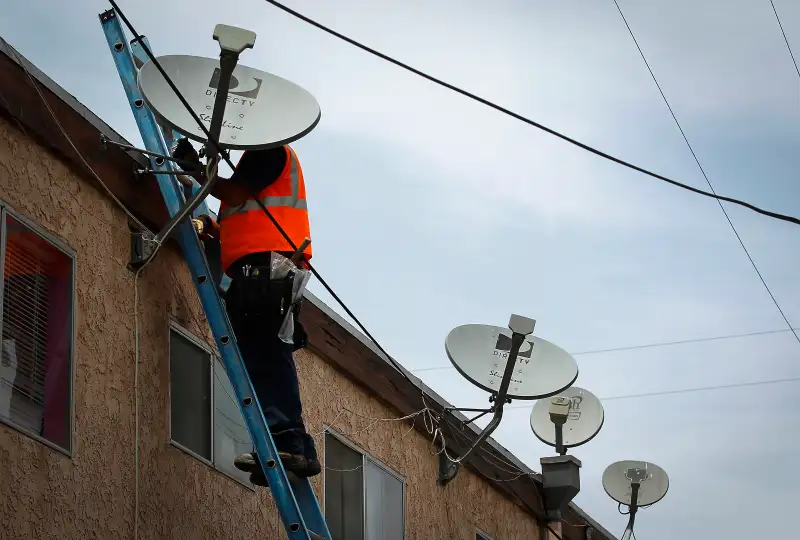 Bloomberg—Bloomberg via Getty Images
When a DirecTV dish damages Dianna Bush Nix's roof, the company agrees to pay her for the repairs. But more than a year later, why is she stuck with a $3,695 bill?
Question:
My roof was damaged by a DirecTV dish more than a year ago. I had to pay $895 out of my pocket for emergency repairs because it was an active leak that had already caused major damage to my living room ceiling. The roofer removed the dish and photo documented all the damage.
I had three estimates for the damage to my ceiling. The average estimate was $2,600. I sent in all the documents requested by DirecTV via certified mail, which they received in February.
I was assigned a rep for my case. She sent a man to take pictures of the ceiling damage. I was told claims take 4 to 6 weeks to process. It's been five months and I can't get anyone to call me back.
I have texted, emailed, voice chatted, called many numbers over and over again but I am being ignored. I got a call in late April from a DirecTV representative who said she was appalled at how this was being handled and she was going to take it to her supervisor directly after she hung up with me and there should be some resolution by the end of the day.
Nope. She never called back and still nobody will return my calls. I have every call I have made to DirecTV documented and I copied every chat and email I have sent. It is ridiculous and very frustrating that no one will give me an answer.
My husband died last year and I am a single mom. I can't afford these repairs. I do not know what to do. If there is anything you can do to help me, I would very much appreciate your time and effort.
— Dianna Bush Nix, Cartersville, Ga.
Answer:
DirecTV agreed to pay for the damages and sent an adjuster to your house. What was it waiting for? The company should have cut a check quickly, especially given your personal circumstances.
It's hard to know exactly why a big company drags its feet. Sure, the claims process can take time (weeks, not months — and definitely not more than a year). Yes, there are forms that have to be filled out, approvals to get. But what you had to endure … there's just no excuse for it.
In the end, this institutional sluggishness only benefits one party: the institution. DirecTV doesn't have to pay you what it agreed to pay. It keeps your money. And that helps the company.
Can you imagine what would happen if the roles were reversed? By now, DirecTV would have called a debt collection agency, and it may have even sued you to recover the money. Every credit agency would have a black mark against you. As a single mom trying to support a family, you have virtually none of those options.
You could have appealed to a customer service manager at DirecTV — we list them on our site — but our advocacy team felt you'd been more than patient. It was time to call the professionals.
DirecTV has processed your $3,695 claim.
Christopher Elliott's latest book is "How To Be The World's Smartest Traveler" (National Geographic). You can get real-time answers to any consumer question on his new forum, elliott.org/forum, or by emailing him at chris@elliott.org.