6 Things You Should NEVER Buy at a Grocery Store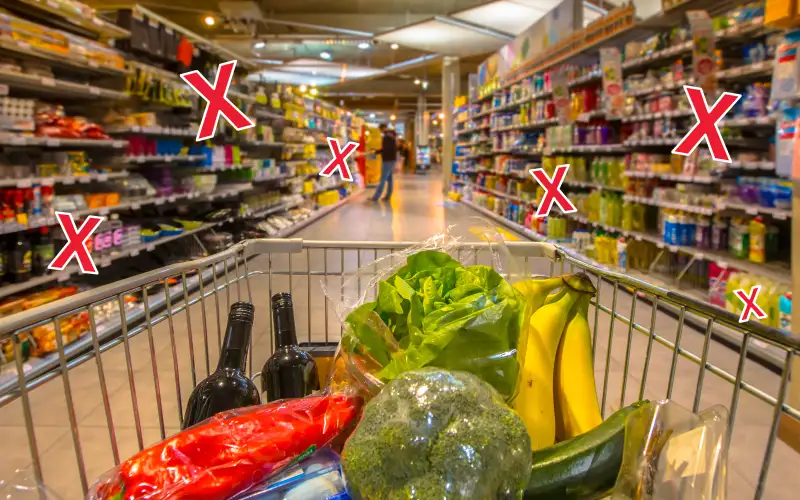 Photo illustration by Money; Shutterstock (1)
There's a right way to do your grocery shopping — and, almost by definition, a wrong way. In search of higher profits, supermarkets try to woo you with products that are more convenient, but also more expensive. These products include ready-made items that can be prepared much more cheaply at home, produce you'd be better off buying in its simplest form, and non-food items that are significantly less expensive at other retailers.
I asked a couple of budget-minded bloggers to help me identify which supermarket offerings can blow your food budget — and then I ran the numbers myself. (To avoid having the results skewed by the high grocery prices in New York City, where most of Money's staff lives, I used pricing from a Kroger supermarket in Mount Pleasant, Mich.)
Here are the items to avoid.
---
Precut Produce
Let's face it: Cutting pineapples, cubing sweet potatoes, and peeling and slicing carrot sticks can be a pain. The temptation to pick up precut fruits and veggies may save you some time and elbow grease, but it will take a chunk out of your wallet.
Yet grocery stores charge you dearly for the convenience. Chop the veggies yourself, according to Amiyrah Martin, a blogger at Four Hats and Frugal: "They will up that price as much as possible," Martin says. "People are coming in because they really need [a product] — they're trying to save time, but they're actually spending way more money," she adds.
For instance, a 14-ounce box of precut celery sticks at a Kroger in Mount Pleasant costs $2.99, but a large celery stalk that could produce well over a pound, once chopped, goes for just $1.59. Wielding your own knife saves you more than a dollar and you wind up with more.
---
Prepackaged Snacks
Another similarly expensive time saver: purchasing packaged snack bags of nuts or pretzels, instead of bagging them yourself, points out Laurie Heiss at Passionate Penny Pincher. At Kroger, a package containing 10 small bags of pretzels, each just under one ounce, costs $4.29 — while the 16-ounce value bag costs only $3.23 and contains more than half again as many snacks.
---
Frozen Rice
Often, buying frozen can save you money because you don't have to worry about fresh produce spoiling. (That's why, for instance, Martin also recommends buying frozen vegetables if you think you won't be able to use everything you buy while it's still fresh.)
That logic doesn't hold up, however, for products that don't go bad to begin with — like dry rice, which lasts for years, and is easy to prepare. That's why buying cooked, frozen rice is unnecessary and a waste of money, says Martin.
How much would you save? At Kroger, a box of cooked, frozen white rice costs $1.89 and produces 12 ounces of cooked rice; a 32-ounce bag of grain rice costs $1.39 — 50 cents less — and yields about 90 to 100 ounces once cooked.
---
Diapers
Depending on their baby's age, new parents can wind up going through as many as 10 diapers in a day — meaning even a slight price difference can yield big savings.
Heiss says you can almost always get cheaper disposable diapers from Amazon than from grocery stores. That's especially true, she adds, especially if you wait and order during the website's monthly sales, when it offers diapers for just 9 to 10 cents each.
Without the sale, the price difference is smaller, but Amazon still comes out ahead: a size 1 diaper pack of 54 is $11.99 at Amazon (about 22 cents per diaper), while the 35-count pack for the same size diaper sells for $8.99 at Kroger (26 cents). And that small differential matters even more when you're going through 300 diapers a month.
---
Cooked Chicken
John E. Kelly—Getty Images
"If you buy the stuff that's been pre-done for you, it's always going to cost more money," Heiss cautions. She points out one more spot where you'll pay a premium for convenience: cooked versus raw chicken breasts.
At Kroger in Mount Pleasant, you can find a 12-ounce bag of Tyson Oven Roasted Chicken Breast for $5.49, or about 46 cents per ounce. But a whole pound of raw Heritage Farm chicken breast goes for $1.99, or 12 cents per ounce — about a 75% discount. Buy it raw, and invest 45 minutes in roasting the meat yourself, Heiss says.
---
Housewares
Grocery stores offer plates and other serving pieces to tempt you into impulse buys, Martin cautions. "People start thinking about whether they have the things to put the food on," she explains. "It's definitely an impulse purchase, but I highly suggest people just wait; get your food and go to a store that specializes in housewares and you'll save a ton of money if you do that."
But if you're buying something on impulse, you're almost certainly not comparison shopping — which is how you'd notice that grocery stores are overcharging for those platters, bowls and other housewares. Such products are almost always better off bought at an IKEA or a Home Goods, Martin says: "Please, please, please, do not get them from your grocery store."