How to Become the Puppy Bowl Referee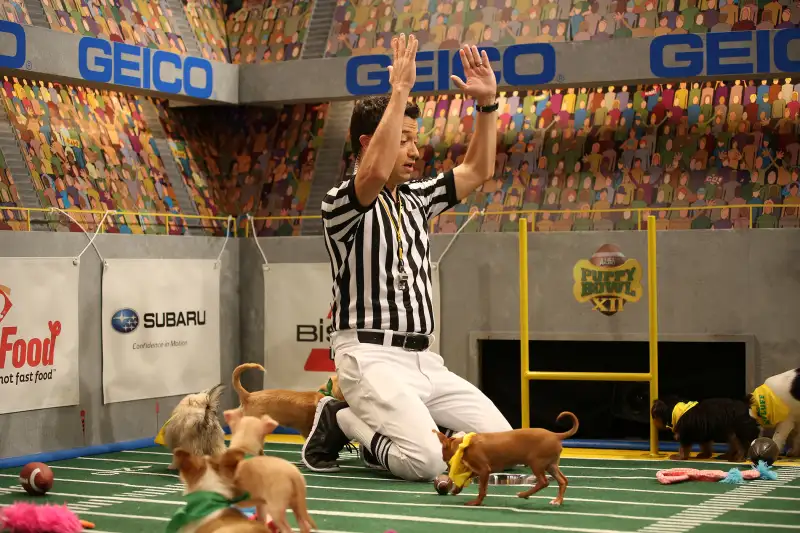 Damian Strohmeyer—Animal Planet
This Sunday marks the return of one of the biggest events on the sports calendar: More than 80 puppies will take the field, as kittens cheer, for Puppy Bowl XII.
Oh, yes, it's the Super Bowl too.
But let's keep our eye on the ball, shall we? When the action gets going, Puppy Bowl referee Dan Schachner will have the enviable job of keeping rambunctious dachshunds and disorderly terriers in line. Now in his fifth year as ref, Schachner talked to Money about what it takes to land an animal lover's dream gig.
Schachner, who studied TV and performing arts in college, went on to appear on various shows on the Discovery Channel, HGTV, and Animal Planet (which airs the Puppy Bowl.) When he heard there was an opening for a Puppy Bowl ref, Schachner knew he had to pursue the role.
"It combined all my loves at once—my love of animals, my love of TV, my love sports," he says. "It's the best job ever."
So what does it take to make it in the canine big leagues? According to Schachner, a little bit of insanity doesn't hurt.
"It can be a little nerve-racking because you know you're not catching everything," he says. "It really is controlled chaos, that's the best way I can describe it. You have to be a little nuts."
The job certainly isn't a walk in the (dog) park. Schachner says the puppies always keep him on his toes—particularly during the first two quarters, when the smallest dogs are on the field. "They could literally be napping under your feet," he says, "you have to watch where you step."
The unique challenges of the game mean Schachner has to get creative in his officiating.
"Puppies are always celebrating, always sort of showboating," he says. "We have a penalty called 'excessive cuteness,' you would never call that in human football." Other calls that are animal-specific? Un-puppylike conduct, unnecessary ruff-ness, and paws interference.
But the most difficult aspect of the job is parting with the puppies and kittens (who perform during the half-time show) at the end of the night. All the animals involved in the production are adoptable, and according to the actor, this year's roster has already been adopted in full. While the pups who take the field are typically only a few weeks old, Sunday's broadcast will feature a Hall of Fame segment spotlighting older dogs who also need homes.
We asked Schachner what advice he would give others who aspire to a similarly unconventional career goal.
"The lesson to be learned is if you're passionate about something, make your own content and put it out there," says the ref, who made an audition tape with his camcorder and sent it to the network as soon as he heard about the opportunity. "Create your own content, and chances are someone will listen to you if you have a unique vision and a strong enough passion."