Rent Too $@#% High? These 7 Tips Can Get You a Better Deal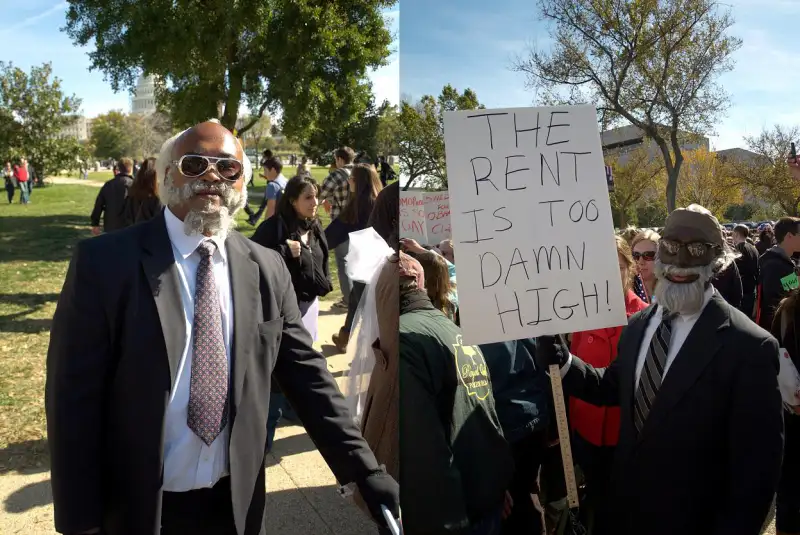 Renters who aren't leasing space under a rock have probably noticed prices are kind of insane lately. Since last year, rents are up everywhere (in some cities, over 10%), and an average 2-bedroom in a major city could cost as much as $3,550 a month.
Short of running for political office, how can you cut your rent bill from impossible to merely outrageous? We've got a couple of tips.
1. Have low realistic expectations
The economy is getting better, more people are going back to work, and most of them are renting. That means there's a huge clamor for condos, especially in major metropolitan areas, and landlords can set their prices accordingly. Gary Malin, president of the New York City brokerage firm Citi Habitats, warns waiting for an out-of-this-world deal in a hot area is a sure way to end up with no place to live.
Instead of looking for a huge bargain, he suggests, try to negotiate somewhere between $25-100 off your monthly rent. (Talk in dollars, not percentages, so your landlord doesn't have to break out a calculator.) In San Francisco, 50 bucks off might just be a 1% discount on a typical two-bedroom's monthly bill, but over a year it works out to $600 in savings. That's not nothing.
2. Show the landlord how awesome you are
How awesome you are as a tenant, that is. Someone with solid financials who will sign quickly can land a discount even in tight markets, Malin says.
Build a strong application by including all the necessary paperwork and emphasizing your strengths (current employment and great credit can go a long way). Complimenting the apartment doesn't hurt. Include references from previous landlords: Niccole Schreck of Rent.com says letters from past property owners attesting to your amazingness can win your new lessor's confidence—and maybe a bargain as well.
Try this: owners of smaller complexes have the most to lose if tenants don't pay up. If you can show you're a prize, you might nab a better deal in buildings with fewer units.
3. Go by the numbers
When asking for a discount, approach the landlord "intellectually, not emotionally," Malin says. Translation: no sob stories. Instead, do your research and show the property manager why you should get a better rate. Schreck advises renters to look up the prices of other units in the neighborhood (use Rent.com and similar sites) and make notes of the amenities other buildings offer, like gyms or laundry rooms. If surrounding real estate rents for less or offers more perks, use that to your advantage.
4. Be flexible about location, location, location
Jason Kaczmarczyk, partner at the Boston-based Encore Realty, says he saves clients thousands by steering them from the sought-after Brookline neighborhood to the more affordable Cleveland Circle. The kicker? Cleveland Circle is just feet from the Brookline town limits—and it has free parking.
To find a cheaper area, use your commute time to create a list of all the neighborhoods where you could feasibly live. At Trulia.com, enter where you work and generate a map of your city, color-coded by shortest travel time. From there, look for lower-priced parts of town.
5. Wait for winter
The summer months are the No. 1 season for new leases, meaning huge competition and high rates. Once temperatures drop, so do prices, as landlords get antsy. Consider subletting for the summer and starting your search in October or November. Malin says landlords who don't rent a unit by Thanksgiving might cut rent by up to 10% to avoid the risk it will sit empty until January.
Off-season renters are also twice as likely to find "move-in incentives" such as paying brokerage fees, a free month's rent, or complimentary gym membership. Some landlords prefer these over discounts, and Schreck says they're typically easier to negotiate.
Keep in mind though: it's no fun to move in the snow.
6. Read the lease agreement
We know you're excited, but rushing through your lease can cost you bigtime. As Money's Amanda Gengler writes, a recent Rent.com survey found that 26% of renters lost their entire security deposit. She recommends checking the fine print—painting your apartment or putting holes in the walls might be off limits—and making sure anything the landlord tells you in person ("of COURSE you can have a cat!") is in writing, attached to the lease if necessary. Check that the utility bills included in your rent match the landlord's promises.
7. Offer to sign a longer lease
The one thing landlords hate most is vacancies, and signing for longer means your property owner won't have to worry about filling your apartment for an additional year. This may not work in hot spots like New York City, as landlords prefer to reassess market conditions at the end of every year and decide whether (read: how much) to raise rent.
But in slower markets with more vacancies, a longer lease can earn you some concessions. Rent.com has a list of the 10 fastest growing cities (ie. places people actually want to live) with above average vacancy rates to help you decide if you should use this tactic.