This Common Résumé Mistake Could Cost You a Job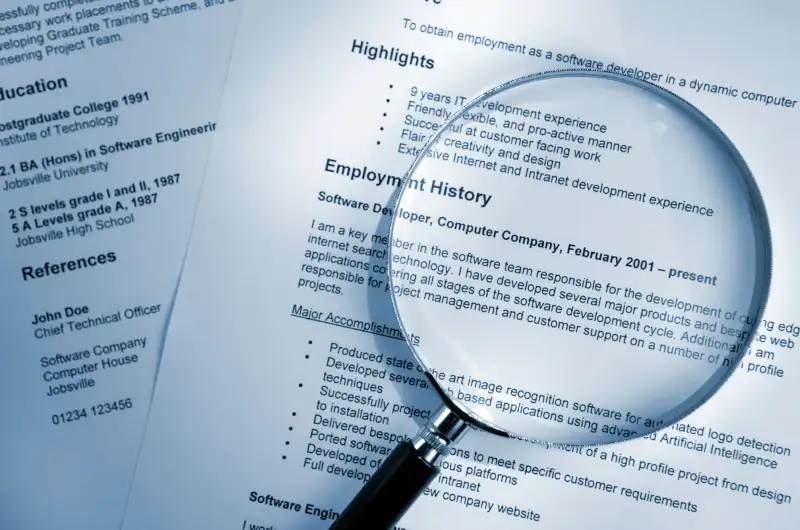 Back when I worked in HR, a candidate I wanted to hire had listed a bachelor's degree on her résumé. Come to find out through the background check, she'd never actually received it. She had completed all of the credits but was denied the degree due to outstanding library fines!
Had she listed her credits rather than the degree—e.g., completed all 120 credits towards a bachelor's—that would have matched the check done by the employer, and she would have been fine.
Instead her exaggeration cost her the job.
A résumé often serves as the outline to a background check: Your employer may check employment dates, job titles, and academic degrees, among other things. So you should assume that everything that can be verified will be verified.
Even if you'd never outright lie, perhaps you've stretched the truth just a bit?
Many people have, including some famous ones. It's easy enough to exaggerate, especially since some of the facts on a resume are open to interpretation. BackgroundChecks.org has produced a fascinating infographic on which parts of the resume tend to contain the most lies; Skills and responsibilities take the top two spots, and these are indeed two of the more subjective areas.
Overstatements can get you into just as much trouble as lies—just ask Brian Williams. Stick to these three guidelines to ensure that résumé inflation doesn't burst your shot at the job:
Show Clear Examples
If you claim you can do something in the Skills section of your resume, include an example of when you've used it.
For example, if you list HTML programming, include a reference to it in the job where you used it most substantively. If you claim a responsibility, such as management, specify the size of the team or the budget or the project scope that you managed. If you claim a result, such as increasing revenue or decreasing costs, include a specific percentage or dollar amount—but only if you know it—and explain how you got that result.
The details will give the reader context in which to evaluate your claims and will enable you to keep track of the same supporting details you'll need in the interview process anyway.
And if you can't think of an example? You may want to cut it from your resume since it may not be verifiable to a hiring manager.
Beware of Giving Yourself a Title
I once interviewed a non-profit candidate who listed no title at her current job but included responsibilities commensurate with a director of development. As it turns out, she wasn't the director of development; the director had left and she had assumed the role but without the title. She was correct to omit the title; had she put director of development and I called her HR office to verify, it would show as a mismatch.
Take a lesson from her and steer clear of using a title you don't formally have.
But at the same time, don't undersell yourself because of your lack of title. In the aforementioned case, she could have used a very specific description in lieu of a generic title: "Development team of one, in charge of $500k fundraising target."
The point is to capture the responsibilities and accomplishments that you rightfully earned, but to be truthful about it.
Line Up Your Back Up
Another check and balance against resume inflation is to collect references and samples that confirm your claims.
If you're going to say you led a a team, project, or some other substantive body of work, then line up a senior person in the department who can describe your contributions and verify that you accomplished what you said you did.
If you list HTML as a skill, share a sample of your code.
Your prospective employers may never verify that specific claim, but you'll bes prepared if they do, and the act of thinking about who could confirm these facts keeps you from inflating your skills and experience.
Caroline Ceniza-Levine is co-founder of SixFigureStart® career coaching. She has worked with professionals from American Express, Condé Nast, Gilt, Goldman Sachs, Google, McKinsey, and other leading firms. She's also a stand-up comic.
Read more from Caroline Ceniza-Levine: