The Retail Apocalypse Is Heating Up in 2019. Here Are the Major Stores Currently on Deathwatch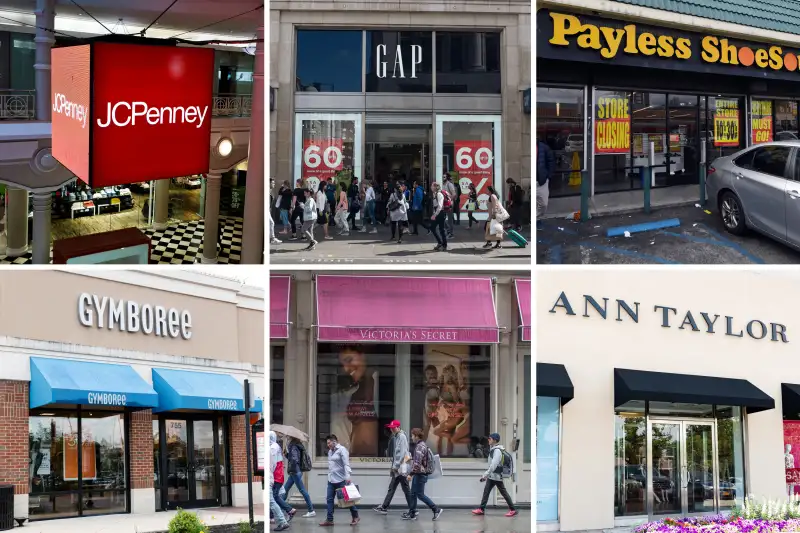 Getty Images (4); Shutterstock (2)
Retailer bankruptcies and store closures: They've supplied depressingly consistent storylines at America's malls for the past few years. And, just two months into 2019, it sure looks like the U.S. retail scene will continued to be plagued by a stunning number of store closures — and perhaps quite a few retailers going out of business for good.
In a single 24-hour period last week, Gap, J.C. Penney, and Victoria's Secret announced they would be closing more than 300 stores combined. These announced store closures come soon after retail companies made the difficult decisions to shut down all Payless ShoeSource and Gymboree stores throughout the U.S., and in the middle of Sears' dramatic struggle to survive.
Below are seven big retailers closing stores left and right in 2019. Some are restructuring debt and refiguring business models to fight to stay alive in today's fast-moving ultra-competitive retail world, where every store must offer a compelling alternative to Amazon in order to win over shoppers. Other retailers have already lost the battle, are hosting liquidation sales right now, and will soon disappear entirely — like Toys "R" Us and Bon-Ton before them.
Sears
Sears finished up 2018 by filing for bankruptcy and closing roughly 140 Sears and Kmart stores (the company owns both retailers). Then the company began 2019 by announcing 80 more store closures, before narrowly avoiding death in a buyout organized by hedge funder and Sears chairman Eddie Lampert.
For the time being, Sears is still alive, though it's a shell of what the company once was: There are around 425 Kmart and Sears stores open, compared to 2,000 five years ago. Perhaps unsurprisingly, many Sears employees are deeply skeptical that the company (or their jobs) have much of a future.
J.C. Penney
Like Sears and other old-fashioned department stores, J.C. Penney has been struggling for years to come up with a business model that can compete in the era when more consumers have turned to online shopping, dollar stores, and "fast fashion" shops.
News of more J.C. Penney store closures has become routine. The company
closed 30 to 40 stores per year in 2013 and 2014, and shuttered upwards of 140 stores in 2017. As of late 2017, Credit Risk Monitor, which rates retailers according to the likelihood of them defaulting, calculated that J.C. Penney deserved a FRISK score of 1 — the lowest rating, meaning its risk of bankruptcy was 10% to 50%. Last week, J.C. Penney said it would be closing 24 stores in 2019.
Victoria's Secret
A subpar 2018 holiday season was blamed as the big reason 53 Victoria's Secret stores will close this year. But it wasn't just a bad few weeks at Victoria's Secret. The women's lingerie retailer has seen declining business for months, with sales falling 14% in the second and third quarter of 2018, the Wall Street Journal reported.
Payless
A couple of years ago, Payless filed for bankruptcy and announced it was closing 800 stores. So it shouldn't come as a total surprise that the troubled retailer is completely going out of business in 2019. In February, Payless ShoeSource announced it was closing all stores (around 2,000 had still been open), and liquidation sales are happening right now all over the country.
Gymboree
Gymboree is also disappearing: The children's clothing store filed for bankruptcy a couple of years ago, and the company's Crazy 8 stores and all 800 of its flagship Gymboree stores are closing this year.
Gap
Late last fall Gap CEO Art Peck warned it would probably be forced to close hundreds of "stores that likely don't fit our vision for the future of Gap brand specialty store, whether in terms of profitability, customer experience, traffic trends."
Sure enough, last week the company said that it would close 230 Gap stores in 2019 and 2020, though locations for store closures haven't been announced. What's more, Gap said its Old Navy retail brand is going to be split off and turned into its own company in the near future.
Ann Taylor (Ascena Retail)
Ascena, the company that owns retailer brands like Ann Taylor, Loft, and Lane Bryant, has been on death watch for at least a year. It is in the middle of the process that began in 2017 to close about 250 stores.
Ascena said it operated about 5,000 stores as of 2016, and it was down to 4,600 stores at the end of 2018. Ascena's stock price has plummeted over this time period, dropping from over $10 per share in 2016 to around $2.25 in early 2019.