Meet the Richest Black Billionaire in America, a Tech Investor Who Just Paid Off Student Loan Debts for an Entire Graduation Class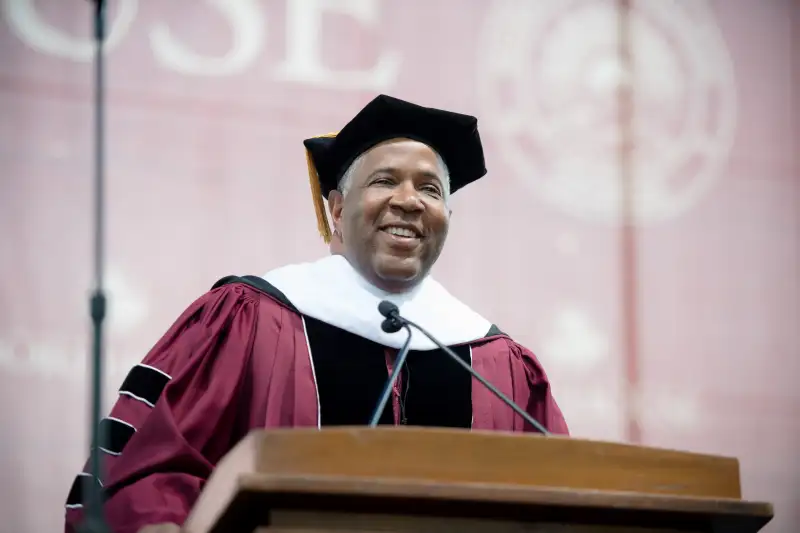 Marcus Ingram—Getty Images
Robert F. Smith, the richest black billionaire in America, made it an extra-happy graduation day for the roughly 400 students who just received their degrees from Morehouse College. While giving the commencement address on Sunday, Smith pledged an estimated $40 million to pay off the student loan debt of every Class of 2019 Morehouse College graduate.
Robert F. Smith is a former Goldman Sachs executive, and the founder and CEO of the software investment firm Vista Equity Partners. Prior to receiving an honorary doctorate and giving the 2019 commencement speech over the weekend, Smith had agreed to donate $1.5 million to Morehouse College, a historically black institution in Atlanta where the cost of tuition and fees averages about $48,000 a year.
But Morehouse students and administrators say they had no idea that Smith would announce in his speech that he was paying off the student loan debt of every graduate.
"This is my class, 2019, and my family is making a grant to eliminate their student loans," Smith said, as the crowd of 7,500 attendees burst into cheers.
All that Smith asked of students in exchange is that they find some way to repay the gift, by way of good deeds for others. "This is my class," Smith said, "and I know my class will pay this forward."
Here's more of what we know about Robert F. Smith, including details about his career, net worth, and philanthropy.
Who Is Robert F. Smith, the Richest African-American on Earth?
Robert F. Smith's net worth is currently estimated at $5 billion, according to Forbes.
Of the 2,153 people on the Forbes' 2019 list of the world's billionaires, 13 were black. The two richest black billionaires, Aliko Dangote and Mike Adenuga, are both from Nigeria, with net worths of $10.9 billion and $9.1 billion, respectively. Robert F. Smith comes next on the list at $5 billion, which is good enough to make him the richest African-American and the world's third-richest black billionaire overall. (Oprah Winfrey and Michael Jordan are further down on the list, with net worths estimated at $2.5 billion and $1.9 billion, respectively.)
Robert F. Smith, 56, was born and raised in Denver, Colorado. He earned a chemical engineering degree from Cornell University in 1985, and he worked as an engineer for companies such as Kraft and Goodyear Tire.
Smith received his M.B.A. from the Columbia University Business School in 1994, and worked in the mergers and acquisition department of Goldman Sachs through 2000. He focused in tech while at Goldman Sachs, and advised on $50 billion worth of investments with companies like Apple, Microsoft, and eBay.
In 2000 Smith founded Vista Equity Partners, a private equity firm that invests in software and tech. Vista currently oversees a portfolio of four dozen software companies that collectively employ more than 60,000 workers.
Forbes reported in 2015 that Vista Equity Partners routinely boasted 30% annual returns from its investments. Smith made the "Forbes 400" for the first time that year, with a net worth of $2.5 billion, ranking him No. 269 on the list of richest Americans, as well as the second-richest African-American (after only Oprah Winfrey). Robert F. Smith nudged Oprah out of the top spot in 2018, when Forbes estimated his net worth at $4.4 billion and named him as the nation's richest African American.
Smith has five children, including three from his first marriage, to Suzanne McFayden. In 2015, after getting divorced, Robert F. Smith married Hope Dworaczyk, the 2010 Playboy Playmate of the Year, in a luxurious ceremony held in a resort along the Amalfi Coast of Italy. John Legend and Seal were among the performers.
Hope and Robert F. Smith purchased a $59 million penthouse in the Chelsea neighborhood of Manhattan in 2018. The apartment covers two floors has 10,000 square feet of living space, including six bedrooms, seven bathrooms, and a private rooftop terrace with a pool.
The Smiths also own an 11,622-square-foot mansion in Malibu, California, which they bought in 2015 from "Real Housewives of Beverly Hills" star Yolanda Hadid for roughly $20 million. The home in Malibu is currently being rented by another reality TV star, Kylie Jenner.
Robert F. Smith: Giving Pledge and Other Philanthropy
Smith was the first African American to sign the Giving Pledge, a foundation and movement created by Warren Buffett and Bill and Melinda Gates to encourage billionaires to give away their fortunes to help solve the world's problems.
"My path was paved by my parents, grandparents and generations of African-Americans whose names I will never know," Smith explained when announcing his commitment to the Giving Pledge in 2017. "Their struggles, their courage, and their progress allowed me to strive and achieve. My story would only be possible in America, and it is incumbent on all of us to pay this inheritance forward."
Smith had been renowned for his philanthropy and generosity long before promising to eliminate the student debt for 2019 Morehouse College graduates. Among his biggest donations have been $50 million to Cornell University, for the creation of the Robert F. Smith School of Chemical and Biomolecular Engineering, and $20 million to the National Museum of African American History and Culture in Washington, D.C.
Smith is a huge music fan — he named one of his sons Hendrix and owns a piano that belonged to Elton John — and became the chairman of Carnegie Hall in New York City in 2016. Smith is simultaneously the chairman of the Robert F. Kennedy Human Rights group, and serves as a trustee for the Boys and Girls Club of San Francisco.
Another of Smith's passions is Lincoln Hills Cares, a nonprofit he cofounded to provide outdoor experiences to young people in his native Colorado. The historic Lincoln Hills ranch was founded as an African-American retreat in 1922. Smith's parents went on vacation there every summer, and he purchased the property a few years ago.
"Last summer, we had over 5,400 inner city kids at our ranch. We had about 200-300 wounded veterans who fly fish," at Lincoln Hills, Smith told the Denver Post in 2017. "We have a program with Craig Hospital for quadriplegics where they can actually fish with blow tubes. And we have an inner city program for girls for equestrian riding."
2019 Morehouse College Graduates Ecstatic After Smith's Gift
Robert F. Smith's pledge to pay off this year's Morehouse College graduates' student loan debt left the commencement crowd overwhelmed with gratitude.
"If I could do a backflip, I would. I am deeply ecstatic," a Morehouse business administration graduate named Elijah Dormeus told the Atlanta Journal-Constitution.
"I didn't believe it. I kept asking people for reassurance that he just said what he said," Carney Burns, whose son John just graduated from Morehouse College with what he had expected would be $35,000 in student loan debt, said to the Wall Street Journal. "A Morehouse education, you can't put a price on it, but the bills are real."
Another 2019 Morehouse graduate, 21-year-old Dwytt Lewis of Compton, California, said that he felt a huge "weight lifted off your shoulders" after hearing that his $150,000 in debt was being paid off by Smith and his family. "It's just an overwhelming feeling, in a good way," Lewis said to CBS News. "I'm so motivated to go change the world."