An Unusually In-Depth Look at the Best Time to Buy Roses for Valentine's Day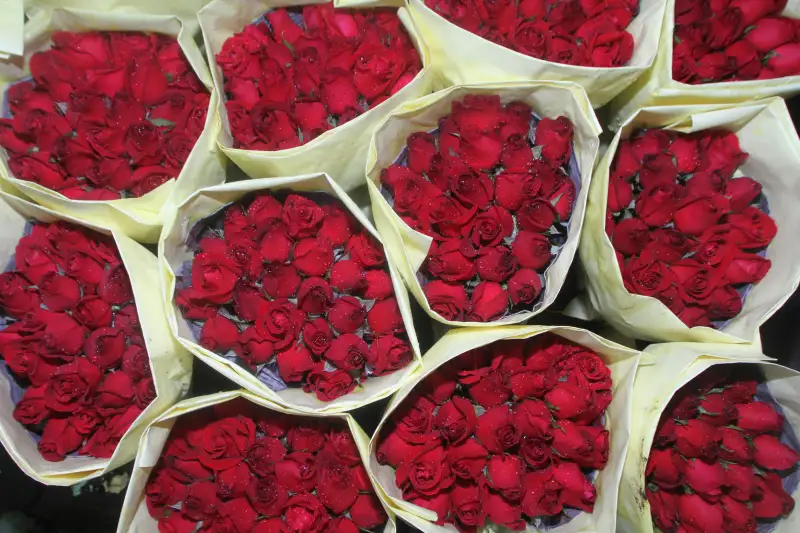 Pacific Press—LightRocket via Getty Images
In a supply-and-demand world, it's no surprise that roses cost more around Valentine's Day than they do at other times of year. February 14 is the annual high point for selling roses, and the unromantic reality is that wholesale prices are double compared to sales around Christmas.
When, then, is the optimal time to place Valentine's flowers orders and get the most bang for the buck? For that matter, is it even possible to avoid the ripoff of overpriced roses for Valentine's Day?
A new post from BradsDeals.com says that it is indeed possible to save money with the strategic ordering of roses, and the deal-tracking site's advice seems crystal clear:
Several online rose sellers told BradsDeals.com unequivocally that customers will save money by getting in their orders as soon as possible. "The overall price for flowers increases across the board," a Teleflora.com statement explained, "especially as you get closer to February 14, which is why through our marketing, we encourage consumers to order early!"
Bear in mind, however, that it's rather self-serving for online flowers sellers to promote the wisdom of ordering roses as early as possible. It's better for them when orders are placed well in advance, thereby getting money in hand sooner than later. This also decreases the likelihood that consumers wind up picking up gifts from their neighborhood florist closer to Valentine's Day.
But data collected by BradsDeals generally backs up the claim that early ordering saves money. The site browsed prices weekly for a dozen red roses from five major online flower sellers last year, and found that prices bumped up in late January and remained high through Valentine's Day, before retreating to more normal levels afterward. 1-800-Flowers, for instance, was charging $34.99 for a dozen red roses through January 18 of last year, but the price increased to $44.99 over the three weeks that followed. Come February 15, the price dropped back to $34.99.
It's not like you'll have to receive the flower orders super early and hope that they're not wilted come February 14. Many online sellers allow customers to place orders up to 30 days before delivery. The takeaway—that it's always cost-effective to order roses three or four weeks before Valentine's Day—seems pretty clear then, right? Unfortunately, things aren't that simple.
A closer look at the data amassed by BradsDeals shows that in a few cases, rose prices actually decreased as February 14 drew closer. FTD, for instance, charged $49.99 for a dozen red roses on February 1, 2016, and then $39.99 one week later, when there was still plenty of time for delivery by February 14.
Price-shopping only grows more complicated when you factor in all the different kinds of flower orders (roses aren't the only option), promotions, and coupons available. There's also a strong possibility that your flower order will cost roughly the same no matter if you place it one, two, three, or four weeks before Valentine's Day.
"This Valentine's, we encourage consumers to order early and save up to 40% on our dedicated Valentine's collection," a 1-800-Flowers spokesperson advised BradsDeals.com. But the fine print of that 40% off sale shows that the discounts are valid for orders placed as late as February 12.
We suppose it's wise to get your flower orders in sooner than later anyway, just so that you don't forget and wind up scrambling and paying a fortune at the last minute. But ordering early does not 100% guarantee that you'll pay less.
Then again, there's a good argument to be made that Valentine's Day is little more than a cheesy marketing holiday that people participate in mostly due to feelings of obligation, not romance. If nothing else, perhaps in lieu of boring (and overpriced) classic gifts like flowers, jewelry, and chocolate, consider giving a special experience like a surprise weekend getaway or concert tickets for Valentine's Day. You can always give roses for a different occasion, like your significant other's birthday or the anniversary of your first date.
Hopefully, that date takes place in late summer, when roses tend to be 40% cheaper than they are in early February.