Here's How Much Prince Harry and Meghan Markle's Wedding Invitations Cost, According to Experts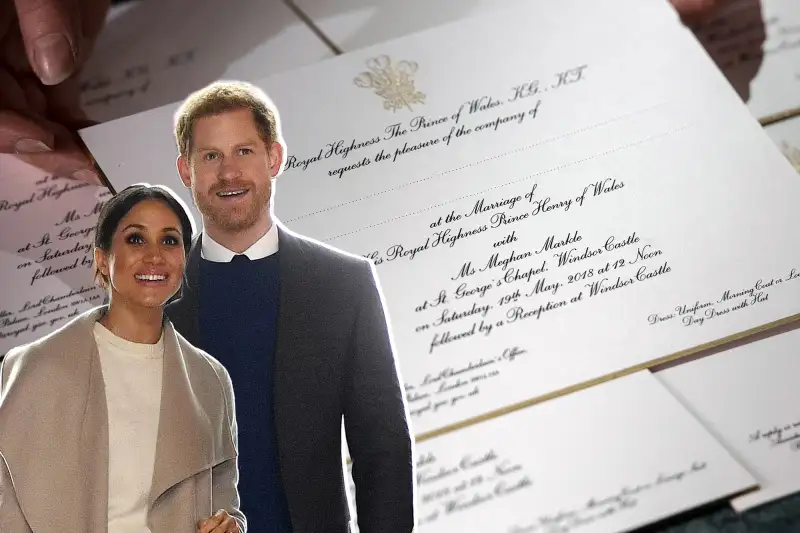 Run, don't walk, to your mailbox. Invitations to Prince Harry and Meghan Markle's upcoming royal wedding went out this week to 600 lucky guests, and they look elaborate — and expensive.
The Kensington Palace confirmed on Twitter Thursday that the invitations were printed in American ink on English paper (get it? Because she's American and he's British). They're gilded around the edges and were made in a process called die stamping on a machine from the 1930s. And like everything else about the upcoming ceremony, their creation was top secret. The woman who oversaw the printing, a Barnard and Westwood worker named Lottie Small, couldn't even tell her mom she got the job.
Victoria Jones/WPA Pool—Getty Images.
We may not know the exact price of the invitations, but we do know the May 19 wedding is on track to cost an estimated $2.8 million, according to the U.K.-based wedding planning app Bridebook. Experts in the U.S. have their own guesses about the invitations' value.
Sarah Sadler, a client coordinator with New York printer Bella Figura, tells Money that she thinks printing 600 of Harry and Markle's invitations probably cost about $7,500. With inserts or envelopes, the total was likely about $10,000.
The bulk of the cost came from the die stamping, also called engraving. Sadler said it's more expensive than letterpress because "it requires a lot more work and a lot more high-end materials." It's an older, traditional process that involves someone making each invitation by hand.
Die stamping isn't easy. Small likely had to keep checking the color and making sure the pressure was consistent. She also likely had to print double the amount of invitations just to get 600 good ones to send out.
"It's truly a labor of love, and that's why the price is so high," Sadler added.
Victoria Jones/WPA Pool—Getty Images.
Kristen Armstrong, the chief financial officer of Cheree Berry Paper in St. Louis, Missouri, pointed out that the invitations' design also probably forced the company to create two metal plates for the engraving. That can be costly, but it also probably benefited Harry and Markle in the long run.
"With printing, the more you order, the less the price per piece," Armstrong tells Money. "It costs almost the same to run the first as it does the 400th."
The seal at the top of the invitation required extra attention to detail, as did the hand-painted gold edges. Armstrong's estimate for the invitations cost came to about $6,000 for 100, but without knowing all the specifications she couldn't come up with a final figure.
Victoria Jones/WPA Pool—Getty Images.
Heather Wiese Alexander, the creative director and owner of Bell'INVITO in Dallas, noted that everyone's prices are a little different because couples don't just pay for the literal invitations. They also get customer service, various designs and some hand-holding.
"It's about having systems in place that keep highly detailed orders like this from getting messed up," she said, adding that ordering 1,000 similar invitations from her company would likely cost about $24,000.
Alexander also mentioned that although the royals' invitations are beautiful, they're not over-the-top. In keeping with Harry and Markle's down-to-earth style — she loves messy buns; he proposed while cooking dinner — their invitations don't have "all the bells and whistles that we sell on a regular basis," Alexander said.