Meet the 36-Year-Old Accountant Who Just Became an Overnight NHL Sensation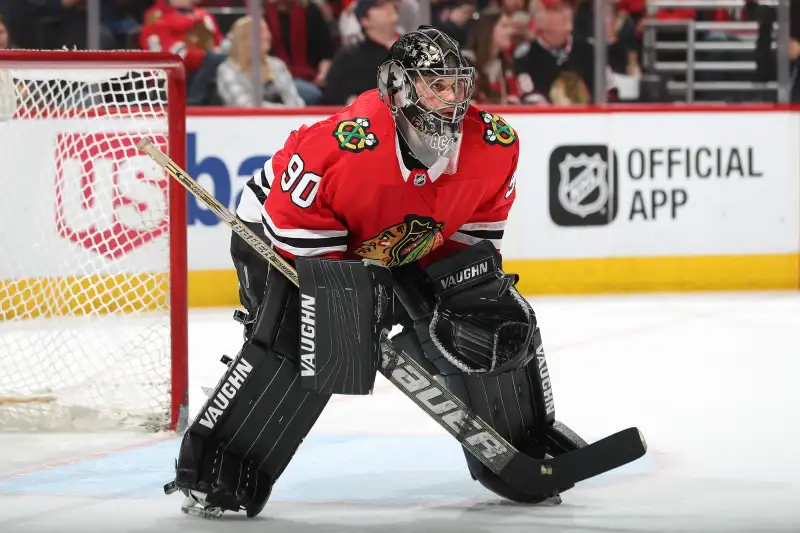 Chase Agnello-Dean—NHLI via Getty Images
Scott Foster headed to the Chicago Blackhawks game right after work Thursday night. He had no idea he'd be making his National Hockey League debut.
The 36-year-old accountant for Golub Capital—and part-time emergency backup goalie—got called to the ice when both the Blackhawks' starting and second-string goalies got injured. Although the head coach, who was seen chuckling behind the bench, may have had low expectations for Foster's performance, the accountant ended up stopping all seven shots that came his way in the 14 final minutes of the game.
The former Western Michigan University goalie is part of a team of NHL emergency backup goalies, or EBUGs: ordinary people with some playing experience who play only in case of team injuries. But they rarely take the ice; before Foster, the only other EBUG to get NHL ice time played for the Carolina Hurricanes in the final seconds of a game in 2016, according to NHL.com.
After Foster's standout debut, fans chanted his name at the end of the game, which the Blackhawks won 6-2. He even earned the Blackhawks' coveted star-player belt.
"A few hours ago I was sitting on my computer, typing on a 10-key," Foster told reporters during a postgame interview. "Now I'm standing in front of you guys, having just finished 14 and a half minutes of NHL hockey."
Foster told reporters he keeps sharp by playing in two recreational "beer leagues" in his downtime. Despite his fairytale NHL debut, Foster joked he'd take it even further in stories to coworkers and rec league pals: "I'll tell them I made about 30 saves in a 1-0 win."
Foster won't receive any compensation for the game, according to the Chicago Sun Times, but the father of two said the memories would last him a lifetime.
"This is a dream regardless. It's something no one can ever take away from me," he said. "It's something I can go home and tell my kids and they can tell their friends and whatnot."