46 Sears and Kmarts Are Having Liquidation Sales Starting Today. See the Full List Here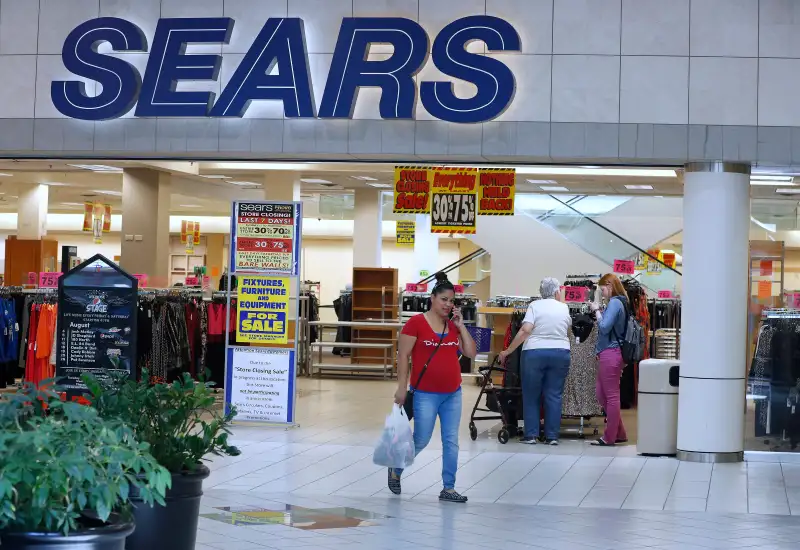 A wave of new liquidation sales is starting today at Kmart and Sears locations across the country. Is your local store on the list?
Sears Holdings, the troubled company that owns Kmart and its flagship department store chain, has released a list of 46 stores set to close by November, with liquidation sales starting as soon as Thursday, August 30.
While the store closings may be sad for customers who have shopped in them for decades—and they may bode poorly for the local economy and retail jobs in general—the upside for shoppers is that store aisles will be full of deals during huge sales.
Sears didn't release any specific information in advance about the types of discounts customers can expect.
Unfortunately for Sears, store closures have become routine. As of May 2018, Sears said it had 894 Sears and Kmart stores in operation, compared to roughly 4,000 stores worldwide in 2011.
The company closed over 100 stores in 2016, and it shut another 150 in 2017. Earlier this year, Sears identified 100 non-profitable stores that it would consider closing. Now we know of 33 Sears and 13 Kmart stores that are certain to shut down this fall.
Sears is hardly the only retailer struggling to compete in the era of Amazon. Toys "R" Us liquidated all of its stores when it went out of business earlier this summer. Other major retailers are facing dangerously high levels of debt, and some analysts have forecast that a large percentage of American malls will be forced to close.
In Ohio, the Dayton Mall seems like an especially troubled shopping center. The mall's Elder-Beerman department store is in the midst of a going-out-of-business sale right now, and its other anchor department store, Sears, will be closing by November.
Here's the full list of all 46 Sears and Kmart stores closures. Look for liquidation sales to begin on Thursday, or soon thereafter. If your local store is on the list below, call it to confirm when liquidation sales start.
Arizona
Sears, Flagstaff Mall, 4800 N US HWY 89, Flagstaff
California
Kmart, 935 Sweetwater Road, Spring Valley
Kmart, 1075 Shaw Avenue, Clovis
Kmart, 3625 East 18th Street, Antioch
Kmart, 6310 W 3rd Street, Los Angeles
Sears, Capitola Mall, 4015 Capitola Road, Santa Cruz
Colorado
Sears, 2424 Highway 6 And 50, Grand Junction
Connecticut
Kmart, 589 Bridgeport Avenue, Milford
Delaware
Kmart, 301 College Square, Newark
Florida
Sears, 2266 University Square Mall, Tampa - University
Sears, 1625 NW 107th Avenue, Doral/Miami
Sears, Coastland Ctr, 2000 9th Street N, Naples
Georgia
Sears, Oglethorpe Mall, 7810 Abercorn Street, Savannah
Sears, 2860 Cumberland Mall, Atlanta
Sears, 100 Mall Blvd Ste 300, Brunswick
Illinois
Kmart, 3231 Chicago Road, Steger
Sears, 1631 E Empire Street, Bloomington
Indiana
Sears, 4201 Coldwater Road, Fort Wayne
Kentucky
Sears, 3000 Mall Road, Florence
Louisiana
Sears, 1914 Hammond Square Drive, Hammond
Massachusetts
Sears, 50 Holyoke Street, Holyoke
Sears, Silver City Galleria, Taunton
Michigan
Sears, 1250 Jackson Xing I-94, Jackson
Missouri
Kmart, 11 South Kings HWY 61, Cape Girardeau
Mississippi
Kmart, 2308 Highway 45 N, Columbus
New Hampshire
Sears, 77 Rockingham Park Boulevard, Salem
Sears, 1500 South Willow Street, Manchester
New Jersey
Sears, 4409 Black Horse Pike, Mays Landing
New York
Kmart, 605 Old Country Road, Riverhead
Sears, 200 Eastview Mall, Victor
Sears, 578 Aviation Road, Queensbury / Glen Falls
Sears, 1400 Union Turnpike, New Hyde Park
North Carolina
Sears, 4601 Glenwood Avenue, Raleigh - Crabtree
Ohio
Sears, 2700 Miamisburg Centerville Road, Dayton
Sears, 9505 Colerain Avenue, Cincinnati - Northgate
Oregon
Kmart, 440 NW Burnside Road, Gresham
Sears, 11800 SE 82nd Avenue, Happy Valley / Portland
Texas
Sears, 400 Memorial City Way, Houston - Memorial
Sears, Post Oak Mall College Station, Bryan
Utah
Sears, 7453 S Plaza Center Drive, West Jordan
Virginia
Sears, 12000 Fair Oaks Mall, Fairfax
Washington
Sears, 8800 NE Vancouver Mall Drive, Vancouver
West Virginia
Kmart, 101 Great Teays Boulevard, Scott Depot
Wisconsin
Sears, 4720 Golf Road, Eau Claire
Sears, Valley View Mall, 4200 US HWY 16, La Crosse
Wyoming
Kmart, 2150 South Douglas HWY, Gillette