The Toys 'R' Us Liquidation Sale Is Almost Over—and the Deals Are Finally Fantastic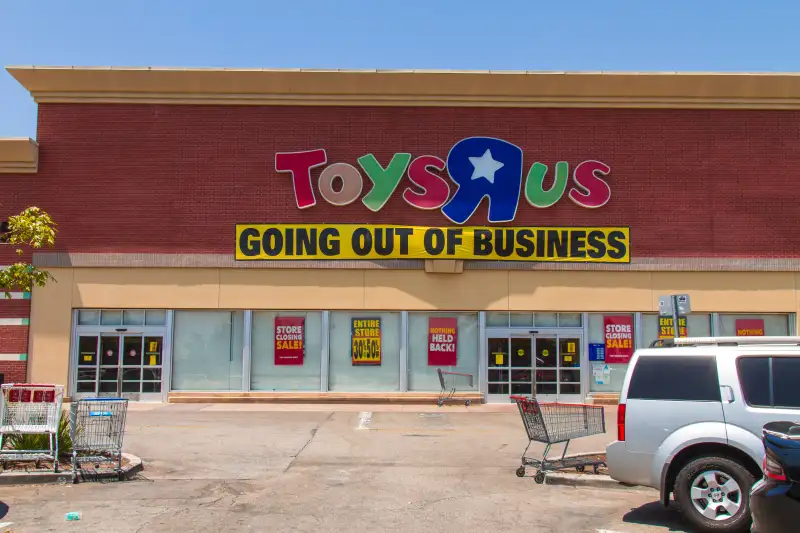 Jorge Villalba—Getty Images
Toys 'R' Us closing sales are entering their final phase at stores nationwide—and at long last, shoppers are finding the kinds of big discounts and true deals one would expect from a going-out-of-business sale.
Think: 50% to 70% off, storewide. The deals apparently include huge markdowns on the most popular toys and electronics, including brands like Mattel, Nerf, Hasbro, Lego, Barbie, and Nintendo. The only problem is it's not clear how much merchandise is left in stores, which have been picked over by shoppers for months.
Toys 'R' Us filed for bankruptcy last September, and announced in February it would close half of its U.S. stores. Soon after that, though, the company said it was simply going out of business and closing all Babies 'R' Us and Toys 'R' Us stores. Liquidation sales began way back in March, but the shoppers who flocked to stores seeking deals were underwhelmed and annoyed. Many immediately complained that the "deals" were horrendous, offering a measly 5% or 10% off toys and baby products that were overpriced to begin with.
This week, the company said that Toys 'R' Us closing sales were entering their final days and whatever is still on store shelves would be discounted by 50% to 70%.
When is Toys 'R' Us closing for good? The answer varies by location and could be determined by how quickly (or slowly) each store sells out its remaining products—and fixtures, which are also up for grabs. Some U.S. stores have already closed, and at least a few Toys 'R' Us stores in Ohio have set an official closing date of June 30. Other locations, in places like Illinois, have posted messages saying they are "Closing forever, our final weeks," without specifying an exact date.
Shoppers who have been to Toys 'R' Us recently say that the discounts are indeed getting better than they were at the beginning of closing sales, but warn that it's still smart to be careful and do price comparisons before buying anything. "Their prices were already too high compared to Walmart and any other stores so when they take off 40 percent, it's really 20 percent," a shopper named Candido Herrera told USA Today while visiting at Toys 'R' Us in Florida. "It's almost like they're tricking us."
Another important point Toys 'R' Us liquidation shoppers must factor in is that all sales are final. Refunds and exchanges are not possible after any purchase—so you'll be stuck with whatever you buy after it's rung up at the register.
That means you should take the time to carefully inspect anything you're considering buying. Open up boxes to see if all the parts are inside, and to ensure nothing is broken. Remember: Other shoppers have been rifling through these items for months, and things could have easily been damaged or somehow disappeared.