Why You Don't Actually Need a Spiralizer or Instant Pot, According to a Longtime Food Blogger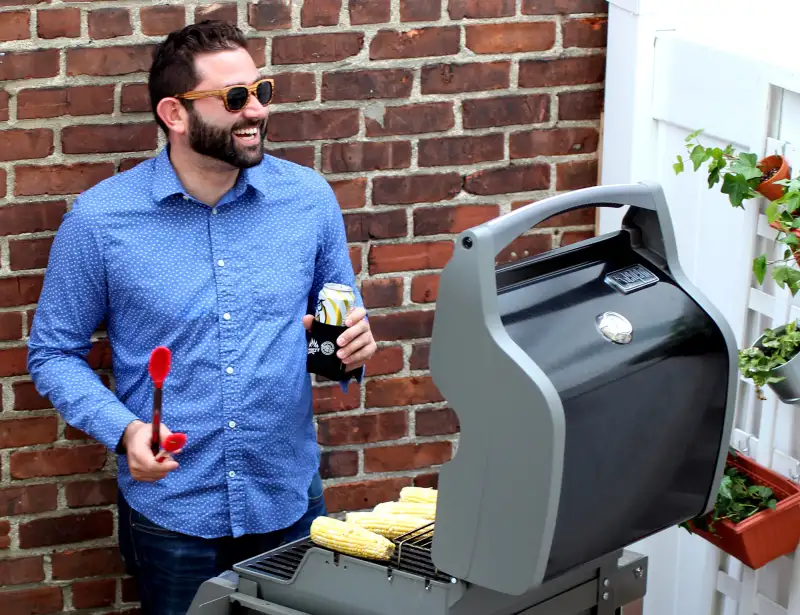 Dan Whalen excels at two things:
Taking over-the-top, unhealthy comfort foods you'd pay an excessive price for at a restaurant that's Instagram famous and making them doable at home. (Exhibit A: Pierogi burger.)
Bringing recipe ideas from TV shows and other pop culture events to life. (Exhibit B: Broad City's Churron.)
In his blog, The Food in My Beard, Whalen has chronicled what he's cooking and eating (and occasionally what he's watching or listening to) for a decade. He's been at it full time for the past three years, and just published his second cookbook.
Money chatted with Whalen about having the confidence to stray from recipes; which kitchen tools you shouldn't waste your money on; and how much cash he pours into craft beer. The following interview has been edited and condensed for clarity.
You just wrote a book on tater tots and you specialize in mashing up different types of food. What's an unexpected tater tot combo that works well?
I used tater tots as a topping for chicken pot pie. I just broke them up and sprinkled them on top, and it made for a really nice crust on the pot pie.
I've also used sweet potato tots, which are a thing now, and I made a sweet potato tot pie out of them as a dessert. I just mixed them with some marshmallows and sugar and threw them in a pan and baked them.
Because you do a little bit of experimenting, is it common that you have recipes that totally flop?
I wouldn't say common, but it does happen. But even if it's not something I can post anywhere, it's still going to taste good.
That's what I say to people when they're afraid to test recipes and try to put their own spin on things. As long as you're using flavors you like and you're tasting as you go, you're not going to make a huge mistake.
That's a great tip for someone who's just starting to cook on their own. Can you give that type of person some advice for sticking to a budget at the grocery store?
I think one thing that has been killing people is that you end up buying all this stuff to make a specific recipe, and then you're like, "Why did I make this at home? It ended up costing me more than going out to dinner."
What's tough but true is that the more you cook, the more economical it will be. So if you're cooking two times a month, you're going to end up throwing stuff away. If you're cooking three times a week, then you're probably going to find crossover recipes that you can use those ingredients in.
What's a single pantry item that's worth splurging on?
I always have two olive oils. I have the one that's the cheapest, regular grocery store version that I cook with, and then I have the expensive one to put on a salad or dip with bread, or something.
Is there a certain food or drink item you spend too much money on?
Well, I mean, beer. (Laughs.) I am such a sucker for the very expensive beer movement, the crafty beer stuff. You know, they come in the big can and they're like $16 for four beers that you're drinking at home. I have trouble with that for sure.
Ok, if I gave you $20 to prep a dinner for four people, what would you put on the menu?
I'd probably make homemade pasta. That's one of the most inexpensive things you can do that can actually seem amazing to guests — because it's not something people do anymore.
I'd buy an inexpensive cut of meat and put it into a slow cooker or dutch oven with some tomato, garlic, and onion until it starts to break down and can be shredded. I'd make the pasta into a thick cut fettuccine or tagliatelle shape, boil it, then toss it with the meat mixture.
Since summer is fast approaching, what's your favorite thing to grill?
Burgers are the obvious answer. I also love making wings by marinating them in a yogurt mixture and then, after grilling, tossing them in a sweet and spicy sauce. And I really love grilling corn and topping it with street corn ingredients.
If you had a sudden windfall of money, what kitchen appliance would you splurge on?
That's tough because I have so much stuff already. Maybe I'd buy a really high-end ice cream maker. Because I think any of the average-priced ice cream makers are bad.
I currently make it with liquid nitrogen, which I think actually gives you the best flavor and isn't super expensive. But I don't always have time for it because it adds an extra stop: I have to drive 20 minutes to the only place that I know where I can actually get liquid nitrogen from, and it only lasts for about a week.
What's the process for making ice cream with liquid nitrogen?
It's the easiest, best way to do it. You just mix sugar, cream, and milk in a bowl and pour the liquid nitrogen right into the bowl. Stir it up, and it's ice cream. It's a great party trick, too. That would probably be the dessert of my $20 dinner party.
Are there any kitchen tools you regret buying?
I don't like the Spiralizer craze. I have a julienne peeler, and that is one of my favorite utensils. It's like $10 and it makes better versions of those spiralized sort of noodles — and I think there's less waste and there's less cleaning.
It's a win-win-win then.
Yeah. Anything that feels complicated and does only one task, I would prefer not to take up my counter space with. I live in a smallish apartment in Boston and counter space is valuable.
What's your take on the Instant Pot?
I don't understand why it's such a huge thing. For me, I'd rather use a Dutch oven on the stovetop and move it to the oven.
The best part of it is the pressure cooking setting, because that can be a pain when you're using the old-fashioned stovetop ones. The Instant Pot really takes the confusion out of it.
It's honestly one of those things that I feel like marketing is what makes it so awesome. They just took a pressure cooker, made it slightly easier, put a new name on it, and people are going crazy for it.
Do you have a favorite fast-food restaurant?
I have a guilty pleasure in getting McDonald's breakfast.
Got a go-to order?
I get an egg McMuffin and the hash brown that is really a tater tot, but they call it a hash brown. There's a whole group of recipes in the cookbook that actually use those as tater tots, like a grilled cheese with those as the bread.
If I have to wake up super early and drive somewhere, that's where I'm stopping. It makes the waking up a little less annoying.
An earlier version of this story misreported the number of cookbooks Whalen has published. He was published two, and the third comes out later this year.