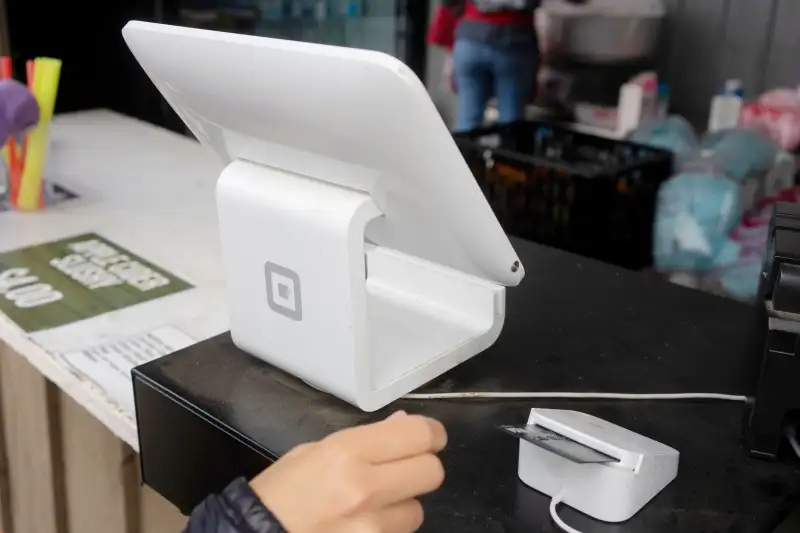 Square is a giant in the point-of-sale (POS) industry. The company has been around since 2009 and has earned the trust of merchants worldwide. But is it the right POS system for your small business? This article reviews Square POS's pros and cons so that you can decide for yourself.
Best for small businesses
Square is one of the best point-of-sale systems on the market, especially for small business owners looking for a reasonably priced, easy-to-use system.
Square pros and cons
Pros
Offers multiple ways to pay
Excellent easy-to-use inventory management system
Wide variety of features
Cons
Processes like adding items or checkout can be slow
Transaction fees cut into profit
Customers have complained about difficulties contacting customer service
Square pros explained
Offers multiple ways to pay
The Square POS system allows merchants to enter customers' cards in multiple ways to process their payments. Customers can pay by:
Manually entering the card information into the system
Tapping a contactless card
Using split-pay to split the bill between a group of customers
Using online pay and a checkout link you can send via text or email
Square accepts Visa, Mastercard, American Express, Discover, JCB and UnionPay. These can be credit, corporate, debit, prepaid, or rewards cards.
Afterpay is available via Square Online or with Square hardware (registers, stands, terminals). Google Pay, Apple Pay and Samsung Pay are also accepted. Merchants can accept checks with Square POS, too.
Excellent easy-to-use inventory management system
Square lets merchants manage their inventory from any computer. It allows for uploading, downloading and updating inventory data in bulk, which is useful when managing new inventory.
Merchants can also receive a daily stock alert email informing them when items are out of stock or running low.
Additionally, Square POS lets merchants manage inventory at multiple locations and get reports on the cost of goods sold and projected profit reporting.
Wide variety of features
Square POS comes with many available features, including:
Magstripe reader that merchants can plug into their iOS or Android phones
Tap-to-pay on iPhone, which allows customers to hold their cards or their iPhone near the merchant's phone to pay
Contactless and chip reader
Square terminal, a hand-held Square POS device that accepts card dips, swipes and taps, and prints receipts
iPad swivel stand with a built-in contactless-payment reader
Square register, which has a touchscreen for the merchant/cashier and a smaller touchscreen for the customer
Square POS integration is extensive and includes many of the most popular apps and services that small business owners use. Integrations include WooCommerce, Mailchimp, Wix, Acuity Scheduling, Linktree, Groupon, Chowly and SKU IQ.
Square's integration with some of the best accounting software for small businesses — including QuickBooks, FreshBooks, Zoho and Xero — is especially helpful.
Square cons explained
Square POS does come with cons, however, which are worth taking into account when considering whether this POS system is best for your small business.
Can be slow
Review sites such as Trustpilot, G2 and Capterra show complaints from customers about Square's POS software slowing down when there are a lot of transactions. During those times, there's sometimes a delay when selecting an item to add to the cart. Other processes can lag, too, such as editing a customer profile or searching for an item. Finally, checkout can be slow, and sometimes the card reader has difficulty reading a customer's card, requiring multiple card swipes to get it to work.
Transaction fees cut into profit
POS providers like Square tend to make the bulk of their money by charging transaction fees. While Square POS fees are comparable to those of other POS systems on the market, it's worth noting that the transaction fees cut into merchants' profits.
Hard to contact customer service
Customers indicate through reviews on Trustpilot, G2 and Capterra that it's difficult to get live support and direct customer assistance. Even though Square offers multiple support channels on its website, in practice, it can be time-consuming and complicated to reach a customer representative.
When merchants do get through, customer service sometimes offers unrealistic timelines for resolution. For example, customer service might promise a one- to two-day response, only for it to take days or weeks in reality. Merchants have also cited discrepancies in information from agents when troubleshooting problems.
One of the most frequent complaints merchants have about Square is that it's unpredictable about holding merchants' funds and suspending accounts. Because Square's signup process is accelerated, some standard security processes are skipped. Your account could later be flagged in situations of suspected fraud, such as a sudden increase in sales volume or many keyed-in, "card-not-present" transactions. Square can legally hold funds until you complete a form with questions about your business.
Square plans/offerings
Square offers a large lineup of plans, including the key offerings below. Merchants looking for a Square POS bundle can select from several options, allowing them to choose the ideal combination of devices for their business.
Square chip for magstripe
Square's magstripe product is one of the company's most recognizable offerings, having been around for over a decade. This device plugs into a smartphone or tablet audio jack or lightning port, and the Square mobile POS allows merchants to accept card payments anywhere, as long as they have their phone on them. Square provides one magstripe card reader to merchants for free, with a fee for every transaction.
Square reader for contactless cards
Square's contactless and chip reader allows merchants to accept contactless payment, chip cards, Google Pay and Apple Pay. The wireless reader connects to Android and Apple devices via Bluetooth. The cost for the Square Reader for contactless and chip is $49.
Square stand with reader
Square's iPad stand with reader lets you turn an iPad into a POS, and the newest version has tap-to-pay and chip card readers built in. (The previous version required a separate reader to take payments from a phone or card.) Merchant reviews from G2, Capterra and Trustpilot mention that it's easy for customers to figure out how to order for themselves and pay on the iPad even when they haven't used the system before.
Business owners also like being able to add different types of items, discounts and sales using the iPad. The stand is priced at $149.
Square POS terminal
Square's POS terminal comes with a magstripe reader, built-in display, chip reader and receipt printer. Merchants can accept many types of cards using the terminal, including gift cards, rewards cards and prepaid cards for the same transaction fee.
The terminal also allows for the management of cash drawers, a feature that isn't available on smartphones. There's no minimum sales volume required to use the terminal and no contract to lock merchants in. The Square POS terminal is priced at $299. (Financing options are offered at checkout.)
Square pricing
Square's service pricing is transparent and easy to understand. Every transaction completed through Square POS will have a payment processing fee:
2.6% plus 10 cents for payments in person (Retail Plus plan is 2.5% plus 10 cents)
2.9% plus 30 cents for online transactions or invoices without a customer card on file
3.5% plus 15 cents for manually entered transactions or card-on-file invoices
Merchants receive funds in their bank accounts the next business day or can choose to receive funds instantly for a 1.5% fee. While we wouldn't rate the Square Checking account among the best business checking accounts, it is free and lets merchants get instant funds transfer for free.
Now let's take a look at the cost for Square POS software:
$0 monthly for Square POS, Restaurant, Retail and Appointments Free plans
$29 monthly for Square POS Plus and Square Appointments Plus plans
$60 monthly for Restaurant Plus and Retail Plus plans
$69 monthly for Square Appointments Premium plan
Custom pricing packages for Square Premium, which is a level above Plus
The Square POS free plan includes:
Integration with delivery services
Reports on sales trends and stats
Ability to accept tips and offline payments
Ability to modify products, like making a latte with soy milk
Capability for customers to split the bill
Creation of an online store
The Square POS for Restaurants free plan includes:
Integration with Square's kitchen display system (KDS) for $20 per KDS device
Ability to show servers when the restaurant has run out of an item
The Square Plus plan for Restaurants ($60) includes:
Ability to assign orders to each person in a dining party
Capability to open closed checks
The Square POS for Retail free plan includes:
Ability to use iPad to scan barcodes or use a barcode scanner
Alerts when inventory is running low
Syncing of online and in-store inventory
Ability to add unlimited items to the inventory
The Square Plus plan for Retail ($60) includes:
Ability to add inventory in bulk
Forecasting of inventory so merchants know when to reorder specific products
Reports on profit margin and cost-of-goods sold
Capability for product exchanges
Capability for product returns across multiple locations
Square financial stability
Square started in 2009 and has grown rapidly since then. In 2015, it began trading as a public company on the New York Stock Exchange as Block, Inc. (SQ). As a public company, Square (Block) must maintain stringent regulation and paperwork requirements with the U.S. Securities and Exchange Commission, which offers transparency for customers who want reassurance that the company is financially stable.
Square generated a gross profit of $657 million in the fourth quarter of 2021.
Square accessibility
There's a mix of pros and cons regarding Square's accessibility. While customers are generally satisfied and Square is widely available, customer feedback indicates that Square POS customer service can be subpar.
Availability
Square is available across the U.S., as well as Canada, Australia, Japan, the United Kingdom, the Republic of Ireland, France and Spain. The company doesn't support payment card processing outside those countries or in the U.S. territories of Puerto Rico, Guam, the U.S. Virgin Islands, American Samoa and the Northern Mariana Islands.
Merchants can accept cash payments while traveling outside the country where they activated their Square account. However, they can't accept card transactions while in another country.
Contact information
Square's phone number is 855-700-6000, and its support team is available Monday through Friday from 6 a.m. to 6 p.m. PT. You can also contact Square Support through email.
User experience
Overall, customers find that Square's interface is intuitive, making it easy to find their way around. Merchants tend to find Square's reports easy to find and understand.
Square customer satisfaction
Square POS reviews are generally positive. Square has a 4.1 rating out of five on Trustpilot. On the software review platforms G2 and Capterra, Square has a 4.6 out of five and a 4.7 out of five, respectively. The Better Business Bureau has accredited Square and given the company a rating of A+.
In online reviews, merchants often mention appreciating the following:
Ability to get funds the next business day
Easy to train new employees on Square POS
Sales reports are easily accessible, accurate and quick to generate
Processing fees are among the most reasonable compared to other POS systems
Easy to accept credit and debit cards on the go
Ability to record check and cash sales through the app
Standard plan is free with no monthly fees
Square FAQ
Is Square POS good for small businesses?
Yes, Square POS is good for small businesses. In fact, it's our top pick for small businesses because its pricing is fair and transparent and its software is easy to use. The company has been around for a long time, making it a trustworthy partner for managing the most critical part of any business: the money.
Does Square POS charge a monthly fee?
The Square POS standard plan is free; other plans are under $100 per month. There are also custom pricing packages for Square Premium. You can use Square POS with your smartphone or tablet, or you can purchase hardware from Square.
Can I use someone else's Square reader?
Yes, you can use someone else's Square reader, but you need to have your own account to use it. Square readers don't store any specific account holder information or bank information, so using a reader with multiple accounts is easy.
How we evaluated Square
We evaluated Square by looking at factors such as:
Customer satisfaction as given on review sites like Trustpilot, G2 and Capterra
Whether the pricing is fair and transparent
Whether the software is easy to use for non-technical people
How many integrations are available
Summary of Money's Square review
Square POS is an excellent choice for small business owners for many reasons. It offers multiple ways to accept payment from customers, its inventory management system is easy to use, it has a wide variety of features and the company offers many integrations with popular business apps.