How to Promote Employee Growth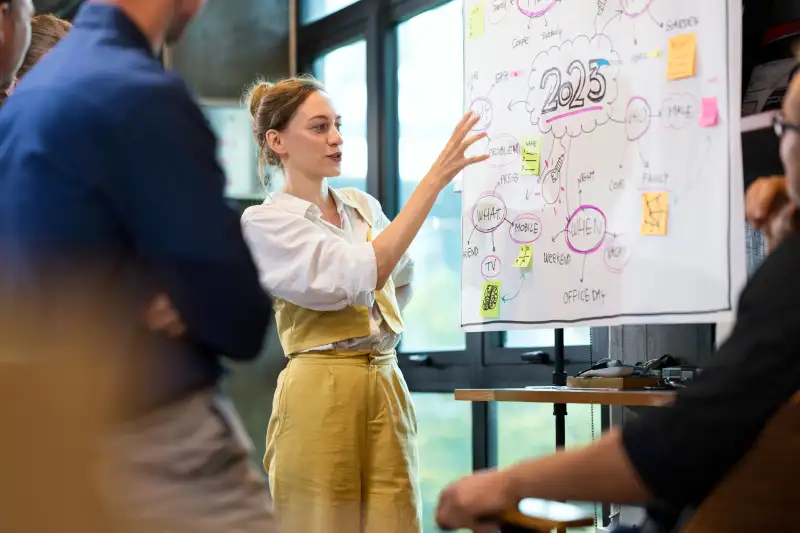 *Content includes branded mentions of our sponsor ZipRecruiter.
Research suggests that the cost of replacing individual employees who leave for other jobs is increasing. Now more than ever, supporting your employees in their career development is critical in curtailing employee turnover.
ZipRecruiter can help companies find top-quality candidates to hire, train and develop them with a clear growth path. Read on for ways to improve your employee development so the company can reap the rewards of improved employee retention and engagement.
What is employee growth?
As an employer, supporting employee growth means to provide tools and resources that help improve an employee's existing skills and expertise. Employees should also be able to develop new competencies to close skill gaps and help support the company's goals.
When discussing employee growth and development, it's important to dispel some misconceptions. Employees' growth requires more than having annual meetings to discuss their strengths and weaknesses or instituting mandatory training. Instead, the most effective way to help employees grow is establishing a comprehensive, interactive and consistent process.
When done correctly, fostering employees' growth within a company improves company culture, deepens employee engagement with the company's mission and boosts employee retention. Developing any or all of these areas leads to increased company performance.
What are the benefits of employee development?
A carefully considered, well-executed employee development plan will benefit your company, from entry-level employees to upper management. Consider the following benefits:
Cost savings by retaining more of your current workforce. Lack of development opportunities is a key driver for employees quitting. Employee retention is directly related to professional development. By investing in development, such as improving learning and development (L&D) programs, companies can end up saving money.
Improvement in employee performance. Simply put, well-trained employees perform better at their jobs.
Better employee engagement. Surveys have found that learning new skills leads to greater employee engagement, which is a measure of how dedicated the employee is to overall company values and goals. A highly engaged workforce results in better outcomes for your business.
Increased adaptability. Developing valuable skills in your workforce helps your company become more adaptable to technological developments and other changes in your industry.
What happens when there's a lack of professional development?
Employees who lack proper training or professional development may not only be less productive but can also experience significant work-related stress. Your employees may look elsewhere to advance their career goals if they feel unhappy and undervalued at your company.
Save time, money and resources by teaching your employees the proper skills right from the start. Then, retain productive employees by investing in their career development.
If employees don't understand how to do their jobs, it can lead to low morale. In turn, low morale can lead to increased turnover, and potential job candidates will not be attracted to a company with a high turnover rate.
However, it's not just lower-level employees who need professional development. High turnover may be a result of inefficient management. Managers also need training on different issues, including staff conflict resolution, team motivation, adapting to company changes and delegating work.
In short, disengaged and poorly trained employees and managers produce lower-quality work that can hurt the company's bottom line.
How to increase employee growth opportunities
Knowing how to improve your employees' professional growth is equally important as knowing why it's necessary and how it benefits everyone.
Create quality onboarding and training processes
The following tips can help create a new onboarding process or improve an existing one. Remember that you can also revise an existing onboarding process by requesting employee feedback about your current one.
Encourage employees' rapid growth by incorporating networking into your onboarding. When employees know who they can reach out to with questions, they'll develop a sense of ownership or agency to solve problems faster.
Make sure employees feel included. Employees who feel included also feel more engaged in their work and with the company.
Be clear about your expectations. Clarity about what is expected of an employee when they start or what's expected of them in the future helps eliminate their confusion about where to focus their attention.
Tell new employees what's important. It can be difficult for people to recognize what information is important when they receive a lot of new material for the first time. Help them identify what information should be prioritized.
Remember that everyone learns differently. Some people learn best by listening, while others prefer participating in interactive sessions. Design your onboarding process to handle different types of learning methods.
Give people time to absorb information. It can be overwhelming to take in a lot of new company information in the first few weeks and remember it instantly. Space out the information and integrate ongoing training to help with this.
To improve your ongoing training process, here are a few pointers to keep in mind:
Steer clear of training for training's sake. Define specific goals for your training. For example, what's your vision for your company or department? What are your key initiatives this year? What about the career goals of individual employees? Can you identify specific growth areas for employees so you can tailor training to them?
Establish performance outcomes. What will employees learn to help them be more productive or achieve their career goals? Guide them in creating clear, specific outcomes for their training.
Build a mentorship program. Seasoned employees can share their knowledge with newer hires taking on more significant projects or training for management roles. Likewise, newer employees can share their skills learned at previous jobs with their more experienced coworkers, helping bring fresh ideas into the organization. Schedule regular, face-to-face meetings to keep this program going.
Kickstart individual employee development plans
Individual development plans (IDPs) are designed to help employees in their career growth. An IDP's primary goal is to assist employees in achieving their short- and long-term career goals and improving current job performance.
An IDP is not meant to be a performance assessment tool or a temporary activity but as an ongoing partnership between supervisor and employee. Therefore, an IDP requires preparation and continuous feedback.
Some examples of activities to incorporate into an IDP include:
Formal training through L&D courses
360-degree feedback from supervisors, managers, peers and customers
Rotational short-term assignments with other teams or departments to expand their skill set and keep them moving along their career development path
Incorporate creative rewards
There are many ideas for employee rewards, but the most creative ones will encourage fun and boost morale in the workplace. Things like happy hours, personalized messages, gift certificates and public recognition can create a mood of goodwill among employees. But always remember that the best reward for a job well done is fair compensation and monetary bonuses.
Encourage having a growth mindset
A lack of growth mindset from an employee can be a challenge for talent development teams. Fortunately, there are tactics you can try to encourage a growth mindset:
Give growth-focused feedback about things employees can change. Identify specific skills they can work on to feel in control when responding to constructive criticism.
Accept mistakes as opportunities to learn and adapt.
Encourage new ideas. If you don't think an idea will work, walk the employee through a series of questions to identify why. E.g., what problem does this solve? How much effort/time will it take?
Recognize and celebrate individual and company wins
Too often, feedback only comes when something has gone wrong. Instead, be deliberate about noticing and celebrating employee and company wins. It may even help to set reminders in your calendar.
Offer professional growth stipends and training opportunities
If possible, allocate a portion of your annual budget for professional development stipends. Doing so can distinguish your company on job posting sites such as ZipRecruiter and attract top talent. It also encourages employee engagement and skill development. Employees can use these stipends for learning opportunities such as courses, certifications, conferences and professional memberships.
Focus on training for soft skills
Soft skills are non-technical traits that relate to interpersonal skills and communication. They include active listening, delegation, creative thinking, networking and teamwork. Companies that offer soft-skills training can improve the performance of the entire organization.
Additionally, assisting employees in developing their soft skills helps them have control over their jobs and career development. For example, successfully managing a disagreement with a colleague gives that employee agency at work. Teaching employees how to talk in meetings and speak confidently about topics can encourage new ideas and foster diversity, equity and inclusion.
Allow employees to work on skills that are important to their interests
Learn more about the hobbies, interests and other areas of expertise that your employees have. You may discover valuable skills they can teach to others.
Additionally, you could find out if they're interested in other roles at your company. If you help them develop the skills they need to apply for that role, it would benefit both the employee and the company.
Provide feedback and encourage them to give feedback as well
Feedback is critical for fostering growth in the workplace, including feedback on employee performance and your own training programs. Employees who don't receive continuous feedback will have more difficulty developing their skills. An annual or quarterly review may not be frequent enough feedback for employees to take actionable steps to improve.
Instead, manage a continuous evaluation process that creates a positive cycle of improvement. Remember to encourage employees to give you feedback, too. They might have ideas about training or incentives that would benefit the workplace.
Always find room for improvement
By continually improving your L&D, you'll avoid stagnation, low engagement and high employee turnover. Additionally, asking for employees' feedback and using it to change your employee growth program shows that you're listening. It improves morale and engagement because employees can see their ideas making a difference.
How to spot potentially challenging employees when hiring
Typically, the best way to spot a challenging employee is by asking targeted questions during the interview. For example, ask them about their previous employers — if they have nothing positive to say, that's not a good sign. Ask how they handled challenging situations in previous jobs. If their response is to blame others, that's another red flag. Call references and ask how that person handled difficult situations to see if anything negative stands out.
Knowing how to interview someone is vital, but like other skills, it's one you can learn. Check out our guides on how to find employees and the best job sites, so you find the right people the first time.
Easily help your employees and your business flourish
Through implementing a carefully planned onboarding process and ongoing training program, you can help your employees and company flourish. Doing so comes with all kinds of benefits, including higher employee retention, cost savings, increased employee engagement and better service or products for your customers.