These States Have the Most Powerball Winners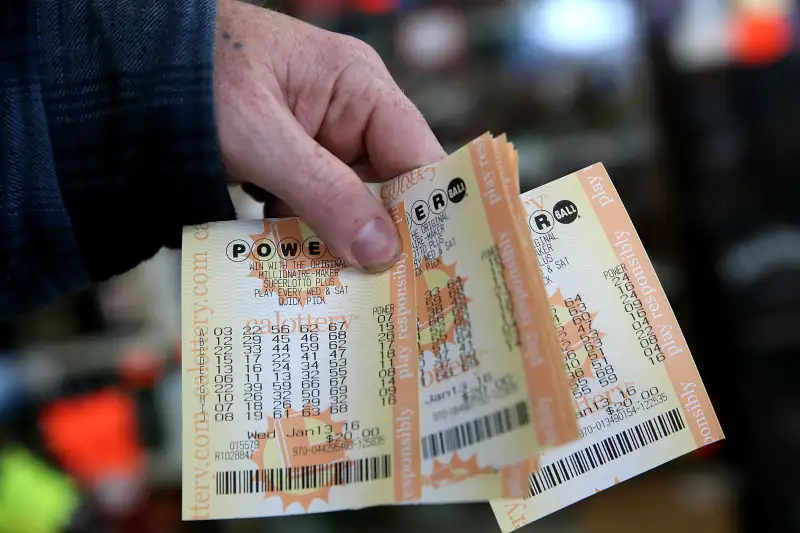 Justin Sullivan—Getty Images
If you purchased a Powerball lottery ticket in Indiana, you may be in luck.
As millions around the country await Powerball number drawings Wednesday evening, it's likely those with tickets from the Hoosier state can rest a bit easy. With 39 winners, Indiana has the most Powerball jackpot recipients than any other state in the U.S., according to data provided by the Multi-State Lottery Association.
Despite 21 failed drawings for a jackpot winner, it's possible someone on Wednesday evening may walk away with the $700 million prize — the second-largest in Powerball jackpot history. How much they'll have to pay in taxes depends on which state they win in. If Indiana strikes gold yet again, the winner will have a 3.5% state tax — which means they'll keep a bit more money than those who may win in other states.
Of course, the number of jackpot wins in each state or territory has something to do with when they joined the Powerball lottery. Indiana, Wisconsin, Montana, Idaho, South Dakota, Minnesota, Kentucky, Delaware, Iowa, Kansas, Oregon, Rhode Island, West Virginia, Missouri and Washington, D.C., were the first to participate in Powerball when it launched in April 1992. That means they are more likely to have a higher number of jackpot wins.
Twenty-five years later, 44 states, Washington, D.C., Puerto Rico and the U.S. Virgin Islands all participate in the game.
Indiana isn't the only lucky one. While some of the top-winning states have an edge on others for their longevity in the lottery, some states that recently joined have Powerball winners. For example, California joined in 2013 and now has eight jackpot winners.
Ahead of tonight's drawing, see how your state or territory stacks up, starting with the luckiest:
Indiana
Wins: 39
Year started: 1992
Missouri
Wins: 31
Year started: 1992
Minnesota
Wins: 22
Year started: 1992
Kentucky
Wins: 18
Year started: 1992
Pennsylvania
Wins: 17
Year started: 2002
Wisconsin
Wins: 16
Year started: 1992
Louisiana
Wins: 15
Year started: 1999
Arizona
Wins: 13
Year started: 1994
Kansas
Wins: 11
Year started: 1992
Washington, D.C.
Wins: 11
Year started: 1992
Florida
Wins: 12
Year started: 2009
Delaware
Wins: 10
Year started: 1992
Nebraska
Wins: 10
Year started: 1994
New Hampshire
Wins: 10
Year started: 1995
California
Wins: 8
Year started: 2013
Connecticut
Wins: 8
Year started: 1995
Iowa
Wins: 8
Year started: 1992
Rhode Island
Wins: 8
Year started: 1992
West Virginia
Wins: 8
Year started: 1992
South Carolina
Wins: 7
Year started: 2002
New Jersey
Wins: 7
Year started: 2010
Georgia
Wins: 6
Year started: 1995-1996; 2010
New York
Wins: 6
Year started: 2010
Tennessee
Wins: 6
Year started: 2004
Idaho
Wins: 5
Year started: 1992
New Mexico
Wins: 5
Year started: 1996
Montana
Wins: 4
Year started: 1992
North Carolina
Wins: 4

Year started: 2006
Oklahoma
Wins: 4
Year started: 2006
Oregon
Wins: 4
Year started: 1992
Massachusetts
Wins: 3
Year started: 2010
Michigan
Wins: 3
Year started: 2010
Ohio
Wins: 3
Year started: 2010
South Dakota
Wins: 3
Year started: 1992
Colorado
Wins: 2
Year started: 2001
Puerto Rico
Wins: 2
Year started: 2014
Illinois
Wins: 2
Year started: 2010
Maryland
Wins: 2
Year started: 2010
Texas
Wins: 2
Year started: 2010
Arkansas
Wins: 1
Year started: 2009
Virginia
Wins: 1
Year started: 2010
Washington
Wins: 1
Year started: 2010
Maine
Wins: 0
Year started: 2004
North Dakota
Wins: 0
Year started: 2004
Virgin Islands
Wins: 0
Year started: 2002
Vermont
Wins: 0
Year started: 2003
Wyoming
Wins: 0
Year started: 2014