This 80-Year-Old Man Has Attended All 52 Super Bowl Games With His Friends (and Says It's Well Worth the Money)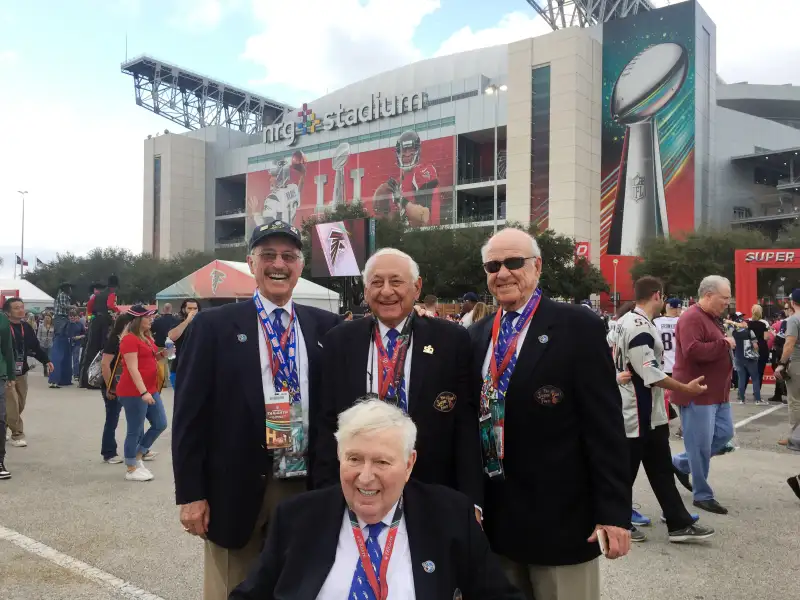 Courtesy of Sylvan Schefler
On a balmy Sunday in 1967, Sylvan Schefler bought a $15 ticket, walked into the Los Angeles Memorial Coliseum and witnessed the birth of a lifelong tradition.
That AFL-NFL World Championship Game was the first Super Bowl, which five decades later is an American institution watched by more than 100 million people each February. But that game also kicked off what would become a treasured ritual for Schefler, who has attended every Super Bowl in history with his friends.
"It's what everyone dreams about doing, but no one does," he says. "This just worked."
It's not a cheap habit: By Money's calculations, it has likely cost Schefler more than $19,000 to buy just the tickets to the past 52 Super Bowls. But the 80-year-old says the chance to hang out with his pals — and, of course, catch the game — is well worth the cash.
"The game itself is the climax, but it's not the main reason," he adds. "It's the pleasure we have together during the couple days we spend together."
Courtesy of Sylvan Schefler
$950 for a Nosebleed
There are only about 14 living people who have gone to all 52 Super Bowls, and just six of them are fans. (The others are reporters, photographers, a team rep and a groundskeeper.) Schefler is part of the Super Bowl Five, whose other members are Lew Rapaport, Harvey Rothenberg, Larry McDonald and the late Al Schragis.
For most of the year, Schefler is best known as the vice chairman of Tigress Financial Partners, a New York City investment banking and brokerage firm. But over Super Bowl weekend, he and his friends get treated like celebrities.
The NFL allows them to purchase tickets at face value, which in itself is a major perk. The league is notorious for tightly controlling the amount of Super Bowl tickets it releases to the public, forcing most fans to buy tickets at high secondhand prices.
Face-value nosebleed seats for this year's game cost about $950, according to Yahoo! Sports, but the cheapest resale ticket on StubHub as of Thursday morning was $2,350. According to Seatgeek, the average resale price for last year's Super Bowl reached $5,682.
Schefler says he paid about $1,500 for his ticket this year. He didn't get to choose his seat, and he can't bring any guests.
"We sit where they [the NFL] send us tickets," he adds. "This is just the five of us — obviously no wives are involved, or girlfriends, [or] children."
In fact, Schefler's kids are New York Giants fans, and he remembers when they asked to tag along for the team's appearance at the 1987 Super Bowl in Pasadena, California.
"[I said,] 'You can do whatever you want, but you're not sitting anywhere near we are,'" he says.
Courtesy of Sylvan Schefler
'A Very Expensive Weekend'
Super Bowl travel also costs a lot — especially if you make a pit stop on the way to the game, like the Super Bowl Five often did when they were younger.
"In the earlier years, we'd go to the Doral Hotel [and Country Club] and play golf for a couple of days. On the West Coast, maybe go to Vegas," Schefler says, adding that the guys' favorite Super Bowl spot is New Orleans. ("The food is great, and it's no enormous hassle to get from one place to another," he says.)
Once there, they also have to pay to stay in, or near, the host city.
That's no easy feat. STR's Consulting & Analytics office found that the average daily rate for a hotel in Atlanta in February is normally about $90, but that will spike to $270 this weekend. Hotels are projected to be 81% booked up.
Thankfully, Schefler says the Super Bowl Five can always get a dinner reservation because people recognize them as NFL royalty. Other fans might not be so lucky: The Atlanta Journal-Constitution reports that many fine dining restaurants in the area are closed this weekend because they've been bought out.
According to the National Retail Federation, the average American adult says he or she will spend about $81 on the Super Bowl, which adds up to nearly $15 billion total. Schefler's situation is, admittedly, a little different.
He says doesn't know how much money he's devoted to his Super Bowl tradition, but the memories are invaluable.
He also acknowledges he's fortunate to be able to afford what he calls "a very expensive weekend for the average person" — even before you multiply it times 53.
"The tickets are what they are, and the flight is what it is. It's no giveaway," Schefler says. "Forget about how much they charge for a T-shirt."