Some Small Private Colleges Are Facing a "Death Spiral"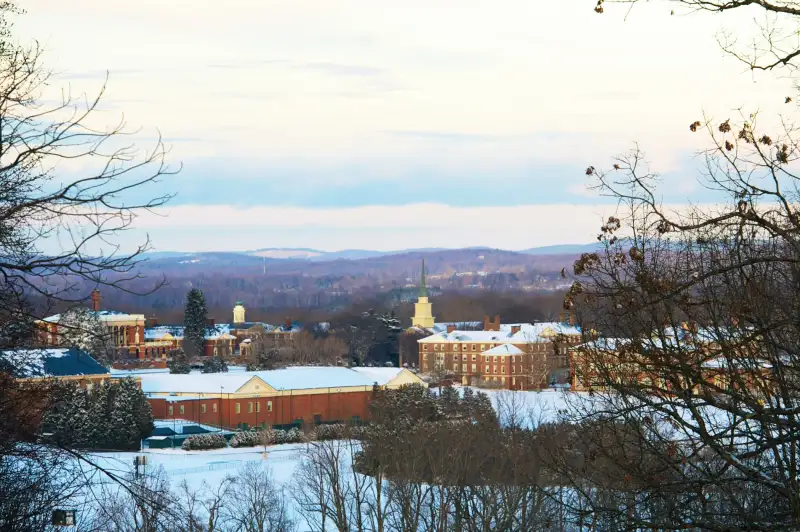 Courtesy of Sweet Brair College
Update 7/16/2015: Thanks to alumnae promises to raise at least $12 million, Sweet Briar College has said it will reopen for classes in late August of 2015, and that as of mid-July at least 300 students had committed to return for the 2015-16 academic year. But school officials says they'll need many more students and donations to put the college on a permanently sound financial footing.
The announcement that Sweet Briar College, a private women's college in rural Virginia, would shut down this summer—even as elite private colleges such as Harvard reported record numbers of applications—reflects a new reality for students and colleges, experts say.
While the elite colleges can keep raising prices and soliciting big donations, small private colleges that don't offer what today's students want – generous financial aid, access to urban activities and job markets, and a name that will impress employers – are facing potentially devastating financial pressures that can lead to a "death spiral" of declining admissions, tuition revenues, and contributions.
The pressures facing small private colleges are part of a larger financial squeeze on almost all kinds of colleges. Nearly all of the nation's public universities, for example, suffered dramatic budget cuts after the 2008 recession. Some public college systems, such as those in Louisiana and Maine, have been so debilitated by cuts that schools have had layoffs, closed entire departments, and are facing the prospect of having to shut down campuses entirely.
Several for-profit colleges, like Anthem and Corinthian, have shut down in the last year, in part because of government crackdowns on schools with low graduation and student debt repayment rates.
Many traditional nonprofit private colleges are struggling for two other reasons: declines in the number of 18-year-olds in certain parts of the country (especially the Northeast and Midwest) and the worsening financial outlook for the middle-class families who, historically, have wanted to send their children to private institutions.
The Census Bureau says the total number of college-age Americans (18-24) is expected to decline slightly between now and 2020. from 30.9 million to 30.8 million. In addition, the median income for American families was around $52,000 last year—about 5% less, in real terms, than it was a decade ago.
The result, according to a December 2014 Moody's analysis of the financial situation facing colleges, is a widening winner-take-all divide, in which wealthy institutions with global reputations that can attract high-paying international students will continue to thrive. Schools that aren't attractive to a national or international market and don't have a "demonstrated return on investment...will face increased competition from cheaper public higher education as well as distance learning options," Moody's warned.
(MORE: See if your college offers a good return on investment.)
The rich and famous colleges are certainly enjoying unprecedented success. Harvard, for example, reported a record 37,305 applications for its fall 2015 freshman class. And between donations and the booming investment market, its endowment rose by $3.5 billion to $35.9 billion in 2014.
Meanwhile, the median American college saw an endowment gain of just $15 million, to bring the typical endowment up to just $113 million. And the average private college has had to provide so much financial aid to attract students that its net revenue per student from tuition, fees, and room and board have remained flat, in real terms, over the last decade, according to the College Board.
An analysis of schools that have recently shut down, or are facing an imminent closure, shows that certain kinds of private colleges, such as small, rural colleges that serve comparatively small communities, appear to be facing the most difficult struggles to recruit enough students to stay afloat.
(MORE: See how to tell whether your college is in deep financial trouble.)
Sweet Briar, located in a small community 120 miles southwest of Richmond, has only 710 students and was having trouble recruiting new ones because fewer women seem to want to attend an all-women's college these days, college president James F. Jones Jr. said in the closure announcement. "The declining number of students choosing to attend small, rural, private liberal arts colleges and even fewer young women willing to consider a single-sex education, and the increase in the tuition discount rate that we have to extend to enroll each new class is financially unsustainable," he explained.
Mid-Continent University, of Mayfield, Ky., a Baptist college that shut down last June after the federal government found problems in the financial aid office, had about 2,200 students in a town about 150 miles northwest of Nashville. And Lebanon College, a two-year private college 75 miles northeast of Manchester, N.H., had fewer than 90 students when it closed last summer.
Tennessee Temple University, which The Chatanoogan reported recently is considering closure, is a Baptist school with about 1,000 students.
Richard Ekman, president of the Council of Independent Colleges, an association of small private schools, says predictions of a tsunami of private college closures are unfounded. "It is pretty hard to kill a college," he notes. And in fact, while there is no official count of the number of college closures, a search of news reports for private, nonprofit colleges that have closed or considered closure in the last year turned up no more than about a dozen or so names out of the approximately 1,650 private nonprofit colleges operating today.
The vast majority of private colleges are responding to financial pressures by using technology and online materials to reduce their costs, raising more financial aid donations to be able to enroll more cash-strapped students, and developing new professional and online programs to attract new kinds of tuition-paying students such as working adults, Ekman says.
But Ekman acknowledges these strategies won't save every college. There is growing competition among colleges for working adult students and online courses, for example, he notes. And most private colleges don't have big endowments to allow them to ride out continuing economic stresses. "The colleges are doing what they should be doing," he said. "The question whether they are doing it quickly enough."