6 Crazy Things You Could Do If You Owned an Entire Town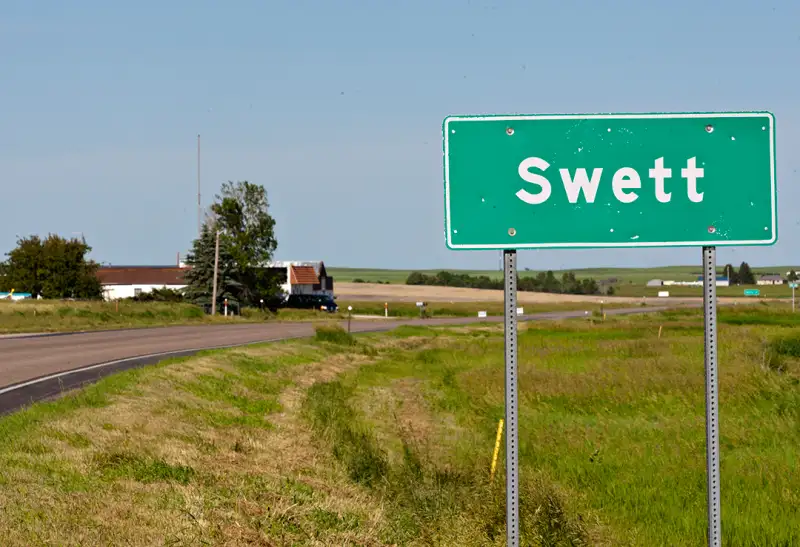 Two hours southeast of Rapid City, S.D., the nearly abandoned town of Swett, which consists of 6.16 acres, a handful of buildings, and a population total of 2, recently went on the market. Coldwell Banker, which has the listing, describes the property as "a popular place for pheasant hunting" and highlights the town's lone functioning business:
The tavern—and the entire town—is listed for the asking price of $399,000. Presumably a new owner would want to keep the tavern running as the rough-and-tumble road house-type biker bar that it is.
But that's hardly the only option if you decided to spring for a whole town. As these previous examples of towns for sale show, what you can do as mayor (or president or generalissimo or any title you prefer) is limited only by what your imagination can dream up and your budget can handle.
Outpost for Controversial Religious Sect
When the eight-person town of Scenic, S.D., went up for sale in 2011, the 46-acre property—which included a saloon, post office, and two jails, all closed—was purchased by an unusual buyer. The Phillipines-based Iglesia Ni Cristo religious sect paid $700,000 for the town, $100,000 below asking and well below the onetime listing price of $3 million.
The sect, which has become the third-largest religious denomination in the Philipines and has expanded rapidly in the Americas, is sometimes referred to as the "Cult of Manalo," after Felix Manalo, the man who claimed to be a prophet when founding the group in 1914. The sect insists it's the true church established by Jesus Christ—who is considered one of many prophets—and is known for its anti-Catholic stance. "The church is focused on the end times, believes Manalo is a prophet and considers the Catholic Church apostate," the Associated Press summed up.
Thus far, the church group hasn't done anything with the property, but many people assume that at some point it will be used for a church camp, or group retreats, or perhaps something bigger. On July 27, Iglesia Ni Cristo will celebrate a grand centennial in the Philippine Arena, the new 51,000-person domed venue built by the sect in the city of Victoria.
Movie Tour Location
Granted, this isn't something you can do with any old town you buy, but abandoned villages and ghost towns are frequently used as film sets, and when the movie studio's business is done, the locations are sometimes put up for sale. For instance, Henry Mill Village, an abandoned string of old mill homes near Hildebran, N.C., served as District 12, the bleak coal-mining home town of the main characters in "The Hunger Games."
Henry Mill Village went up for auction in 2012 with a listed price of $1.4 million, but no bids were accepted. The owner is reportedly still interested in selling the property, which currently hosts Hunger Games Unofficial Fan Tours. The two-hour tour includes games of "archery tag" and the chance to reenact film scenes in costume, at a cost of $50 per person.
Centerpiece of Breastaurant Empire
In 2012, Doug Guller, founder of Bikinis Bar and Grill chain of "breastaurants," purchased an abandoned town near Fredericksburg, Texas, and renamed it (what else?) Bikinis, Texas. At the time, Eater reported the plans for the town as follows:
Sure enough, the vision sure to make many a teenage boy drool appears to be becoming a reality. The entire town is available to rent for private events, and the main venue, a 600-person dance hall and bar known as (what else?) Guller Hall, plays host to a series of concerts this summer.
Ghost Town (with Bar and Liquor License)
Marketing an abandoned town you purchase as a ghost town to attract tourists seems to be the easiest, most natural business use of a dilapidated group of vacant properties. As an added bonus, the old gold mining town of Seneca, Calif., was posted for sale at Craigslist last winter, complete with "a liquor license for the old shack bar that's still there." An offer of $240,000 on the property was reportedly accepted in February.
Publicity for Coffee Brand
Bidding on the town of Buford, Wyo., started at $100,000 in 2012, before it eventually sold for $900,000. The Vietnamese buyers renamed the town PhinDeli Town Buford, after their coffee brand. Last fall, the owners opened a new business in the town, which of course was a coffee shop. The hope, according to one Wyoming newspaper, is that the town near Cheyenne will "become the American hub for PhinDeli-brand coffee."
Quaint European Village Retreat
It seems as if Europe is awash in adorable, if abandoned, hamlets and villages seeking new owners. One village in France with 19 buildings, tennis courts, and a swimming pool, was listed for around $440,000. Hundreds of vacant hamlets in rural Spain are either for sale or likely to be on the market soon, some with prices in the vicinity of $50,000. Larger abandoned towns—a hill town in Italy with 25 cottages, an entire English village with 2,000 acres, 21 cottages, and a manor house—have occasionally hit the market, sometimes via an eBay listing.
What could new owners do with such properties? As a Forbes post explained, many have been snatched up by Britons, who "convert them into tourist compounds," serving as private, one-of-a-kind B&Bs, inns, or vacation rentals. Other buyers use them simply as retirement homes or personal vacation houses, with the extra buildings functioning as guest lodging when family and friends come to visit.