See the Block Where Taylor Swift Has Dropped $50 Million on 3 Apartments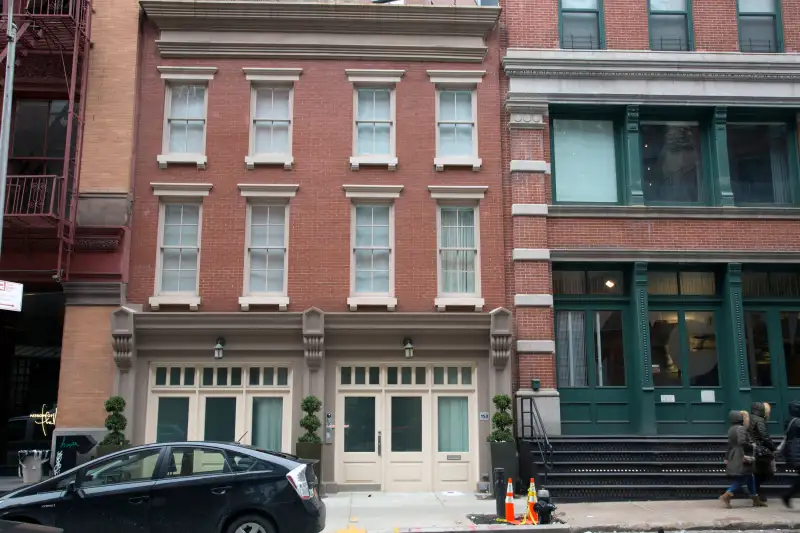 Former New York City Global Welcome Ambassador Taylor Swift really loves Manhattan. She sang about it in 2014's Welcome To New York. She gushed about it on Late Show with David Letterman. And, according to recent reports, she bought nearly $50 million worth of it on a sleepy block in Tribeca.
According to the Tribeca Citizen and the New York Post, the Pennsylvania native-turned-Nashville celebrity was the recent LLC-shielded buyer of a 3,540-square-foot second-floor apartment at 155 Franklin Street. While the Citizen says the purchaser "dramatically overpaid" for the unit, the $9.75 million home is nowhere near Swift's most expensive home on the block. The singer purchased the top floor penthouses at 155 Franklin Street for $19.95 million in 2014 and bought the three-story townhouse next door for $18 million in September 2017. If Swift is the buyer of 155 Franklin Street's second-floor unit, the purchase brings the total cost of her Franklin Street holdings to over $47 million.
So, what is it about the 463-foot-long street in New York City's trendy Tribeca neighborhood that keeps Swift around? Here are our guesses:
There's a lot of, ahem, Blank Space
Those familiar with the album 1989 might be disappointed to find that Taylor Swift's block is not full of bright lights and a new soundtrack to dance to forevermore.
Save for a few boutique clothing, home decor and jewelry stores, there isn't much of a reason to wander down Swift's portion of Franklin Street. In place of the gleaming entryways and uniformed doormen you might expect, Swift's block is dotted with loading docks and the occasional vacant storefront. The one-way road sees its fair share of yellow cab thru traffic, while the majority of the street's pedestrians on a Tuesday morning pass Swift's inconspicuous digs without looking twice.
While one might expect Swift to live closer to the action, Tribeca's distance from popular tourist traps could be part of what attracts celebrities to the lower Manhattan neighborhood.
It's close to everything
Have a plane to catch? Newark Liberty International Airport is a half-hour drive away. Running late to a meeting? There's a Citi Bike station down the road. Need to catch the train? The MTA's 1 line stops right at the end of the block.
While there's little evidence that Taylor Swift actually uses the subway for anything other than the occasional promotional performance and it's hard to imagine the celebrity peddling around lower Manhattan on a Citi Bike, the location gives Swift -- or, more likely, Swift's staff -- easy access to the rest of the city.
That said, Swift does leave her Tribeca apartment -- so much so that Buzzfeed once compiled and ranked all the photos of the singer exiting 155 Franklin Street from 2014. Swift has been seen leaving brunch at Bubby's, a diner-style eatery around the corner, and grabbing a meal at Sarabeth's Tribeca, a nearby restaurant and bakery.
It's exclusive
Want to be Taylor Swift's neighbor? Your current options on Franklin Street range in price from $18.5 million for a 6,226-square-foot condo to $2.2 million for a 1,600-square-foot co-op -- a bargain, considering Zillow pegs the neighborhood's median home value at just over $3 million. Even getting brunch at Swift's favorite neighborhood spots will cost you. A cheese omelette at Sarabeth's will run you $16.50, while Bubby's charges $18 for a slice of avocado toast.
New York City's most expensive neighborhood is home to more stars than just Swift. Justin Timberlake, Jennifer Lawrence and former Swift beaus Jake Gyllenhaal and Harry Styles all live in a similar converted warehouse space five blocks away, while Jay Z and Beyoncé's loft is just a 6 minute walk from Swift's Franklin Street properties.
While it might seem like Swift owns all of Franklin Street at this point, there are other celebrities there, too. The singer's famous building-mates have included comedian Aziz Ansari, Ocean's Eleven director Steven Soderbergh and actor Orlando Bloom, who allegedly sold his condo because of the throngs of fans and paparazzi attracted to the block by Swift's presence.
Here's a look around Swift's block:
The view from Franklin Street facing Hudson Street to the West. Taylor Swift's townhouse at 153 Franklin Street is visible next to 155 Franklin Street, where the singer owns several units.
The eastern end of Franklin Street intersects with Varick Street, opening into a much busier area than Swift's quiet side street.