The Last Day Ever You Can Shop at Toys 'R' Us Is Almost Here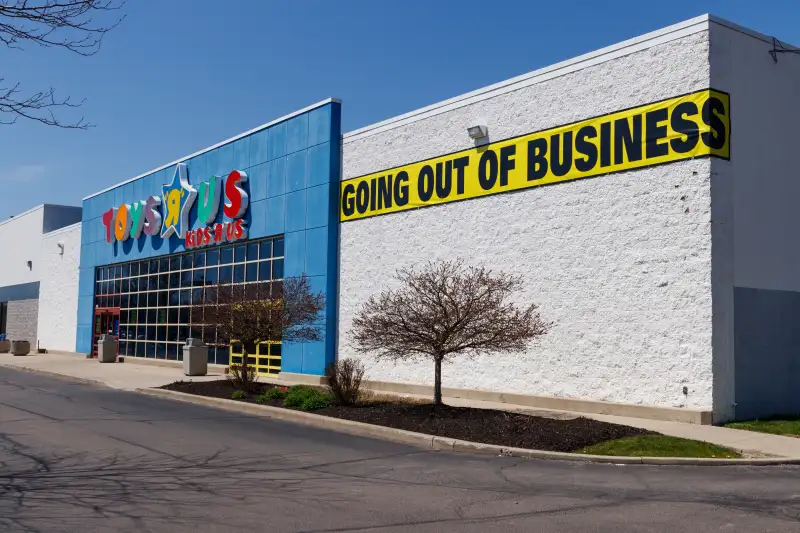 jetcityimage—Getty Images
Toys "R" Us is mere days away from joining Blockbuster Video and Borders bookstores in the ranks of once-popular retailers that have totally disappeared.
After launching liquidation sales at U.S. stores in March, Toys "R" Us is now in the final stages of going out of business. All Babies "R" Us and Toys "R" Us stores will be closed by this Friday, June 29, the iconic toy retailer says.
It's unclear how many Toys "R" Us and Babies "R" Us locations are still open. The company filed for bankruptcy last September and announced in February that it would be closing half its U.S. stores. A month later, the company said plans had changed and all Toys "R" Us stores would close.
At first, Toys "R" Us liquidation prices were underwhelming: Customers complained that the discounts amounted to only 5% or 10% off toys that were overpriced to begin with. By mid-June, Toys "R" Us discounts had significantly increased, with storewide deals of 50% to 70% off.
That's how things stand at the moment. Toys "R" Us going-out-of-business discounts remain in the 50% to 70% off range in the toy store chain's final days. And by now, the Toys "R" Us stores still open have been thoroughly picked over by shoppers, so customers going for one last visit this week should expect plenty of empty shelves. The Palm Beach Post reported that one Florida Toys "R" Us store looked "like a ghost town" on a recent visit, with yellow CAUTION tape roping off aisles that had already been completely emptied.
If you do go shopping at Toys "R" Us liquidation sales this week for the sake of nostalgia or bargain hunting, take some precautions before buying anything. As Money noted in a previous story about Toys "R" Us going-out-of-business sales: