This Is America's Favorite Supermarket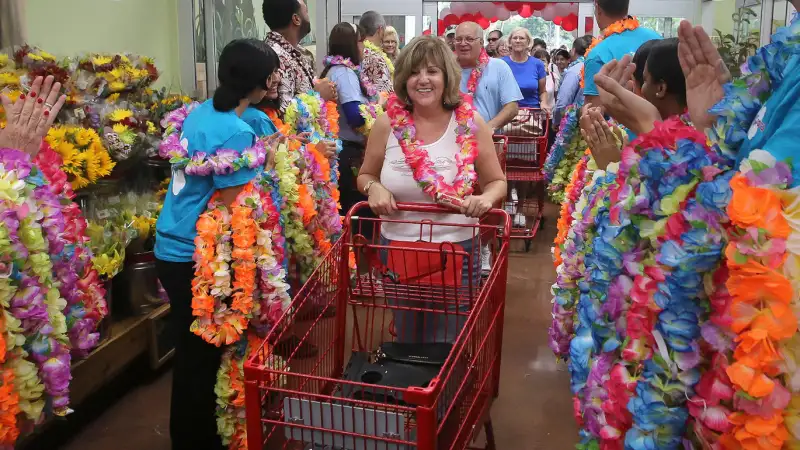 Bruce R. Bennett—The Palm Beach Post/Zuma Press, Inc./Alamy
Trader Joe's may be known for its small stores, but it would be understandable if the grocery chain was getting a big head. For the third year in a row, TJ's has been named by consumers as their overall favorite supermarket in a survey conducted by Market Force Information.
Survey participants are asked to rate grocery chains on attributes like Courteous Service and One-Stop Shopping, and Market Force compiles the data into what it calls a Composite Loyalty Index, meant to gauge overall consumer satisfaction and the likelihood of recommending the retailer to others. Trader Joe's may not be the go-to spot for one-stop shopping, but for the past few years, it has ranked at or near the top of shopper ratings for attributes such as Courteous Service, Inviting Atmosphere, Low Prices, Cleanliness, and Fast Checkouts. That's given the grocery chain the top ranking three years and running.
Publix's high scores for courteous employees, speedy checkouts, and cleanliness helped the Florida-based supermarket chain nab the #2 slot in the Market Force study. The third-highest grocery chain, meanwhile, is Aldi, the exceptionally low-price, no-frills, generic-brand sibling of Trader Joe's. WinCo Foods, another emerging low-price chain, and Costco received the highest ratings for value alongside Aldi.
This past spring, Consumer Reports' study on the nation's best supermarkets also placed Trader Joe's and Publix in the top three, though it named Wegmans as the overall best grocery chain. (Wegmans wasn't featured in the Market Force survey.)
One other notable nugget from both surveys is that Walmart is singled out for two reasons: It is the biggest and most visited of all grocery stores, and it receives the lowest ratings from shoppers.
Read next: Former Trader Joe's Exec Opens Super Cheap Nonprofit Supermarket