Trump's Budget Would Kill the Beloved Volunteer Program AmeriCorps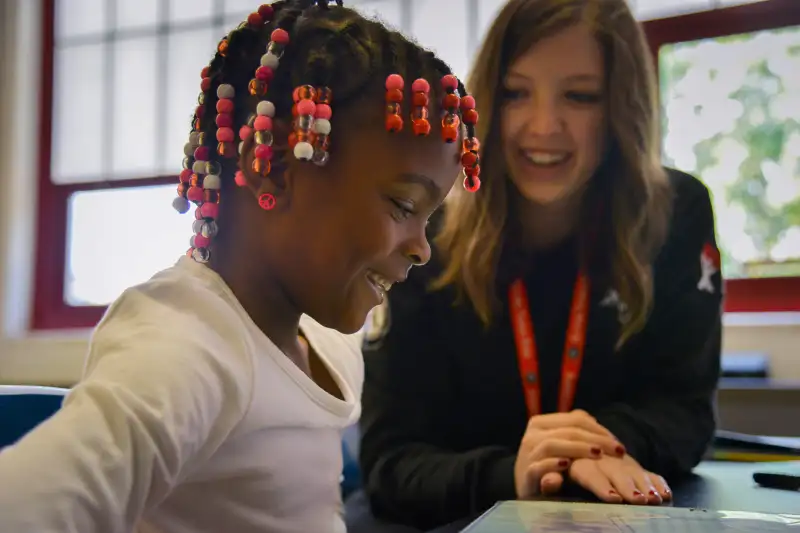 Jahi Chikwendiu/The Washington Post via Getty Images
In the 23 years of AmeriCorps' history, more than one million people have served in its ranks full-time. They've taught children how to read, helped urban high schools improve graduation rates, developed programs to prevent opioid abuse, and mobilized relief efforts after national disasters, among other projects.
Yet President Trump's new budget would completely cut funding for the program—and with it, hundreds of thousands of dollars in college funding that AmeriCorps' provides to volunteers would disappear.
The president's budget proposes the elimination of 19 agencies, including the Corporation for National and Community Service (CNCS), which overseas AmeriCorps and a similar program called Senior Corps aimed at older volunteers. Together they employ nearly 350,000 members annually, including roughly 80,000 members doing intense full-time service stints. AmeriCorps members regularly help mobilize and organize millions of part-time volunteer members in the communities they serve as well. Total funding for CNCS is just over $1 billion per year, or just .03% of total federal spending, according to Voices for National Services, an advocacy group.
How is that money used? AmeriCorps members commit to working one or two years in exchange for help with living expenses, health insurance, and $5,800 after the completion of each year to pay for tuition or help pay off student loans.
Since the program was started in 1994, it has awarded $3.3 billion in education funding for volunteers. About $1 billion of that has gone toward student loan payments. What's more, roughly 180 colleges, including Syracuse University, Sacred Heart University, and graduate programs at the universities of Connecticut and Arizona, provide some level of matching funding for AmeriCorps alumni.
Socioeconomic details on who serves in AmeriCorps—and who could therefore be out of a job or college funding—are hard to come by. Nearly one-third of parents of AmeriCorps participants had completed a graduate degree, while 20% of parents had a high school degree or less, suggesting a range of demographics.
The program places members in agencies such as City Year, Habitat for Humanity, Teach for America, Equal Justice Works, and the Red Cross, and these organizations (and many others) could obviously suffer if funding is dropped. Through City Year, AmeriCorps helps fund nearly positions in 11,000 schools around the country, according to Chalkbeat.
AmeriCorps never grew to the scope envisioned by Bill Clinton and the progressives who designed it in the 1990s, with the hope of one day expanding it to a million members annually. Instead, numbers have held steady for the past few years at about 80,000, amid political opposition and limited funding. Republicans frequently criticize the program, saying the federal government shouldn't pay for community service.
But just last year, Congress approved the largest budget yet for the program, at $386 million for AmeriCorps State and National. There's an argument to be made that it's money well spent. Voices for National Service points to research indicating that every $1 spent on youth national service results in more than $2 in savings for taxpayers, and that for each $10 in federal money spent on AmeriCorps, $15 more is raised through private partnerships.