This Class Teaches 'Deactivated' Uber Drivers How to Get a 5-Star Rating. Here's What They Learn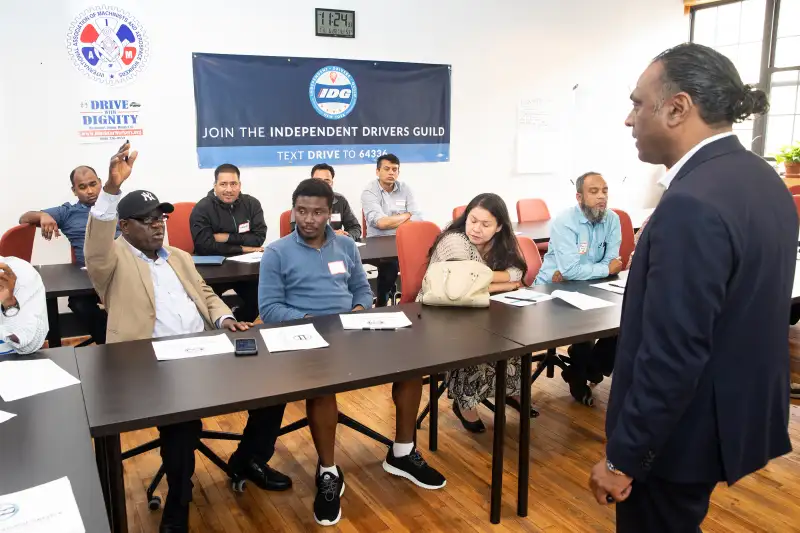 Photograph by Christopher Lane for Money
As yellow cab riders in New York City dried up, Nichodemus Obih made a bet on himself — and on Uber.
Financially strapped, Obih signed a 46-month lease-to-own plan in June for a Toyota Highlander at $510 per week, he says. When he made $1,500 in his first week driving with the app company, he exulted.
But soon after, Uber deactivated him because of low passenger ratings. He couldn't make another dime from the company.
Obih, 65, who emigrated 30 years ago from Nigeria, was devastated. He says he remembers trying to explain the financial blow to his three teenage children back in his home country, two of whom were in the hospital with malaria. Obih told them he was struggling to make the car payments, but they still needed him to cover their medical bills.
"They don't have insurance," he says. "I'm their insurance."
Like Obih, 90% of the 80,000 app-based drivers in New York City are immigrants, and four out of every five acquired their vehicle to enter the industry, according to a study released by the New York City Taxi and Limousine Commission this month. Half of the drivers support children and provide the bulk of their family's income, the study says. The largest company in the industry is Uber, which routinely deactivates drivers for low passenger ratings.
On a recent morning, Obih and a dozen other deactivated drivers sat in foldout chairs, sipping coffee before the start of a course on how to secure five-star ratings. All were immigrants; just one was a woman. The class, which cost them as much as $70 each, was their only chance to drive for Uber again.
The gist of the course quickly became apparent: It was less about managing the car than the customers — who were often polite, but usually at least a little impatient, and sometimes even drunk or offensive. The drivers would learn skills like how much to talk to passengers and how to respond if a rider passes out from excessive drinking; then the students would put their knowledge to the test in a role-playing exercise.
Photograph by Christopher Lane for Money.
After each Uber ride, passengers can rate their driver on a scale from one to five stars. If a driver's average rating drops too low — the threshold varies by region and, the spokesperson says, by driver — he or she risks deactivation. At this point, Uber sends multiple notifications as well as suggested ways for the driver to improve, the company's website says.
The company does not make rating thresholds public, but observers widely believe that a rating of 4.6 puts drivers at risk of deactivation.
What Drivers Learn
Two long rows of tables and a PowerPoint projector fill the makeshift classroom at the chic Brooklyn office that houses the Independent Drivers Guild, or IDG, a group that advocates on behalf of ride-share drivers in New York City. (IDG receives funding from Uber, and the company requires that deactivated drivers complete either IDG's course or a similar one before it allows drivers back on the platform.)
By way of establishing his own bona fides, teacher and IDG representative (and part-time driver) Sohail Rana told the students his own rating: 4.92. Then he dove into the advice that's at the heart of the class. Some was conventional: Get enough sleep, dress well, clean your car daily, and greet the riders with a smile. "They're bringing us money," Rana says. "We should be happy."
Other suggestions went above and beyond: Provide water and candy, follow the rider's directions no matter what, and open the door for the passenger when you reach the destination. If a passenger talks to the driver, even if he or she asks uncomfortably personal questions, the driver should always respond — but never speak too much, Rana says.
The rest of the advice is precautionary: never touch a passenger, call the police if a rider passes out from illness or alcohol consumption, and install a camera on your dashboard so you can disprove false claims about your driving or conduct.
Obih, a vocal student, was skeptical about whether these tips could prevent low ratings. He recounted driving a young woman through the tunnel that runs from Queens to Manhattan. As Obih emerged into Manhattan, a UPS truck lurched in front of his car, forcing him to slam on the brakes. "If I didn't stop the car," he told the group, "I would've crushed the guy."
Obih says the passenger immediately began typing on her phone. He later received a message from Uber apprising him of a customer complaint about a lack of safety, he says. ("Ratings are anonymous," the Uber spokesperson says. "Neither riders nor drivers see individual ratings tied to a particular trip or person.")
Rana, who has taught the course once a week for the past year, says he would have stopped the car short as well; after all, a driver can't control what's happening on the road around him or her. "If our job was sitting at a desk, this would be the easiest job," he says later.
Role-Playing Exercise
Near the end of class, it came time for a final test before the drivers would be allowed back on the Uber app: a role-playing exercise. To replicate the seating arrangement in a car, Rana placed two chairs single-file in the front of the class — one for the driver and one for the passenger. He called the drivers up in pairs so each individual could take a turn in both roles.
Photograph by Christopher Lane for Money.
"Come on Nick, we've been waiting for you," Rana said to Obih, after a pair of drivers-in-training took their seats. "Be the driver first."
"Good morning; where are you going today?" Obih asked his partner, a young man in a hooded sweatshirt. Obih then asked if the rider would like him to use GPS or follow specific directions, and whether he should adjust the air conditioning. When the fake ride reached its destination, Obih thanked his passenger: "I appreciate your business."
Then, a surprise: Obih leapt out of his chair, ran around to the still-seated partner behind him, and opened an imaginary passenger door — all with a grin.
Rana congratulated him on a job well done.
After each student took a turn as driver, the class ended. Rana told everyone they could expect to be back on the Uber app within a couple days. "I learned a lot," Obih says. "As a driver, all you need is the money. I'll be polite to customers but keep to myself."
Two weeks later, Obih says driving for Uber has gone "beautifully."
"I'm getting better and better," he adds.
One of his children has recovered from malaria, although another remains in the hospital, Obih says. He is still paying back money he borrowed from a friend after his deactivation. He juggles those expenses with car payments and basic needs.
"I'm their father," he says. "I'm responsible for them. And I've got to eat."