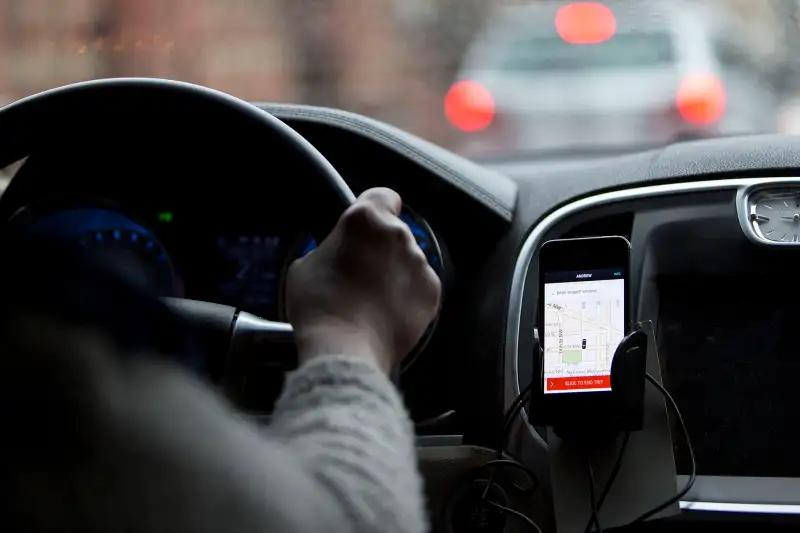 Bloomberg via Getty Images
Since Uber's inception, tipping your driver is the exception, not the rule. But now the company is under pressure to make it much easier to tip drivers, where it would become as standard as adding 15% or 20% to your restaurant bill or taxi fare.
This week, a group representing nearly 50,000 Uber drivers in New York City filed a petition with the Taxi and Limousine Commission to force Uber to add an in-app tipping option for riders.
"All other major ridesharing companies and all New York City taxis offer tipping options in their apps or display screens," the Independent Drivers Guild said in a statement. "Uber's refusal to allow in-app tipping has caused rampant passenger confusion over whether tipping is permitted (it is) and whether gratuity is already included in the fare (it is not)."
Right now, the simplest way to give your driver a little something extra is cash. But because people don't carry around physical money anymore, and because Uber was originally pitched as a no-tipping transaction, tips aren't the norm by any means.
Uber's stance on tipping has evolved over time. Not long ago, Uber drivers say that they were told they should not solicit gratuities and in fact should turn down tips unless riders insist. And the company's help page once said flatly, "there's no need to tip," and even that the "tip is already included" in fares. Now it says:
Uber has recently come under fire for the perception it supported President Donald Trump's immigration ban, and critics have long complained that the company should treat drivers like true employees and pay them better. The absence of a straightforward tipping option limits Uber drivers' income further. "Uber's refusal to give passengers a tipping option has effectively slashed driver pay, making it all the more difficult for drivers to support their families," Independent Drivers Guild founder Jim Conigliaro, Jr, said.
If Uber drivers in New York City succeed in forcing the company to add tipping as on option when riders are paying, the expectation to tip would obviously increase significantly. Riders might not view the Uber driver gratuity as mandatory as it is at restaurants, but it would probably at least seem similar to the guilt-inducing coffee store tip jar.
What's more, countless studies show that people spend more with credit cards versus cash. And because customers are rated by Uber and Lyft drivers, the number of stars that riders receive could conceivably be affected if they don't tip, or if they don't tip enough. The net result is that as time passes, tipping your driver could feel as standardized as it is with taxi drivers. It also means, if you're not tipping and getting low ratings, it might be harder to score a car in the future when you stumble out of the bar at 2 AM.
For now, the petition to add an in-app tipping option only applies to New York City Uber drivers, and it's unclear if Uber will cave or city authorities will force the company to change its policies. But if and when the option is added for New York rides, it would seem inevitable that it would spread nationwide soon thereafter. In practice, that would mean that the cost of an Uber ride would be roughly 20% more expensive for most customers, even though tipping is and has always been "voluntary."