How Wayfair CEO Niraj Shah, a Self-Made Billionaire and Son of Immigrants, Got Caught Up in the Border Crisis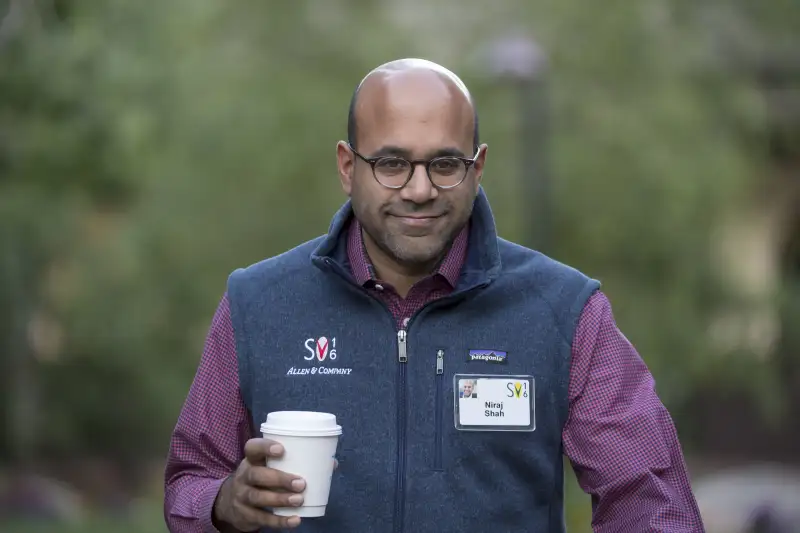 David Paul Morris/Bloomberg via Getty Images
Executives at the online retailer Wayfair are feeling the heat this week as employees staged a mass walkout outside the company's Boston headquarters to protest the company's decision to sell furniture to outfit a migrant detention facility in Texas.
The walkout is taking place around 1:30 p.m. on Wednesday, June 26, and Wayfair workers are encouraging supporters to meet up at Boston's Copley Square.
The Wayfair walkout stems from the discovery last week made by employees that the company accepted an order for roughly $200,000 worth of furniture from BCFS, a government contractor that houses migrants — including children — detained along the southern border. Outraged Wayfair employees have demanded that the company stop sales to contractors such as BCFS, and have asked that Wayfair donate profits from the sale to legal services that help immigrants.
But Wayfair's leadership have thus far refused employee protester demands, saying they have a duty to fulfill all legally compliant orders.
So who is calling the shots at Wayfair? And how has the company, including Wayfair's billionaire CEO Niraj Shah, responded to employee protests? Here's what we know about Shah and his fellow Wayfair cofounder (and fellow billionaire), Steve Conine.
What We Know About Wayfair's Billionaire Cofounders
Niraj Shah is the cofounder and CEO of Wayfair. Shah founded Wayfair with Steve Conine, who serves as co-chairman of the company. Both men are billionaires: Niraj Shah has a net worth estimated at $2.4 billion, according to Forbes, while Steve Conine's fortune is about the same, roughly $2.3 billion.
Shah and Conine met at Cornell University, and both graduated with engineering degrees in 1995. At Cornell, they took a popular entrepreneurship class, and began creating and hosting websites — mostly in the e-commerce space. They eventually hosted upwards of 250 websites before combining them in 2002 with the formation of what would become the online furniture sales giant Wayfair.com.
Shah was named to the Fortune "40 Under 40" list in 2013, when Wayfair was "a nearly $1-billion-in-sales business," according to the publication. More recently, Wayfair has recorded $2 billion worth of sales in a single quarter, and the company says it employs more than 12,000 people. Wayfair made the Fortune 500 list for the first time in 2019, even though the company has yet to turn a profit.
In 2018, the Wayfair cofounders were honored by their alma mater as the Cornell Entrepreneurs of the Year. The Wayfair IPO took place in October 2014, with shares priced at $29. Wayfair stock reached a high over $170 per share in March 2019, and was as high as $160 one week ago, before dipping under $150 this week.
Why Is Wayfair Selling Furniture to House Migrant Children?
Last week, Wayfair employees noticed that the company received an order for $200,000 worth of bedroom furniture by BCFS, a nonprofit government contractor operating migrant detention facilities at the U.S.-Mexico border, including one camp in Carrizo Springs, Texas, that reportedly could detain up to 3,000 migrant children.
Nearly 550 Wayfair workers then signed a letter of protest addressed to Niraj Shah, Steve Conine, and the rest of the Wayfair Leadership Team, "from a place of concern and anger about the atrocities being committed at our Southern border." The letter asked Wayfair leaders to "cease all current and future business with BCFS" and other firms operating migrant detention camps, and to establish a code of ethics for Wayfair's business-to-business sales "in accordance with our core values."
"Knowing what's going on at the southern border and knowing that Wayfair has the potential to profit from it is pretty scary," Elizabeth Good, a manager on Wayfair's engineering team who is helping organize the protests, said to the Boston Globe. "I want to work at a company where the standards we hold ourselves to are the same standards that we hold our customers and our partners to."
In response, an unsigned letter was addressed to Wayfair employees that thanked them for voicing their concerns with "passion and commitment," but which ultimately said the company will continue to fulfill all orders placed by BCFS or other government contractors running migrant detention centers. "We believe it is our business to sell to any customer who is acting within the laws of the countries within which we operate," the letter stated.
Wayfair workers established the Twitter handle @WayfairWalkout to help organize their demonstrations. Protest organizers have also said that since their original letter was sent to Wayfair leadership, they have added another demand — that Wayfair donate all of the profits from sales to BCFS, estimated at $86,000 on the $200,000 in furniture sales, to the nonprofit RAICES (Refugee and Immigrant Center for Education and Legal Services).
Money.com sent a request for comment to Wayfair, and did not receive a response at press time. However, after our story originally published, the protesters announced on Twitter that Wayfair would be donating $100,000 to the Red Cross.
A Son of Immigrants, Shah Has Been Quiet on the Controversy
Niraj Shah grew up in the faded industrial town of Pittsfield, Massachusetts, as the son of immigrants from India. Shah had a paper route and was a member of his high school's computer programming team, while his mother ran a retail business and his father worked as an engineer for General Electric.
The career monitoring site Comparably recently named Niraj Shah among the top 50 CEOs for diversity and inclusion among employees.
"Niraj has a clarity of vision that I've never seen in my career," David Bergman, the CEO of a furniture manufacturer and a Wayfair partner, said of the Wayfair CEO to Fortune. "He's the kind of person you just want to follow."
Niraj Shah is the board director of the Shah Family Foundation, a nonprofit run by his wife, Jill, which aids causes such as childcare, health care, and healthy lunches at public schools in the Boston area. In his Shah Foundation biography, Niraj Shah says that if he could wave a magic wand, "I would wipe out inefficiency in government and society. I would erase poverty and shift the world to an enlightened, post-money economy."
As for the Wayfair walkout and protests about migrant children being detained along the U.S. border, Niraj Shah has been quiet.
At a Wayfair town hall meeting on Tuesday, Wayfair cofounder Steve Conine reportedly told employees that he personally objected to migrant detention centers, but that it would be inappropriate for the company to pick and choose which customer orders it would fulfill.
"We do a hundred thousand orders a day right now. There are hundreds of organizations every day that we're selling to that many of us in this room would not approve of," Conine said to employees, according to leaked audio recordings of the meeting. Conine also said Wayfair has a "duty not to be a discriminatory business," and would accept all orders placed lawfully.
"The level of your citizenship as citizens is really the appropriate channel to try and attack an issue like this," Conine said to Wayfair workers, according to the Boston Globe. "To pull a business into it — we're not a political entity. We're not trying to take a political side."