What Is Child Identity Theft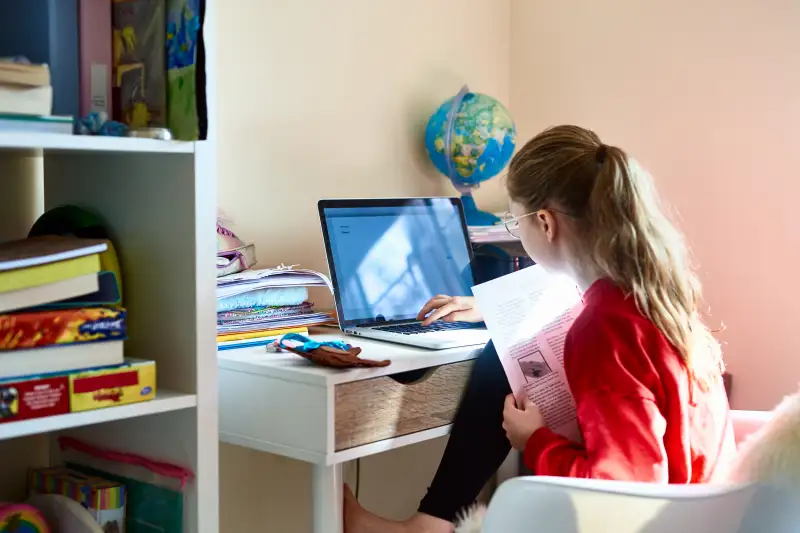 Child identity theft can be challenging to spot, but it can have serious consequences for your child's financial future. In this article, you'll learn what child identity theft is, why criminals steal children's identities, and how to keep your child's sensitive information secure.
What is child identity theft?
Identity theft takes place when someone's private identifying information (PII) is stolen and used for financial gain or to commit fraud. Child identity theft is a type of criminal identity theft targeting individuals under the age of 18. Many parents aren't aware of how common child identity theft is, but it is an increasingly common form of crime in the U.S.
Reasons why identity thieves often go after children
In the United States, it's illegal for people under the age of 18 to enter into a contractual agreement with a lender, so it may be hard to understand what a criminal could gain from stealing a child's identity. However, although it's illegal to do so, many lenders do not verify a person's age before issuing them a loan or credit card. Additionally, in 2011 the Social Security Administration (SSA) stopped issuing Social Security Numbers (SSNs) in order and switched to a randomized SSN system. This makes it impossible to know someone's age from their SSN alone.
Another reason that thieves target children is that they possess an untouched credit history. A criminal can use a child's sensitive information — such as their SSN, date of birth, birth certificate or access to social media accounts — to commit fraud and scam lenders. Some examples of child identity theft include:
Applying for government benefits like unemployment
Purchasing a vehicle with an auto loan
Opening bank or credit card accounts
Filing fake tax returns with the Internal Revenue Service (IRS) for tax refunds
Taking out loans with various financial institutions
Receiving fraudulent student aid
Gaining employment illegally
Since most people don't expect children to be victims of identity theft, crimes against them can go unnoticed for years, devastating their financial futures.
The detrimental impact that child identity theft can have
The effects of identity theft can be severe once the child victim reaches adulthood. The victim might not even know about the identity theft until they apply for a line of credit and are denied or have problems getting a driver's license or government benefits.
As the victimized child becomes an adult, the theft of their identity could result in the following:
A low credit score
Tax issues
An inability to receive student aid
Higher insurance rates
A criminal record
The sooner a parent realizes that their child is a victim of identity theft and takes action, the fewer problems the child will face in the future.
How identity theft of children can happen
There are several forms of identity theft. Some common ways criminals obtain the information needed for identity theft include familial fraud, phishing scams, hacking and data breaches.
Familial fraud
A common cause of child identity theft is when a family member, legal guardian or close friend takes advantage of their relationship with a child to steal their PII. These scammers abuse the victim's trust to access confidential information without suspicion. Familial fraud is especially harmful when committed by a parent, guardian or someone responsible for the child's wellbeing.
Phishing scams
Phishing scams target children and their families and trick them into revealing sensitive information. Phishing attacks can take the form of phony emails, pop-up ads, social media messages or phone calls, which can be difficult even for adults to identify as scams.
Children that use the internet without parental supervision have a higher chance of giving their sensitive information to a scammer. For example, if an identity thief contacts a child pretending to be a government official or other authority figure, the child may unknowingly fall victim to a social security scam.
Hacking
As more children use the internet for school and entertainment, hacking becomes more prevalent. Hacking occurs when a cybercriminal gains unauthorized access to digital devices that hold sensitive information, such as smartphones, computers or entire networks. For example, hackers may use password hacks or malware to access PII on your child's computer.
Hackers can also gain access to social media accounts, stealing your child's photos and information to create fake duplicate accounts. They then use these compromised accounts to scam others into sending money or sharing PII and other sensitive information.
Data breaches
A data breach is a cyberattack where criminals access confidential or sensitive information from an institution such as a bank, government office or online retailer. Data breaches usually occur due to technological vulnerabilities in a company's records or other infrastructure. With a data breach, criminals can steal PPI or corporate data, which they can sell for profit.
Companies will usually inform you of any data breach that puts your or your child's information at risk. If a criminal infiltrates an institution that holds your child's PII, they may use it for identity theft or sell it on the dark web to other cybercriminals. You can't do much to protect yourself against a data breach besides being cautious about who you trust with your information.
Other types of data breaches can occur from a criminal bribing an employee at a school for sensitive information. Fraudsters can also use stolen mail to gain information and create fake identities.
Common signs of identity theft to look out for
Child identity theft can go undetected for years because parents don't know what signs to look for. Verifying your child's credit report is one way to check for identity theft because your child should not have a credit report at all if you haven't opened a credit account in their name.
Be wary of any mail you receive addressed to your child. Mail with offers for pre-approved credit cards or letters from debt collection agencies should raise red flags. Another sign of identity theft is if your child receives mail from the IRS notifying an audit, owed income taxes or that their name or social security number has appeared on a tax form other than their own.
Suspicious phone calls asking to speak with your child may also indicate that their data has been breached and sold, landing them on a spam list. Finally, if the government denies your child benefits, there is a chance your child's identity has been compromised.
If you notice any signs that your child's identity has been stolen, act fast.
What to do if your child is a victim of identity theft
It can be upsetting to realize your child is the victim of identity theft, but there are things you can do to minimize the damage.
Freeze their credit file
If you discover that someone has stolen your child's identity, the first thing to do is freeze their credit. Frozen credit makes it almost impossible for cybercriminals to open a new line of credit in your child's name, even if they have your child's PPI. You can also freeze your child's credit as a preventative measure.
To freeze your child's credit, contact all three major credit bureaus: Equifax, Experian and TransUnion. Ask the credit reporting agencies to remove any affected accounts. After your child's credit reports are frozen, lenders must verify their identity before offering credit to anyone claiming to be them.
Contact the fraud department of all businesses where the information was misused
If you find any fraudulent accounts in your child's name, such as bank accounts or loans, contact the fraud departments of all businesses involved. You will need to prepare evidence to show that your child is a real person and that neither you nor your child opened these accounts. Ask each business, bank or institution to terminate the accounts and request a confirmation letter that certifies the closing.
If your child's social media account was hacked or duplicated, change the username and password immediately to mitigate damage. Contact the platform's service representatives to notify them about the problem.
Report the identity theft to authorities
Once your child's finances are frozen and secured, report the identity theft to the authorities. File an official identity theft report online with the Federal Trade Commission (FTC) and make a recovery plan. You should also contact the SSA to see if they allow a change of your child's Social Security number.
You may also want to file a police report with local law enforcement. In child identity theft cases where your child's identity has been compromised by a family member, guardian or close friend, you must file a police report to press charges.
Start monitoring their credit report
After you freeze your child's credit and you've contacted the proper authorities, keep an eye on your child's credit history or employ a credit monitoring service. If you notice any activity on the credit report, you'll need to take action again.
How to prevent child identity theft
Resolving problems that stem from your child's identity theft can be frustrating and complex. If someone steals your child's PII, it may be impossible to get that data out of the hands of cybercriminals. The best way to protect against identity theft is to be proactive and put measures in place to prevent it. Identity theft insurance is available, but there also are other actions you can take.
The best preventative measure is to educate your child about the dangers of identity theft. Make sure they understand how to use the internet responsibly and protect their private data. This will not only safeguard them as a child but also prepare them for dealing with scams as an adult.
Be sure to keep your child's sensitive information in a secure location. Store any documents with PII in a protected place with limited access, such as a lockbox or safe. Be picky about which accounts and services you let your child sign up for, and do not give out your child's SSN unless necessary.
Installing digital security programs that protect against hacks and malware can help secure your child's identity. Erase all PII from old digital devices before you throw them out to ensure your child's data won't fall into the wrong hands.
To catch child identity theft quickly, monitor your child's credit and social security number or subscribe to one of the best identity theft protection services. Identity theft protection services keep an eye on your credit history, personal information and the internet to alert you of any suspicious activity. Many services offer subscriptions for individuals or whole families. Employing an identity theft protection service is an excellent way to passively protect your child from identity theft.
How many children fall victim to identity theft each year?
Identity theft is a widespread problem. The FTC's Consumer Sentinel Network received over 5.7 million reports of identity theft, fraud and other consumer protection concerns in 2021. Twenty-five percent of reports were for identity theft.
Javelin Strategy's Child Identity Fraud Study reported that identity theft affected one out of every 50 children in 2021 and costs families in the U.S. almost $1 billion each year. These child identity theft statistics show how serious the problem is. Staying alert and monitoring your child's credit report is a great way to avoid this hassle.
Keep your child protected from identity theft
It may seem like identity theft won't happen to your child, but unfortunately, it's becoming increasingly common. Taking appropriate steps to protect against identity theft is essential in the digital information age. You can protect your child's financial future by employing preventative measures, monitoring your child's credit report, knowing the signs of identity theft and acting quickly when problems arise.i